Visiting Corsica: paradisiacal beaches, surprising citadels, majestic mountains… the beauty of the landscapes of the island of Corsica offers you unforgettable holidays!
But to make sure your trip to Corsica is a success, it's best to have some information in mind and be well prepared.
On this page, we have gathered all our travel tips to help you make the right choices and to find the trip that suits you: when, how, where…
Visiting Corsica: top 10 travel tips
Don't want to read the whole article, want to get to the point?
Here are our top 10 tips for a successful trip to Corsica:
Book your flights, ferries, cars and hotels well in advance, especially if you are going in summer. Many French people come to the island for the school vacations, the places fill up quickly and the prices go up.
Consider the ferry if you want to bring your car and there are more than 2 of you traveling – see ferry availability
Consider flying if you live far from the Mediterranean (to reduce travel time) – compare flight prices
If you rent a car, choose a car that is not too big and avoid low power cars because the roads are mountainous – see car offers
Make sure you have a valid ID, even for the ferry.
Don' t over-plan each day. At each location you will want to explore and enjoy.
Don't limit yourself to the seaside, explore the magnificent Corsican mountains.
Put on your hiking boots, it's the best way to appreciate these wonderful landscapes.
Take the time to listen to a concert of Corsican polyphonies. It's a really powerful experience.
Respect the locals, their culture and nature!
Clarification before continuing
Corsica is an absolutely beautiful destination, from the sharp peaks to the turquoise waters and white sand.
But make no mistake, it is not for everyone.
It is for nature lovers, who accept the winding roads due to the mountains (and the crowds if you go in summer).
Its charm is undeniable but very different from other French regions.
If you are looking for museums, castles and cities full of architectural wonders, choose another destination (the Loire, for example).
Tips 1 to 4 – How to travel to Corsica
1. Where is Corsica? In which country? How to get there?
Corsica is a French island in the Mediterranean Sea, nestled between France and Italy.
The island is located in the north of Sardinia and is geographically closer to Italy than to France.
Here is a map of Europe to help you visualize its position.
You can get there either by plane or by ferry.
There is no bridge or tunnel to reach the island.
2. How to get to Corsica by plane? What flights?
The island has 4 international airports: Bastia, Ajaccio, Figari and Calvi.
Bastia and Calvi serve the north of Corsica, Figari and Ajaccio rather the south.
The most important airport is Ajaccio, followed by Bastia.
The local company is called Air Corsica, but the island is also served by Air France, Transavia, Easyjets and other companies.
There are flights from many major European cities.
But if you start your trip outside of Europe, you will necessarily have a stopover.
The duration of the flights are:
from Paris = less than 2 hours
from London = 2h30 (if direct)
from Rome = 1h
…
Discover flight options on Skyscanner
And learn more in our article on how to get to Corsica.
3. Which ferry to Corsica
If you really want to come with your car, you can take a ferry from Italy or France (Nice or Marseille or Toulon).
You can arrive in Ajaccio, Bastia, Propriano, Porto-Vecchio or Ile-Rousse
Departures are from several ports in France and Italy
The 3 departure ports in France are Nice (5 to 10 hours), Marseille (11 to 12 hours) or Toulon (5 to 10 hours)
Le plus court trajet depuis la France est entre Nice et l'Ile Rousse (5h45)
The shortest distance from Italy is between Piombino and Bastia (2h45)
None of the 4 companies stood out as the "Best". But the one with the most options is Corsica Ferries.
If you go during the high season, it is advisable to book your ferry ticket well in advance, to have availability and the best prices.
See ferry schedules and availability
And find out more in our article about the ferry crossing to Corsica.
4. Visa and identity papers for Corsica
Corsica is part of France, and is therefore in the Schengen area.
If you are one of them, you don't need a visa. Otherwise, you need a Schengen Visa.
For all of them, you must have a valid identity document to circulate on the territory, and also to take the plane or the ferry.
Note for the French: the validity of the identity card has been extended from 10 to 15 years. Therefore, cards that have been expired for less than 5 years are admissible.
OUR TIPS FOR

RENTING A CAR

IN

Corsica
Compare prices on our preferred platform: DiscoverCars – one of the best rated sites.
Choose a car that is powerful enough (the roads are steep) but compact (some passages are narrow).
Think of thecomplete insurance (some roads are tortuous and narrow).
There is a lot of demand, book it early.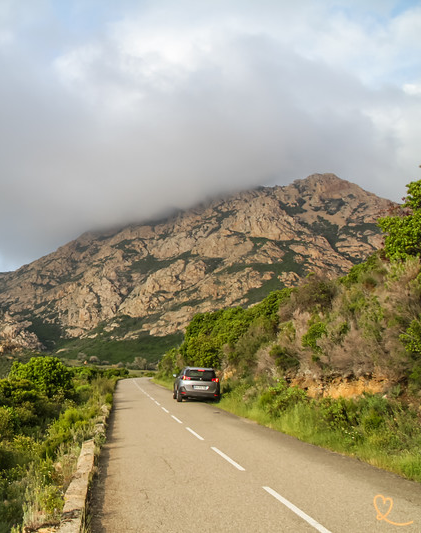 Tips 5 to 11 – best time to visit Corsica, for how long
5. When to go to Corsica? The seasons
Corsica's weather is based on a Mediterranean climate, with the presence of high mountains. Temperatures can therefore vary greatly.
Outside the mountains, the climate is mild all year round.
Rainfall is rare with less than 50 days per year.
But the rains are often in the form of thunderstorms at the end of the day.
For warmth on the beaches and in the mountains, prefer summer.
For still warm water temperatures but less heat waves and better hiking conditions, prefer September and October.
For free-flowing watermelon and green landscapes around the beaches and in the mountains, choose spring.
For mild temperatures on the beach and far fewer people, come in the winter. But be aware that it can be windy, snowy on the mountains and that the water temperature will not be ideal for swimming… And be aware that many restaurants and stores will be closed during this period.
More tips in our article: Best time to visit Corsica.
6. What is the size of Corsica?
Corsica is much larger than many people imagine.
Maximum: 183km from North to South and 83km wide.
It is the 4th most important island in the Mediterranean Sea.
But most importantly, it has high mountains.
Its geography makes it much longer to get around the island.
It takes 4 hours to drive from north to south on the main road (but much longer on the beautiful west coast)
It takes at least 2 hours to cross from east to west.
Here is a map to help you visualize these movements:
7. How long to stay in Corsica
Of course, you can focus on one area and visit it in depth.
Each region can deserve 3 weeks of vacation…
But, if you want to see a bit of each region, here are our estimates for a road trip on the whole island.
Please note that these times do not include full days spent on the beach:
Bastia and the Cap Corse – 2 to 4 days
Calvi and Balagne – 2 to 5 days
Piana and the central west – 2 to 5 days
Corte and Upper Corsica – 2 to 5 days
Bonifacio and South Corsica – 3 to 5 days
Ajaccio and the South-West – 3 to 5 days
8. How long to go around Corsica
Don't try to do the whole tour of Corsica in a road trip if you have less than 2 weeks.
Even with two weeks, diligence would be required to focus on only certain locations in each region to make it work.
3 weeks is much more comfortable.
9. Always allow more time than the GPS suggests
Your travel time will be extended for 2 main reasons:
With the mountains, the roads are limited (and not highways). Therefore, as soon as there are a few people, the traffic slows down. If you plan in February but leave in August, the travel times can be very different.
Then, the landscapes are magnificent, we want to stop everywhere, to make detours to see beaches, to walk a little further to see the view on the other side…
Don't plan too much each day!
10. Dates to choose or to avoid
Depending on what you are looking for, there are some competitions and festivals to consider that may derail your plans.
Either you want to include them in your trip or you want to avoid them so you don't get stuck in the middle of your plans.
For example:
February: Italian film festival in Bastia
Easter processions all over the island
march/april: Ajaccio marathon
June: Corsica-Raid in June – infos
June: Jazz Festival in Ajaccio
July: sometimes the Tour de France passes through Corsica! And it cuts the roads a lot!
July: Calvi on the Rocks in July
July 14 is the French national holiday
August 15, public holiday in France and big party in Ajaccio for Napoleon Bonaparte's birthday
September: Polyphonic Song Meetings in the citadel of Calvi
october: Tour de Corse historique, classic car rally – infos
October: Porto-Vecchio marathon
and also many days dedicated to Corsican specialties in different towns and villages
11. If you are going in the summer, adapt to the crowds
If you don't have a choice of dates and you go in summer, understand that it is very crowded in Corsica at that time.
The most famous beaches are taken by storm, the parking lots are full and the roads are clogged.
You can still enjoy it but you have to know it and adapt your program: find less known places, get up earlier to enjoy the beaches before the crowds (and before the storms), schedule less places to see in your day.
FOR QUALITY ADVICE


QUALITY

Support us
Do you appreciate all the free content you find on our blog?
Our independence, the only guarantee of qualitytips, is partly based on your generosity!
We offer you to give us a coffee (or several) in the hope of sharing it with you one day in person!
Tips 12 to 14 – Holiday budget in Corsica – how to reduce prices
12. Price and budget
Corsica has a certain cost.
Many products are more expensive on the island than in mainland France
As demand is higher in summer, prices for car rentals, flights and hotels are higher.
Your budget will vary greatly depending on how you want to travel: sleeping in a campsite, sleeping in a rental or doing a road trip by changing hotels regularly… eating in a restaurant or making your own food…
It is therefore very difficult to give an average budget…
Here are a few numbers to consider:
In August: 2500 euros for 2 people, for a week with a flight from Paris and accommodation in a 2/3 star hotel
In low season: 1700 to 2000 euros for 2 people, for a week with a flight from Paris and accommodation in a 2/3 star hotel
13. Reduce the biggest expenses: compare and book in advance
The largest items in the budget are:
Transportation to Corsica
Travel once in Corsica (if you don't have your own car)
Lodging
In any case, the best ways to reduce costs are to compare prices on comparison sites and to book well in advance (6 to 9 months).
Our favorite comparators are:
14. Choose free activities
The advantage of Corsica is that you can get busy for free in :
Choosing beaches (where parking is not charged)
Hiking
Visiting villages
The landscapes are so beautiful that there is no need to plan more if you don't have the budget.
If you have some, we suggest you choose from the following activities:
Boat trip around Bonifacio
Boat to the Lavezzi Islands
Boat to the calanques of Piana and the Scandola reserve – see
Canyoning
Boat to the Bloody Islands – see
Desert of Agriates in 4×4 – see
Tips 15 to 17 – How to travel around Corsica
15. How to get around the island
Corsica by car
It remains the most practical option for exploring Corsica.
If you want to discover small corners of paradise, you will need a vehicle, because public transport goes mostly in the cities and villages.
You can come with your own car by ferry or rent one on the spot (see next tip).
Corsica by motorcycle
Corsica is a paradise for bikers with roads that make them dream, winding and with great landscapes.
Corsica by motorhome
The motorhome is not the most recommended option for Corsica, unless you arrive by ferry directly to your destination and land your vehicle.
Many roads are winding and narrow. Some places are feasible but you need to know your vehicle well and do a lot of research before the trip.
Corsica by train and bus
Some cities are connected by trains and buses.
If you have time to adapt to their schedules, the network allows you to discover several cities of the island: Ajaccio, Corte, Bastia, Calvi, Ile-Rousse…
Excursions from a main city
Another option is to land in one of the big cities and take organized tours to explore the area.
Ajaccio is the city with the most options
See the tours
16. How to rent a car in Corsica
You will find all international brands at the major airports and ferry terminals.
Our main tips are:
Choose a car that is not too big so that you are more comfortable in the narrower sections of the roads
Choose a car with a good engine to drive more comfortably in the mountains
Book early if you want an automatic car (there are few in France)
You don't really need a 4×4, especially since most companies won't allow you to drive off-road even with a 4×4 for insurance reasons
Compare prices on Discovercars.com – our preferred platform. It is one of the best rated sites by its customers!
Book early to have a choice of your vehicle!
Learn more in our article with all our tips for renting a car in Corsica.
17. Don't be afraid to drive
Many people are afraid to drive in Corsica, so let's be clear:
Yes, the roads are winding and they are sometimes narrow.
This is not the easiest region to drive in, when the mountains plunge into the sea!
But
Only people who have had problems write on the Internet. The millions of people who have not had any problems, do not take the time to go on the forums and say that everything went well in terms of driving…
Most of the roads are not really difficult. There are just a few places where they are narrow. In this case, slow down well and take your time.
Learn more in our article with all our tips for driving in Corsica.
And here is our video:
Tips 18 to 22 – Where to go in Corsica, best things to do
18. Choose one of the best destinations
All the corners of Corsica are beautiful. You can't go wrong. Your trip to Corsica will be successful.
But, if you want to know everything, our 3 favorite destinations are:
Bonifacio
for the citadel, the impressive cliffs and the beaches around
Calvi, Ile-Rousse and Balagne
for the charm of the towns and villages, as well as the beaches and rock formations
Saint-Florent
for the variety of landscapes between semi-desert, mountains, white sand beaches…
Learn more in our article with our 9 favorite destinations in Corsica.
19. Or plan a road trip
But if that's your style, Corsica is an ideal destination for a road trip.
You can go around to discover the most beautiful corners of the island.
If you choose this option we think the must stops are
USE OUR GUIDE TO PLAN A


DREAM TRIP

TO

Corsica
All the information you need for your trip:
7 maps that make planning easier
130+ pre-selected locations
Practical advice
+ 220 photos to help you choose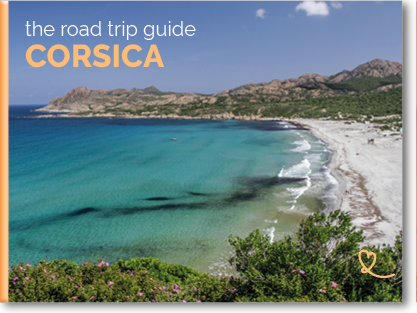 20. Explore the towns and villages
Looking for the most beautiful cities and villages?
It is not the richest region of France in terms of architecture but with the surrounding landscapes, some villages and towns have a lot of charm.
In cities, we particularly like:
Bonifacio and its citadel at the edge of the cliffs
City of Calvi and its citadel on a peninsula
L'Île-Rousse for its relaxed atmosphere and its colored islands
Saint-Florent surrounded by desert and mountains
Sartene and its historical atmosphere
For the villages, our favorites are:
Pigna with its charming alleys, in Balagne
Speloncato, to have the impression to travel in time in Balagne
Evisa, as if suspended among the pink peaks
Nonza overlooking its black beach
Learn more in our articles with the most beautiful villages of Corsica and the most beautiful cities of Corsica.
21. Discover the most beautiful beaches of Corsica
And if you wish to discover the most beautiful beaches of Corsica, there is plenty to do.
The most famous are in South Corsica between Bonifacio and Porto-Vecchio but there are some very beautiful ones all around Corsica.
Our favorites include:
Learn more in our article with the most beautiful beaches of Corsica.
22. Enjoy the most beautiful hikes
Corsica is a paradise for hiking.
Whether you're in the mountains or on the water, you have a wide range of choices for walks of varying difficulty.
We particularly like it:
Capo Rosso, above the calanques of Piana
the famous GR20 which crosses Corsica
the customs path at the level of the Cap Corse
the Restonica valley surrounded by mountainous peaks, towards the Lake of Melo and the Lake of Capitello
the walk in the forest towards the Cascade des Anglais
the customs path in the Agriates desert
…
23. Don't over-plan each day
Corsica is a beautiful island.
It is famous for its beaches, its mountains, its villages… it has a lot to offer and a great variety of points of interest.
You may want to stop at viewpoints, take back roads to explore hidden areas, or simply stay longer in a village or on a beach because it is spectacular.
So be sure to be reasonable in your planning!
See our itinerary suggestions:
coming soon: 1 week, 10 days and 15 days
24 to 28 – Where to stay in Corsica
24. One or more units?
Unlike other Mediterranean islands such as Mallorca, it is not possible to explore the entire island based on a single location.
Either you choose a single accommodation and explore a single region. Each region has a lot to offer.
Either you go on a road trip.
Or you can do a mix of both.
For example with 2 weeks you could:
you 5 days in South Corsica
go up the west coast with 2 nights in Ajaccio and 2 nights in Piana
then 5 days in the North, in Saint-Florent for example
It all depends on what you are looking for during your vacation.
25. Is it necessary to stay in Ajaccio?
Ajaccio is the main city of Corsica.
It has many assets:
choice of restaurants
access to islands
beautiful beaches less than 30 minutes away
waterfalls and mountains less than 1 hour away
plenty of organized tours
But it's not really a must-see city.
The city does not have an architectural marvel that is a must-see.
And not all of the most famous places in Corsica can be visited on an excursion from this city.
If you prefer nature to cities, we advise you not to stay in Ajaccio.
But if you want to discover more about Napoleon, Corsican art or Corsican gastronomy, plan at least one stop in Ajaccio.
26. Where to stay in Corsica?
Our favorite places to stay were:
The citadel of Bonifacio: the place is exceptional and the cliffs change color with the setting sun! – see the options
L'Île-Rousse: the rocks of the islands turn red-orange at sunset – see options
Saint-Florent (or Patrimonio, next door, in the heart of the vineyards): easy access to various landscapes and attractions – see options
In terms of hotels, see our dedicated articles with our reviews of many hotels:
More tips in our article: where to stay in Corsica / South Corsica.
27. Choosing your home wisely: what to look out for
The accommodation offer on the island of Corsica is really impressive.
You can find every type of accommodation imaginable.
When making your choice, don't forget to check the following aspects:
Book early, especially for a trip to Corsica in summer. Do your research
Parking – if you are staying in a city, the parking lots may be paid for. This should be taken into consideration in your budget or you should choose an accommodation with parking
In France, air conditioning is not systematic, far from it. But it can be very hot in Corsica. If it is essential for you, check the conditions before booking
Accommodations near the beach are rarely on the beach. There are only a few and they are not the best. The best accommodations are often within 5 minutes walk of the beach.
The pools are not always heated, depending on the hotel.
28. Use a VPN
Do not make




THE SAME MISTAKE

WE MADE
On one of our last trips to Europe, a hacker stole our credit card details while we were using a hotel WiFi.
So our trip began with a "card blocked" call… Not funny at all!
Learn from our mistake, make a small VPN investment to surf without worry.
Tips 29 to 32 – What to bring: packing for Corsica
29. What to wear in Corsica
Classic clothes. There is nothing special to think about.
It also depends on your activities
And don't forget:
Swimsuit
Clothing for rain and for colder nights in the evening and in the mountains
Hat
Hiking shoes
30. Protect yourself from the sun
Beware, the sun can be brutal.
Don't take any chances, protect yourself with sunscreen, a hat and sunglasses.
31. Carrying cash
Most places accept credit cards on the island.
However, there are a few instances where you will need cash:
Some places to visit (both on and off the beaten track)
To pay for certain parking areas
32. Power strip and adapter
We travel with more and more electronic devices.
Being able to recharge them is essential.
In France, and therefore in Corsica, the plugs are 2 round holes (Type E which also work with a type C).
If it doesn't match yours, consider bringing a plug adapter.
And we advise you to travel with a power strip because there is not always enough for the whole family, or the plugs are not well placed.
Tips 33 to 37 – Corsica travel tips: good to know for an unforgettable experience
33. Be respectful of people and the environment
The Corsicans have a strong character. And we love them for it.
Remember that you are guests on this island.
Be respectful towards Corsicans and their culture.
Take the time to talk. The Corsicans are very welcoming.
Also be sure to preserve the beautiful nature of this island.
"Take only memories, Leave only footprints" – Chief Seattle.
34. Learn some words in the Corsican language
Knowing a few words in the local language is always appreciated. The official language is French but Corsicans are very proud of their local language and many people still speak it.
French – Corsica :
Hello = Salute
Goodbye = Avvedeci
Please = Per piace
Thanks to you = To ringraziavvi
Excuse me = Scusatemi
35. Food – what to eat in Corsica
Visiting Corsica also means tasting its culinary specialties.
Here are some products and recipes of Corsica not to be missed:
the delicatessen: salty and tasty, it is strong in taste and will not leave you indifferent. Coppa, lonzu, figatellu, prisuttu, wild boar sausage… the choice is endless!
cheese: they also have a lot of taste. The local cheeses are mainly made from goat or sheep milk. Bruccio is one of the most famous.
mussels and oysters from the Diana pond
the wines of Corsica with a particular soil made of sun and mountains
canistrellis, dry cookies for those who are looking for something sweet
the Corsican chestnut, used in many recipes including the Pietra, a beer flavored with chestnut.
36. Listen to Corsican singers
Polyphonies: an experience not to be missed in Corsica.
These are singing experiences where only the voices come together to produce music.
In Corsica, the typical groups are only male voices. They sing in perfect harmony, mainly in Corsican language.
They are very powerful and carry deep emotions. Even when you don't understand the words, you feel the song.
There are regular performances almost everywhere, often in churches. Just look for small signs attached along the roads.
For example, we had the chance to listen to I Campagnoli in a small church in Bonifacio!
37. What are the best activities to do in Corsica
In addition to beaches and hiking, Corsica is a beautiful destination for:
38. What to do in an emergency
The emergency number is 112 (and also the classic numbers for the French).
Travelling to Corsica: FAQs
Is the tap water drinkable in Corsica?
Thanks to its beautiful mountains, Corsica's water is good and even excellent in some places. Tap water is safe to drink unless otherwise indicated.
Is it necessary to give a tip in Corsica?
As everywhere in France, the service is always included in the restaurant.
The bill is given to you at the end of the meal.
Tipping is not mandatory.
If you are very satisfied with the service, you can leave a tip of a few euros (but not 20% like our American friends).
Is Corsica safe?
On the whole, Corsica is quite safe.
No particular scam to mention.
Pay attention to :
The heat, especially if you hike on paths without shade
Pickpockets in the cities (as in all tourist cities…)
Summer forest fires – follow the rules
Do not swim alone – many beaches are not supervised
Jellyfish that can sometimes get close to certain beaches
Don't leave valuable personal belongings in plain sight in the car (like everywhere)
Why travel to Corsica:
Corsica is a unique and colorful place.
There are many reasons to visit Corsica:
its mountains of more than 2500m high which plunge into the sea
its beaches with white sand and turquoise waters
rock formations of all colors
its citadels and its eventful history
its gastronomy with Mediterranean influences
its cultural heritage so specific with its language and songs full of emotions
Why is Corsica known?
Corsica is a little less known than other islands of the Mediterranean, but, apart from its extraordinary nature, its most famous elements are:
Ajaccio is the birthplace of Napoleon Bonaparte
The GR20 hike crosses the island and is one of the most beautiful in the world.
Its geography with the second highest peak in the Mediterranean (Mount Cinto)
The Gulf of Porto with the calanques of Piana, listed as a UNESCO World Heritage Site
Is Corsica a volcanic island?
Yes, Corsica is an island of volcanic origin. We see it particularly with the volcanic rocks of the reserve of Scandola.
But they date back 150 million years, the volcanoes are no longer active.
Which is the most beautiful corner: the north or the south of Corsica?
The 2 regions are beautiful.
The north has beautiful beaches, but in terms of number of heavenly beaches, the south wins.
On the other hand, the northern towns and villages have more charm, in our opinion.
It's really hard to choose.
See a more detailed comparison in this article (coming soon).
Are there mosquitoes in Corsica.
There are no more mosquitoes in Corsica than in the south of France or the other Mediterranean islands.
As everywhere, bring a repellent for the evening, especially if you stay near a lake.
Are there snakes in Corsica
There are no animals considered dangerous in Corsica.
There are very few snakes and they are not poisonous.
Is Corsica better than Sardinia?
Neither more nor less beautiful. Just different.
Corsica is 3 times smaller than Sardinia and much more mountainous.
What is the time zone of Corsica
Corsica is at the same time as Paris i.e. GMT+1.