Corsica is a paradise for road trips. But with high mountains in such a small area, many roads are winding.
Here is our complete guide to driving in Corsica:
Is driving difficult? safe?
Video,
Rules of conduct,
Road conditions and safety tips,
Parking information,
Advice for car rental,
The most beautiful roads not to be missed,
…
Don't worry, it's not as hard as some people write!
Driving in Corsica – What you need to know + Video
Driving in Corsica – Video
Let's start with a short video that shows you what driving in Corsica is like: the straight roads, the winding roads, the few very narrow roads as well as the cities and the biggest distraction of all while driving: the landscape…
What you need to know before driving in Corsica
Driving is on the right side of the road
The minimum driving age is 18, but some rental companies may require drivers to be older.
Seat belts are mandatory for all
The blood alcohol level is 0.05%.
The speed limits are well indicated in the red circle. Most of the time, you don't really need it because you can't really drive fast on these winding roads.
Most villages have a 30km/h limit and many (too many) speed bumps.
Essential items – reflective warning triangle, reflective jacket.
In case of accident – emergency number: 112
Where we rent our cars
We always compare prices immediately at Discovercars.com.
It is one of the highest rated comparison sites in the market.
We found some great deals and I find the platform super easy to use. We can filter according to my criteria.
Plus, they have a convenient coverage option at a great price that will cover you in case of damage to the exterior of the car.
See their current car rental offers in Corsica.
Do you need help? Read our 36 tips for a worry-free experience.
Corsica by car – or not?
Do you need a car in Corsica?
Unless you're staying in a resort and only going to the beach, or staying in Ajaccio and don't want to explore too much, you really need a car to enjoy the variety of landscapes Corsica has to offer.
All our favorite places are included (with GPS coordinates, map and tips) in our eBook travel guide that helps you easily plan your Corsica road trip:
USE OUR GUIDE TO PLAN A


DREAM TRIP

TO

Corsica
All the information you need for your trip:
7 maps that make planning easier
130+ pre-selected locations
Practical advice
+ 220 photos to help you choose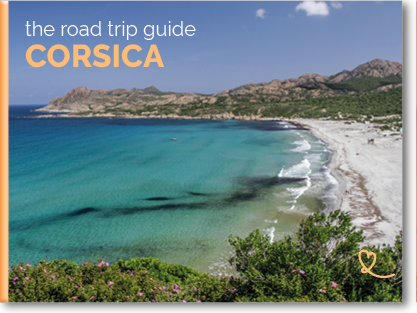 Is it difficult to drive in Corsica? Is it dangerous?
Corsica tends to have a bad reputation, but it is not as difficult as some people would have you believe.
Remember that on the Internet, the hundreds of thousands of people who have had no problems do not take the time to write that everything went well.
Here is our opinion on the situation:
Not Too Difficult – With a little research to avoid difficult roads, driving in Corsica is really not that difficult.
Take your time – This is certainly not a country where you will drive at high speed, but who would want to with such beautiful scenery!
Winding roads – Corsica has very few straight roads. It's so rare that I photographed them! Most of the roads are winding, you keep turning one way and then the other to get around the mountains.
Narrow roads – Only a few specific roads and a few kilometers on high traffic roads are very, very narrow – avoid the crazy ones and take your time on the others. Everything will be fine.
Holes – Some secondary roads to specific locations have large holes in the pavement. Just drive slowly and it's not a problem.
Driving in summer – With the summer rush, it becomes more difficult in July and August, especially when passing large buses.
Getting around Corsica without a car
It is possible to move in Corsica without a car, to see the main tourist sites:
Bus – There is a public transport network
Organized excursions – Several companies organize excursions: historical tours, gastronomic tours, sightseeing tours… but the island is bigger than you think, so you can only explore a small part of it – see options.
Driving times in Corsica – Map
To help you decide whether to rent a car or not, here is a map of driving times in the country.
1 to 6 – Rules of conduct in Corsica (France)
Let's start with the general rules and regulations you need to know:
#1 – License Requirement / Age – Do I need an International Driving Permit?
It is always best to have your international driver's license when traveling outside the country.
This way, you'll never have to wonder.
However, you should know that in order to be allowed to drive in France (for a short stay), you can use a standard international driving license. This is a permit that includes:
a license number,
a photograph,
a validity date,
and is written in Latin letters,
EU citizens can use their EU license.
A valid U.S. license works.
A valid Canadian permit is required.
A valid British license works.
You must also carry identification and proof of liability insurance at all times.
In terms of age, you can drive from 18 years old (however, to rent a car, the minimum age is 21).
#2 – Side of the road
In Corsica, as everywhere in France, driving is done on the right side of the road.
This means that when you enter a traffic circle, you go to the right.
#3 – General rules of behaviour
Seat belts mandatory for all
No cell phones while driving
Children under 10 years of age cannot sit in the front seat of the car
If an intersection does not have a sign or indication, you yield the right of way to the person coming from your right
Traffic on the traffic circle has priority
The use of the horn is only allowed in case of immediate danger (although the French tend to forget this rule)
#4 – Alcohol and Driving
The legal limit for driving is 0.05% alcohol in the blood.
I always recommend not drinking at all if you are driving.
#5 – Mandatory equipment to have in your car
In Corsica, the following equipment must be available in the car:
Safety triangle
Reflective vest or jacket
In Corsica, the new mountain law does not apply. Winter tires or chains are not mandatory but recommended.
#6 – Mandatory insurance
The compulsory insurance in France is the civil liability insurance – it is automatically included in the price of all car rentals.
If you come with your own car, don't forget to bring proof of insurance.
FOR QUALITY ADVICE


QUALITY

Support us
Do you appreciate all the free content you find on our blog?
Our independence, the only guarantee of qualitytips, is partly based on your generosity!
We offer you to give us a coffee (or several) in the hope of sharing it with you one day in person!
7 to 13 – Road conditions and signs in Corsica
Okay. Now we come to the big question on everyone's mind.
How difficult is it to drive in Corsica?
You can read many stories online of people who have been scared.
The fact is that Corsica is full of mountains. So, yes, you have mountain roads. But all the millions of people who had no problem driving in Corsica do not write on the Internet that everything went well…
#7 – Most frequent types of roads in Corsica
Most of the roads are really good. It's just that there is only one lane in each direction and they are very very winding. You keep turning and turning. But it reveals splendid landscapes at every turn, sometimes with the sea, sometimes with the mountains. So it's actually quite nice.
It is much less boring than the straight line.
It slows you down and you really enjoy the scenery. We were ecstatic while driving there. This is the best type of driving in our opinion.
But sometimes you get a huge surprise when you see a straight line! LOL
#8 – Small Access Road Conditions
For some places, such as to go to Cauria or to some isolated beaches, the road is paved but in very bad condition.
So for up to 5 km, you may have to drive slowly to avoid holes.
But it's not really difficult, just longer.
And if you really need to get into a hole, because there are too many, always try to get in from the side, not the front.
#9 – The few roads that scare people
Now let's talk about the few roads that scare people.
They are most often cut through the cliff or in the canyons.
In this case, they become very narrow with the void on one side but you still have to cross the path with incoming traffic.
There are 2 roads to reach beautiful tourist places that have such sections (and more for more isolated places):
Between Piana and Porto when you drive in the calanques de Piana – it is cut in the rock. But they have dug places of crossing. So if people aren't stupid and don't park there, you don't have to maneuver too much to pass a bus or truck. The problem is that everyone is keeping out of these corners and away from their cars…
The west coast of Cap Corse – there are some sections that are quite narrow. It is actually wide enough to pass a large bus, but barely. So that's pretty impressive.
Your solution if you are afraid: Take these roads early in the morning when other tourists are sleeping late!
But there is one road that I absolutely do not recommend to drive if you are a little bit afraid: The Restonica valley.
It's a difficult route and a popular destination. It narrows very often and the road does not always have guardrails.
It's a nice walk, but not worth the fear in my opinion.
Again, if you leave early, you should not pass any other cars on the way up. But you will still have to pass some when you come back down (it is a dead end road).
Off the beaten track
Only once did we decide to cut through the mountains to reach our next destination and I have to admit that it was a bad idea. We found ourselves on a mountain road that was only one lane. Fortunately, it was only for 3 km and not a tourist road, so we had no problems. But we don't recommend trying to find shortcuts.
---
Departure from France and Italy
Advantage: you can take your car!
---
Airports in Bastia, to visit the North, Figari to visit the South, or Ajaccio convenient for all Corsica.
Compare flights!
#10 – Driving in Corsican towns and villages
Driving in the city and in the villages is not particularly difficult.
We were surprised by the number of speed bumps. They really want you to respect the 30km/h limit in the villages.
The oldest part of the villages has narrow streets that are not accessible by car, so you park outside and explore on foot.
Here is the driving to Corte :
And through a village of Balagne :
#11 – Speed limits and signs
The speed limits are indicated on circular signs with a red border and a number
Speed limits are expressed in kilometers per hour
Speed limits are – 30 to 50km/h in residential areas
#12 – Traffic signs in Corsica
The road signs are very clear and use the Latin alphabet.
A specificity of Corsica is that the names of places will be written first in French and then in the local Corsican language.
See in the image below Ajaccio then Ajacciu.
You will also see many signs where the French name is hidden. Some Corsicans have a strong desire for independence and promote the use of their local language.
Don't worry the names are close enough and you will be able to find your way.
#13 – Tolls in Corsica
There are no tolls on Corsican roads.
14 to 16 – How to drive safely
#14 – Know the potential hazards
In general, driving in Corsica went well.
Our 3 warnings for you are:
Be careful in summer, there are many tourists who do not know the size of their car. Slow down!
It is easy to get distracted by the incredible scenery (especially in the mountains). Pay attention and focus!
But the main danger on the roads of Corsica is the animals. You can turn and find yourself with a cow, a pig, a goat or a donkey in the middle.
We are not kidding, they are everywhere, even on the main roads where you don't expect them. So stay alert!
#15 – What to do in case of an accident?
If people are injured or there is a conflict, the emergency number is 112:
The best order of action is:
contact emergency services
contact the police
contact your rental provider
#16 – Motorcycles in Corsica
With its beautiful winding roads, Corsica is also a paradise for motorcycles.
They often travel in groups.
Slow down and pull over to the right to let them pass you so you can continue to enjoy your own journey.
17 to 18 – Parking in Corsica – Parking lots
#17 – Parking in cities
Nothing very original concerning the parking in Corsica.
In the main cities (and tourist towns), parking is usually charged.
You must post your ticket.
In the summer, parking can become a real problem.
The small mountain villages don't really have the space to have large parking lots and the beaches are crowded, so the parking lots fill up quickly.
The solution: don't travel to Corsica in summer… but this may not be an option for you…
Another solution to enjoy Corsica more in summer is to take advantage of the morning. Most people go out around 11:00 or in the afternoon. If you do your exploration early in the morning and rest at home in the afternoon, you should enjoy it much more.
#18 – Parking at beaches and attractions
At some beaches and attractions, when the free parking is full, you can find paid parking. They often belong to restaurants on the beach. You must either pay a fee or eat/drink at the restaurant.
19 to 20 – Service stations
#19 – Fuels
"Unleaded gasoline and diesel available on the island
See the concentration of charging stations for electric cars, where you go in Corsica on this website
#20 – Service Station Management
Nothing special to know about refueling in Corsica.
There are many stations in the cities
They accept credit cards
#21 – The most beautiful roads of Corsica
Corsica is breathtaking in every way. You will rarely be bored driving there.
Our favorite roads to drive are :
22 to 25 – Tips for renting a car in Corsica
Here is an overview of the main things you need to know.
You can find all my tips in this other complete guide on renting a car in Corsica.
#22 – Which vehicle to rent ?
I know it depends on how many people are traveling and how much luggage you are taking.
But here are a few things to keep in mind when traveling to Corsica:
There are many mountain roads
Therefore, it is more comfortable to have enough power. I recommend not to choose the smallest engine
There are narrow roads in the villages and sometimes in the mountains.
Therefore, I recommend choosing a car that is not too big, to reduce the stress of certain situations…
#23 – Where to rent your car in Corsica
The biggest car rental centers in Corsica are :
Most of the major international brands are available in Corsica. However, since it is an island, not all of them are present.
And these are small airports with limited staff. So, every time you arrive at the airport, you will have to wait in line to get your car.
Be patient!
Compare car rental prices in Corsica
#24 – Best car rental company in Corsica
We do not have a specific recommendation for a rental company in Corsica. There are no famous local ones with great records.
But you can find all the major brands at airports and ferry ports.
Compare car rental prices on my favorite platform: Discovercars.com – one of the top rated comparison sites by customers.
Each rental company has a 10 point score. It is an average of the scores given by actual customers.
Book early to have a wide choice of vehicles!
Don't forget that on Tripadvisor or Google for example, anyone can write a review even if they haven't used the company.
Some of the top rated companies on Discovercars. com are:
#25 – General tips for a worry-free experience
There is no particular thing to do when renting a car in Corsica, no specific scam.
We recommend that you always do these things, no matter where you rent:
Take pictures of the car as you drive it
Don't forget to check the condition under the bumper of the car (look for scratches and take pictures)
Don't forget to check the condition of the roof (look for falling rocks and take pictures).
Take pictures of the car when you leave it
Cleaning – Most companies warn you that they may charge you for cleaning if you bring a dirty car. Read the official conditions and they should indicate that "normal" cleaning is included. So a little sand should not be a problem.
Return – In most cases, returning the car is not a problem. However, in the summer, some employees in the tourism industry tend to be less charming. Be sure to check all the details of your return ticket and agree with them before signing: Agree on the condition of the gas level, agree on the cleaning condition (show the rental conditions if you have a disagreement with any of them).
Planning your Corsica road trip itinerary
Discover the most beautiful places of Corsica: