Start dreaming about your trip with the 21 most beautiful beaches of Corsica.
This island is filled with sandy paradises with turquoise waters, red rocks, umbrella pines and mountains.
The only difficulty is to decide which ones to visit!
So here is our selection to help you plan your beach vacation in Corsica, with photos and map (and our own photos, without drone, because we went there!).
The most beautiful beaches of Corsica – Top 10 map
I prefer picturesque beaches with colorful rocks to photograph rather than sand and clear water to swim in.
You will find below a map to help you locate our top 10 most beautiful beaches in North and South Corsica to plan your trip to Corsica:
Where are the most beautiful beaches in Corsica?
There are beautiful beaches all around Corsica. Some of our favorites are in the North, around Saint-Florent.
But if you are looking for a high concentration of unforgettable beaches, South Corsica is your destination of choice.
Learn more in our article on where to go in Corsica.
Most beautiful beaches of Corsica in Video
Before listing all the beaches with photos, here is a small overview of our top 10 in video. There are so many amazing options that some will disagree with this selection. But these are our choices.
5 paradisiacal Corsican Beaches
Let's first look at the Corsican beaches that most resemble the idea we have of paradise: white sand and transparent turquoise water.
Just a note, there are no palm trees along the beaches of the island. The island has a Mediterranean climate, not tropical.
1. Beach of Ostriconi
Location
Most beautiful beach of High Corsica
The beach of Ostriconi is located at the southern limit of the Agriates desert between L'Ile-Rousse and Saint-Florent.
Why visit
Ostriconi is rarely mentioned in lists of the best places in Corsica, because it is not close to a big city. However, this is one of the views that blew us away the most while visiting the island.
At Ostriconi, the access road is higher than the beach, which allows for a breathtaking view of the white sand, the intense colors of the water and the rocks of the Agriates desert in the background.
Access / Crowd
There is a short walk downhill to the beach, but no facilities.
Because it is not very close to a big city, it is much less populated in summer.
2. Beach of Palombaggia
Location
Most beautiful beach of South Corsica
Not far from Porto-Vecchio in the area I call 'the beach paradise'.
Why visit
Palombaggia is the most famous of all the beaches of Corsica because it has often been classified as one of the most beautiful beaches in the world.
It has several coves with long stretches of white sand lined with umbrella pines.
Moreover, there are fantastic red rocks to explore in between: fun on land and ideal for snorkeling.
See more photos
Access / Crowd
This beach is full in summer. You have to come very early to experience it (which is also very good for the colors of the rocks).
There is a large free parking lot that is dirt and quite bumpy – short walk from the lot.
But the parking lot is full in summer. Some beach restaurants have private parking that you can use for a small fee.
3. Beach of Saleccia
Location
One of the most beautiful beaches of North Corsica
On the coast of the Agriates desert, south of Saint-Florent.
Why visit
The beach of Saleccia is isolated without constructions, pure white sand, sand dunes, sparkling turquoise water and a pine forest at the back.
It's all the better because you have to make an effort to achieve it. I love the feeling of isolation and adventure.
See more photos on the beach of Saleccia.
Access / Crowd
You can reach it by small boat from Saint-Florent (on calm days), or by bigger boat to Lotu beach and 1h walk or by 4WD through the desert (and another 10min walk).
It is not overcrowded like those near the big cities, but it is a sought-after beach.
4. Beach of Tamaricciu
Location
South Corsica Beach
Not far from Porto-Vecchio, in the continuity of the beach of Palombaggia.
Why visit
Like Palombaggia, the beach of Tamaricciu is a long stretch of white sand, turquoise water and pine trees.
When you park along the road, you have a beautiful view on the bay from the top.
Once at the sea level, if you walk to the left (facing the water), you reach the area that makes it famous: a lot of big grey rocks and a single pine tree. It really looks like a postcard.
See more photos
Access / Crowd
2 options – free parking along the road and 5min walk (with stairs) – limited parking spaces.
OR paid restaurant parking at the west end of the beach (opposite the rocks) with easy access to the sand.
A little less frequented than Palombaggia but hardly.
5. Beach of Rocappina
Location
South Corsica
Detour from the main road between Bonifacio and Sartene.
Why visit
For the view of the beach and the rock formations including the famous lion guarding the bay.
White sand, turquoise water and beautiful granite blocks.
Access / Crowd
Unpaved road was in bad condition until the beach.
There are many people in the summer despite the limited access.
Some of these Corsican beaches are also included in our list of the best places to visit in Corsica.
OUR TIPS FOR

RENTING A CAR

IN

Corsica
Compare prices on our preferred platform: DiscoverCars – one of the best rated sites.
Choose a car that is powerful enough (the roads are steep) but compact (some passages are narrow).
Think of thecomplete insurance (some roads are tortuous and narrow).
There is a lot of demand, book it early.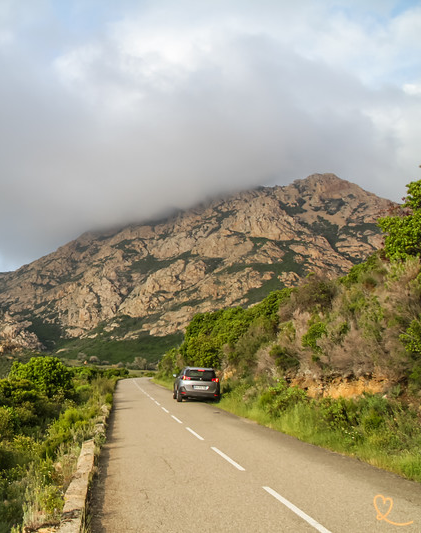 6 most majestic beaches of Corsica
Thus, the previous beaches were wonderful and heavenly. Now we want to share with you another style of beaches. They are also beautiful with mountains and cliffs, but do not fit our society's definition of "paradise". Some of our favorite beaches in Corsica are in this category. It is such a pleasure to photograph them!
6. Beach of Galéria
Location
Beach in North Corsica
Between Porto and Calvi, a small detour by the coastal road.
Why visit
Galeria is a beautiful combination of a colorful rocky area on one side of the tower and a beautiful stretch of sand at the foot of the mountains on the other side.
Here the Fango River meets the sea in a lush delta. We love the mix of scenic elements!
Access / Crowd
Galeria is easy to reach with good parking.
You can walk up to the tower to have a 360° view of the bay and the delta.
However, due to the river, access to the beach is not easy.
7. Saint-Antoine Beach
Location
South Corsica
At Capo Pertusato, east of the famous town of Bonifacio.
Why visit
It is not a famous beach in Corsica and yet it is very impressive, one of the most beautiful around Bonifacio(see our list). It almost looks like another planet. It is the only beach that looks like this in Corsica.
It is at the southern tip of Corsica, at the foot of magnificent white cliffs. Here, they have been eroded by water and wind, creating breathtaking shapes and large holes. The beach itself is not the attraction, it is all the formations around it.
See more photos
Access / Crowd
Access is not easy. Small parking lot at the end of the road in Capo Pertusato.
Hike to the lighthouse + steep descent to the beach. It is not an easy path
8. Beach of Nonza (Beach of Cap Corse)
Location
Beach of Cap Corse
Nonza is the most famous beach of Cap Corselocated on the west coast.
Why visit
It is one of the few black beaches on the island. Contrary to what one might think, it is not of volcanic origin, but because of a nearby asbestos mine (which has been closed for many years, don't worry).
The other reason why this beach is spectacular is that the village of Nonza offers splendid views with the mountains plunging into the sea.
Read more
Access / Crowd
The village of Nonza is accessible by a winding road along the Cap Corse. It is a very popular destination. The beach itself is not easy to access, the descent is very steep from the village.
Another option: at the northern end of the beach, there is a smaller black beach that is easy to access.
9. Beach of Arone
Location
North Corsica
Just south of the famous calanques de Piana
Why visit
A beautiful sandy bay protected with mountains and red rocks. It is even more beautiful without the low clouds…
The entire Gulf of Porto is a Unesco site worth visiting, but there are not many beaches. It is the main one in the area and it is really worth going there, because the road that leads to it has a magnificent view of Capo Rosso.
Access / Crowd
Easy road and beach access – restaurants on the beach
Perhaps overcrowded in summer due to the lack of beaches nearby.
10. Lotu Beach
Location
North Corsica
In the Agriates desert near Saint-Florent
Why visit
The beach itself is not the most beautiful but the surroundings are captivating. It faces the mountains of Cap Corse and has a large lagoon behind it.
If you take the path from the interior to the beach of Saleccia, you have a splendid view of the whole landscape.
Access / Crowd
Small boat trip from Saint-Florent (Popeye boats)
11. Beach of Campomoro
Location
South Corsica
Southwest coast below Propriano
Why visit
The shape of the bay is perfect! Moreover, it faces the coast, which gives you the impression of being on the edge of a mountain lake. Quite surprising…
And it has a great walk around the rocky head and up to the Genoese tower.
Access / Crowd
Small dead end road to the village (but not technically difficult)
The main problem in Campomoro is parking. There is a parking lot at the entrance – easy access to the beach and some places closer to the village.
Perhaps crowded at the height of summer.
---
Departure from France and Italy
Advantage: you can take your car!
---
Airports in Bastia, to visit the North, Figari to visit the South, or Ajaccio convenient for all Corsica.
Compare flights!
5 most beautiful creeks of Corsica
When there are big rocks with beautiful shapes and crazy colors, we are ecstatic. Here are our favorite beaches with rock formations.
12. Punta di Spanu
Location
Most beautiful creek of North Corsica
North of Calvi (on the other side of the bay)
Why visit
Fun places with several small coves and lots of rocks. Some are smooth because of the water, others are cut. There's even one that's been cut cleanly in half. You can walk around the point and up to a tower.
Access / Crowd
Easy access road, but with big holes so drive slowly.
Easy steps – No facilities
There is not much sand.
13. Lavezzi Islands
Location
South Corsica Beach
Island in the south of Corsica, boat from Bonifacio
Why visit
This is the ideal place for rocks. The entire islands are covered with blocks of different colors: light gray, dark gray and pink.
See more photos.
Access / Crowd
Boat trip from Bonifacio – several departures and returns to choose from.
5 to 10min walk to reach the first beaches but more to reach the most beautiful. However, you can simply explore the rocky bays and admire the piles of all shapes.
14. Beach of San Giovanni
Location
South Corsica
East of Bonifacio
Why visit
Hidden in the bay of Figari, it has beautiful smooth rocks spread along the beach. They have different shades of gray.
Beautiful on a cloudy day!
Read more
Access / Crowd
Small bumpy road and 5min walk to reach the beach. Not easy to find.
Little frequented.
15. Beach of Rondinara
Location
Most beautiful creeks of South Corsica
Halfway between Bonifacio and Porto-Vecchio.
Why visit
Rondinara is known as one of the most beautiful bays in Europe and I agree.
The beach itself was not my favorite (although it is very beautiful with shallow turquoise water and protected coves) but I fell in love with the rocks on the right side (facing the sea). 5min walk to very very colorful rocks.
Read more
Access / Crowd
Short and easy detour – paid parking – easy access to the beach.
Restaurant and facilities
Very popular beach.
16. Beach of Verghia
Location
South Corsica
Between Ajaccio and Propriano
Why visit
Its neighboring beach is actually more famous (Mare e Sol sometimes called the silver beach), but we have a clear preference for Verghia. We love this rock formation!!! It's so photogenic.
Access / Crowd
Right next to the road. Easy access
Restaurant at the beach
17. Beach of Fiacjola
Location
West Corsica
In the calanques de Piana
Why visit
One of the most impressive beaches, in the heart of the magnificent calanques de Piana.
It is a very small cove with little sand but quite unique with the high pink cliffs that surround it.
Access / Crowd
Narrow and very steep road, or access by boat
USE OUR GUIDE TO PLAN A


DREAM TRIP

TO

Corsica
All the information you need for your trip:
7 maps that make planning easier
130+ pre-selected locations
Practical advice
+ 220 photos to help you choose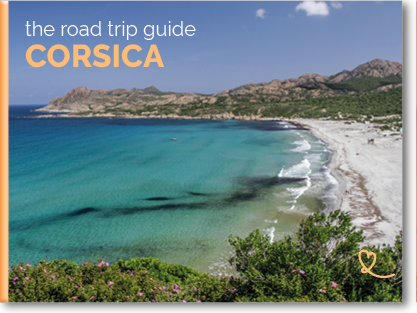 5 Beaches in Corsica to swim
Would you like to lie down in the sand and cool off in the sea? Here is our list of the most beautiful beaches in terms of swimming potential, those where we really wanted to go in the water…
18. Beach of Favone
Location
South Corsica
North of Porto Vecchio
Why visit
This is definitely my first choice in terms of swimming. The sand and water were perfect. Not many mountains for a view but perfect for relaxing and floating in the water.
Access / Crowd
Very easy access with large parking lot right next to the road – water sports equipment rental.
Not near the big resorts, so not as crazy as the southern beaches, but since it's so inviting and easily accessible, there are plenty of people in the summer.
19. Canella Beach
Location
South Corsica
North of Porto Vecchio
Why visit
Beautiful shape for this fine sandy beach.
Access / Crowd
Just off the main road – parking at the top and at the beach level.
A favorite of the local population.
20. Beach of Santa Giulia
Location
South Corsica
Between Porto Vecchio and Bonifacio
Why visit
Beautiful protected bay with clear, shallow waters and all the facilities you could need.
Access / Crowd
Easy access with large parking lot.
Restaurants and facilities – water sports equipment rental
Very busy in summer
21. Cupabia Beach
Location
South Corsica
West coast, north of Propriano
Why visit
Beautiful deep bay with clear water. The sand is not fine but the environment is protected.
Access / Crowd
Easy access Good parking – restaurant in summer
Walk on the sand to reach the beach
22. Beach of Pinarellu
Location
South Corsica
North of Porto-Vecchio
Why visit
Beautiful bay with an island. Shallow water and good sand. Proximity to restaurants and stores
Access / Crowd
Crowded in summer but the beaches are very long.
Restaurants at one end near the pier
FOR QUALITY ADVICE


QUALITY

Support us
Do you appreciate all the free content you find on our blog?
Our independence, the only guarantee of qualitytips, is partly based on your generosity!
We offer you to give us a coffee (or several) in the hope of sharing it with you one day in person!
Beach vacations in Corsica – Accommodations nearby
If you are looking for a beach vacation in Corsica, there is a good choice of accommodations near the beaches, especially in the south, for all budgets from camping to luxury.
Sometimes the accommodations are not exactly on the beach but not far away, which helps to keep these beautiful surroundings in such good condition.
Hotels near beaches in Corsica
Here is a selection of hotels and beach accommodations in Corsica:
The reality – Posidonia on the beaches of Corsica
I just need to warn you a little bit.
All these beaches and many others are really beautiful. But don't expect too much, because sometimes seaweed beds can gather on these beautiful beaches and then they look and smell a lot less heavenly! Take a look:
Before you complain, know that these algae are Posidonia oceanica. They live in the depths of the Mediterranean Sea. They are essential to the ecosystem as they produce oxygen and are home to many species.
The fallen leaves are carried by the waves to the beaches. And here again, they are essential. They help prevent erosion and even create beaches by blocking sediment.
Water sports
Many beaches offer facilities for water sports. Especially kayaks and paddle boards.
And if you like snorkeling, all the rocky spots I mentioned in this article are great options!
Beaches of Ajaccio and Bastia
You may have noticed but I did not list any beaches near the two main cities.
They have beaches nearby, but they were not attractive in my opinion.
Beaches of Ajaccio
For Ajaccio, there is a small one in town. Otherwise, you have to go to Porticcio by boat or by bus to find a larger area of sand as below. You can also take the bus (line 5) in the direction of Parata to find the smaller ones in the opposite direction.
Beaches of Bastia
For Bastia, the main beach is south of the city between the sea and the lagoon. The first one before the lagoon (therefore easier to reach) is the beach of Arinella.
If you ask yourself: Ajaccio or Bastia ? Read our comparison
Where to go in Corsica to swim? Water temperatures
Where is the water warmest?
If you are looking for the best conditions to swim in Corsica, that is to say a beautiful beach, transparent and warm waters, little wind.
The water temperature on the beaches in Corsica remains similar. The variation is less than 1°C.
You can expect 23 to 24°C in July and 20 to 21°C in October.
It is therefore best to look for a beach sheltered from the wind, for the most pleasant conditions. But it depends on the wind direction…
When to swim in Corsica?
The water temperature is most pleasant from June to October.
But in July and August, the beaches are the most crowded with tourists.
The ideal time is early June, late September and October.
The water temperatures are:
May: 18 to 19°C
June: 21 to 23°C
July: 22 and 23°C
August: 23 to 24°C
September: 22 to 24°C
October: between 20 and 21°C
Frequently asked questions
What are the most beautiful beaches in North Corsica?
Our top 5 for the most beautiful beaches in North Corsica is:
Beach of Ostriconi
Beach of Saleccia
Punta di Spanu
Beach of Calvi
Lotu Beach
What are the most beautiful beaches in South Corsica?
Our top 5 for the most beautiful beaches of South Corsica is:
Beach of Palombaggia
San Giovanni Beach
Beach of Tamaricciu
Saint-Antoine Beach
Beach of Santa Giulia
What are the most beautiful beaches of Bonifacio?
As the city is on top of 60 to 100m high cliffs, there are not many beaches in Bonifacio itself.
But nearby our favorites are:
The beach of Saint-Antoine
San Giovanni Beach
The beach of Tonnara
See our article with the most beautiful beaches around Bonifacio
What are the most beautiful beaches near Porto-Vecchio?
Porto-Vecchio is really surrounded by beautiful beaches.
We advise you:
Beach of Palombaggia
Beach of Tamaricciu
Beach of Santa Giulia
See our article with the most beautiful beaches around Porto-Vecchio
What are the most beautiful beaches in Balagne and around Calvi?
Balagne is known for its villages but also for its beaches.
Some of the most beautiful are:
Punta di Spanu
Bodri Beach
Beach of Calvi
According to your vacation program, check out our articles on the most beautiful beaches of Balagne, the most beautiful beaches around Ile-Rousse and the most beautiful beaches around Calvi.
Sharks and jellyfish in Corsica? Is it dangerous to swim?
On the whole it is not dangerous to swim in Corsica.
The waters around Corsica are appreciated by many species of Mediterranean sharks (about fifty).
But the appearances along the beaches are very rare. And most species are harmless. They live in the depths and need space.
The other animal that can disturb your swimming pleasure is the jellyfish.
In Corsica, there is the Pelagia Noctiluca which is small and purple. Its sting is painful.
You can follow their presence on the Meduséo website.
Where to see beautiful fish in Corsica
Some of the best snorkeling spots are:
The Lavezzi Islands
Rock of the Beach of La Roya in Saint-Florent
Presqu'ile de la Pietra
Beach of Rondinara
…
Tides
Corsica is in the Mediterranean Sea, not the ocean.
There is not much difference between low and high tide.
Naturism in Corsica
Sections of some beaches open to naturists. Don't be shocked.
The few articles I've read about all-naturist beaches indicate that they are not easy to get to, so you won't get there by mistake.
Cows on the beach in Corsica
Sometimes you can find cows on the beach…. most of the time they are wild even on the tourist beaches (although they don't come when there are many people).
In any case, leave them alone. This is their territory.