The crossing to Corsica: this is the first thing to decide. But it is not always easy.
Here is our complete guide, to help you choose which ferry to Corsica:
from which port to depart,
in which city to arrive,
which company to take,
map of ferry routes,
prices, travel times and practical advice…
We try to answer all your questions!
Which ferry to take to Corsica: summary + essential tips
We will detail everything for you in this article. But if you don't want to read the whole thing, here are the key points:
Choose your crossing
None of the 4 companies stood out as the "Best". But the one with the most options is Corsica Ferries.
The shortest journey from France is between Nice and Ile Rousse (5h45).
The shortest distance from Italy is between Piombino and Bastia (2h45)
Choose your preferred ports of arrival first, based on your schedule there, and then look at where to depart from. It is better to drive a few kilometers on the highway in France to a port of departure than on small roads in Corsica to reach your destination.
For the best fares, we advise you to book your tickets well in advance – use our preferred comparator
The price of ferries depends on the demand – so weekends in summer have the most expensive prices. With a little flexibility, you can find better prices.
An overnight trip can save you a night in a hotel. It is to be calculated…
See ferry schedules and availability
Getting organized for the crossing
Going to the toilet before queuing at the port
Just because you're first in line doesn't mean you'll be first on board or first off.
Folding in your mirrors
Make a note of where you've parked (I used to laugh a lot when I saw people looking for where they'd parked).
Pack a bag with everything you need on board, as you can't return to your car during the crossing.
If you want to spend time outdoors, take something to cover up with (even in summer, the wind can be cold).
Carry several bottles of water
Verify that your ID is valid before traveling
Put your phone in airplane mode when you're away from the coast – and take advantage of the disconnection.
Get out and enjoy the view as you approach Corsica!
Ferry crossing to Corsica – video
And here's a short video of 2 crossings we made:
Toulon to Ajaccio with Corsica Ferries
Bastia to Marseille with Corsica Linea
Corsica ferry routes : Map and options
Map of ferries to Corsica
Here is a map to help you understand the ferry routes with :
Departure cities,
Arrival cities.
It's easier to visualize where to go. This map will help you for the rest of the article.
Criteria for choosing a boat trip to Corsica
It depends on your priorities, you may consider:
The price
Day or night crossing
The duration on the boat
The port of departure
The city of arrival.
Prices remain similar between companies.
Our advice is to choose your arrival city (or preferred cities) first. If you have already chosen your destination in Corsica, everything you want to see, it indicates where to arrive.
We believe that it is better to drive a few kilometers on the freeway in France or Italy to a port of departure than on small roads in Corsica to reach your destination.
Step 1 – Choosing your preferred arrival cities in Corsica
The ferries can arrive in 5 cities:
The choice depends on your program on the island of Beauty, on what you want to see.
If you haven't decided yet, see our article on the most beautiful destinations in Corsica.
Bastia and Ile Rousse are good choices if you want to explore the north of Corsica. In particular:
Ajaccio is a good choice if you want to explore western and central Corsica. In particular:
The beaches around Ajaccio
Cascade des Anglais
Direct access to Corte and to mountain hikes
A few hours drive to South Corsica or to the calanques of Piana
Ideal for a road trip
Propriano, Bonifacio and Porto-Vecchio are good choices if you want to explore southern Corsica. In particular:
USE OUR GUIDE TO PLAN A


DREAM TRIP

TO

Corsica
All the information you need for your trip:
7 maps that make planning easier
130+ pre-selected locations
Practical advice
+ 220 photos to help you choose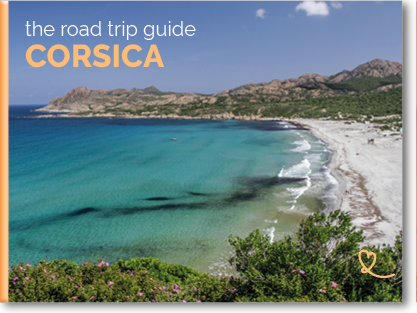 Step 2 – Choosing your departure port and travel time – From which city should you leave for Corsica?
From there you can find the departure ports:
Bastia is accessible by ferry from:
Marseille: 11h30 of travel
Nice: 6h
Toulon: 8h30
Genoa (IT): 10am
Livorno (IT): 3h30 or 10h depending on the ferry
Piombino (IT): 2h45
Savona (IT): 5h30
Ile-Rousse is accessible by ferry from:
Marseille: 11h30 of travel
Nice: 5.45 a.m. to 6.30 a.m.
Toulon: 7h
Livorno (IT): 5h30
Savona (IT): 8:30 am
Ajaccio is accessible by ferry from:
Marseille: 12 hours of travel
Nice: 6:45 am
Toulon: 7h
Propriano is accessible by ferry from:
Marseille: 12h15 of travel
Porto-Vecchio is accessible by ferry from:
Marseille: 14 hours of travel
Toulon: 12h
Compare ferry schedules and availability
Can you arrive at one port and leave from another?
If you are planning a road trip, you can arrive at one port and leave from another.
For example:
Arrive in Bastia,
to go around the Cap Corse,
Go down by the coast towards Ajavccio with Calvi and the calanques of Piana,
Go down the coast to South Corsica to discover Bonifacio and the magnificent beaches of the south,
Go back to Porto-Vecchio.
The boat to Corsica: advantages and disadvantages
Before taking the ferry, you must be aware of what awaits you.
The benefits are undeniable:
You can keep your car, no car rental required
If you travel at night, you can count on one night less of hotel accommodation
The arrival on Corsica is magnificent
No baggage limit
You may see dolphins during the trip
Disadvantages:
You have to drive to the south of France or the north of Italy to take the ferry – this can make the trip very long
If you don't have a vehicle, the benefits are greatly reduced
In this case, go and see the prices of planes to Corsica.
OUR TIPS FOR

RENTING A CAR

IN

Corsica
Compare prices on our preferred platform: DiscoverCars – one of the best rated sites.
Choose a car that is powerful enough (the roads are steep) but compact (some passages are narrow).
Think of thecomplete insurance (some roads are tortuous and narrow).
There is a lot of demand, book it early.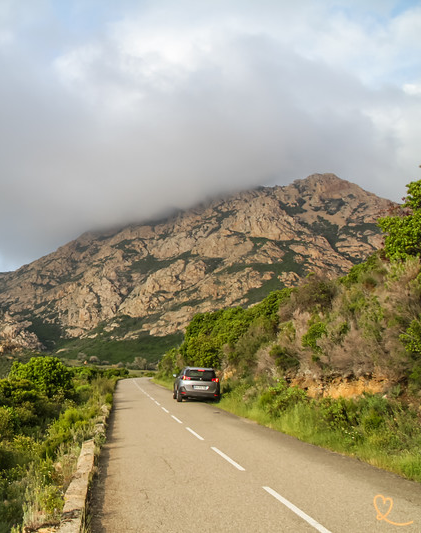 Which ferry company for Corsica to choose ?
Which is the best ferry company for Corsica?
There are 4 companies that operate crossings to Corsica.
They all have about the same level of reputation. There is not one that really stands out.
The best way is to compare the offers on a comparator.
Just be aware that Moby only leaves from Italy and that La Méridonale has very few boats.
Corsica Ferries and Corsica Linea have the most important offers.
But if you want to know more about each, here are our descriptions.
Corsica Ferries
Corsica Ferries is the best known shipping company of the 4. She is Italian.
It is very recognizable with its white and yellow boats.
The company has a nice fleet of boats which allows it to ensure:
Departures from several ports
Up to 30 crossings per day during the summer
Long crossings with private cabins
Higher speed crossings
An arrival at all the ports of Corsica
Corsica Linea
Corsica Linea is the modern name of the historic French shipping company SNCM.
Its boats are red in color.
It offers crossings from Marseille only.
It serves Ajaccio, Bastia, Ile-Rousse and Porto-Vecchio.
Some ships have private cabins.
La Meridonale
La Méridonale is perhaps the least known, but it is a French company.
It offers crossings from Marseille only.
It serves Ajaccio and Propiano.
Moby
Moby is perhaps the most surprising of the companies because its boats are covered with huge Looney Tunes illustrations.
The positioning is rather family oriented.
Departures are only from Italy to Bastia.
It is also the company that has a ferry from Sardinia to Bonifacio.
Compare the routes of the different companies
Prices: find the cheapest ferries to Corsica
The prices of the ferries are very variable.
They depend:
of the number of passengers
the type of vehicle
of the travel season
of the day of departure
from the moment you buy the ticket.
A ticket without car in low season can be as low as 30 euros.
While a crossing with a car and 4 adults can cost 700 euros in summer.
To reduce the price of your ticket (if you can't leave alone and without a car…),
Reserve as soon as possible! The earlier you book, the more affordable the tickets.
Go outside the high season (June to September) – the most expensive time is between mid-July and mid-August.
Compare departure days and times
Use a comparison tool to find the best prices. See our favorite
Plan your trip to Corsica
Discover all our articles to make your trip a success!
All our practical advice for a trip to Corsica – read
How to get to Corsica – coming soon
Which ferry to take to Corsica – read
Rent a car in Corsica – read
Where to stay in Corsica – read
Driving in Corsica – read
3 days in Corsica: where to go – read
4 or 5 days in Corsica: where to go – read
The most beautiful destinations in Cose – read
Crossing to Corsica: practical advice
1 – before departure
Check that your ID is valid.
Charge all your devices.
Buy food and drinks, if you want something different (and cheaper) than on the boat.
Prepare a small bag with everything you want to bring on board (see point 3).
2 – boarding
To board the ferry, you must have a valid ID, your ticket and the vehicle papers. You must arrive at least 1 hour in advance.
But don't arrive too early either, because you will have to wait in your car in the parking lot.
There is a security check and then a ticket check.
By car, follow the directions given by the agents at the port and on the boat. Respect their requests to park. They choose your position, because it's a Tetris game!
3 – parking
Check your vehicle carefully:
the handbrake is on
headlights and interior lights are off
the mirrors are closed
the car is closed
does not contain anything that fears heat or lack of air
And make a note of your vehicle's location, so you can find it easily!
4 – before entering the cabin
Take everything you might need.
You are not allowed to return to your car once the crossing has begun.
Don't forget (depending on the chosen crossing):
silver
devices / books / activities to keep busy
medication (especially if you are seasick)
food, drink if you don't want restaurants on board – especially water
binoculars if you hope to see dolphins
pillow / blanket / mask, if you want to be more comfortable on a chair to sleep
personal effects
5. Services on board ferries – What to do on board a ferry to Corsica?
The different ferries have different services. Especially if you compare the long crossings with the fast ones.
But usually you find:
Toilets
Restaurants
Bars
Cabins (for long crossings)
So it's up to you.
You can: eat, drink (reasonably), read, work… just like in a train
You can walk to take your 10,000 steps.
You can go outside and admire the view when you arrive on Corsica.
Some boats have game rooms, cinema, stores… And some ferries even have a swimming pool.
6. Restoration
Most boats have several options for eating and drinking
Bar
Snacks (sandwiches, pizzas…)
Restaurant (one or more)
7. Disembark
Following the announcement of the crew, return to your car.
Don't start your engine too early.
Wait until it is your turn, and follow the directions of the staff.
What to do if you get seasick
If you are seasick and do not have any medication, we advise you to:
Get some fresh air, go on a pontoon
Eat ice cream or suck on ice cubes gently
Ask around to see if anyone has a medication
Avoid looking at the horizon
FOR QUALITY ADVICE


QUALITY

Support us
Do you appreciate all the free content you find on our blog?
Our independence, the only guarantee of qualitytips, is partly based on your generosity!
We offer you to give us a coffee (or several) in the hope of sharing it with you one day in person!
Frequently asked questions
To conclude this article, here is a summary in the form of short questions. You will find all the detailed information in this article.
Which company to choose to go to Corsica ?
Among the 4 companiesCorsica Ferries, Corsica Linea, la Meridionale, Moby), none stands out in terms of services. Corsica Ferries has the most crossing options.
The best way is to use a comparison tool. Use our favorite
What is the fastest ferry to Corsica?
From France, the fastest crossing is between Nice and Ile Rousse in less than 5 hours.
From Italy, the fastest crossing is between Piombino (Italy) and Bastia in less than 3 hours.
How long does a crossing to Corsica last?
The duration of a crossing to Corsica will vary between 3 hours (between Piombino, Italy and Bastia) and 12 hours (or the whole night).
Can we take our car to Corsica?
Absolutely. This is the advantage of ferries. You can cross to Corsica with car, motorcycle, caravan or camper.
Can I travel with my dog on a ferry?
Yes, it is possible. The rules can be different depending on the company (on board or in kennels).
Corsica Ferries even has cabins where dogs are allowed.
How to sleep on a ferry to Corsica ?
If you choose for a night crossing, you can:
Reserve a chair (cheapest option).
Book a private cabin (with small bathroom) – they are available for 2 to 4 people
Without a reservation, you have to find a small place to sleep.
You can choose to take a private cabin for the crossing. They are equipped with a small bathroom and individual beds. Depending on the ship, you can also book a chair, less expensive than the cabin.
Can we sleep in our vehicle on a ferry to Corsica?
No, access to the garages on board the ferries is prohibited during the crossing.
Where to take the ferry to Corsica in France
The 3 ports of departure are Marseille, Toulon and Nice.
All 3 options have excellent crossing deals.
In Nice and Toulon, only Corsica Ferries is available.
When to buy ferry tickets for Corsica?
The answer is as soon as possible. Especially if you go in the middle of summer. Ferries are filling up and prices are rising.
The advice is 6 to 9 months in advance, if you can.
Compare prices and see availability.
Do not make




THE SAME MISTAKE

WE MADE
On one of our last trips to Europe, a hacker stole our credit card details while we were using a hotel WiFi.
So our trip began with a "card blocked" call… Not funny at all!
Learn from our mistake, make a small VPN investment to surf without worry.