Here is our guide to help you plan your road trip in Corsica, because the car is definitely the best way to explore the island of beauty.
There is so much to see all around with beaches, mountains, gorges and villages.
This should help you decide where to go, define your tour in Corsica, clarify your itinerary and prepare your trip!
STEP 0 – Essentials for a Road Trip in Corsica
Let's start with some essential facts to keep in mind before planning your trip to Corsica:
There are many places to see in Corsica (see our list of must-sees) so be reasonable in your planning
There are no highways or toll roads on the island
Most roads are winding – straight roads are rare – so allow extra time to get from point A to point B.
Some roads are very narrow and it can be difficult to pass a bus. You may have to maneuver.
Don't plan to cover too much every day… you'll want to explore these beaches and villages and stop everywhere!
July and August are very very very busy
Take layers of clothing with you. With the mountains, the weather can change, with storms and fogs. Be prepared for all weather.
OUR TIPS FOR

RENTING A CAR

IN

Corsica
Compare prices on our preferred platform: DiscoverCars – one of the best rated sites.
Choose a car that is powerful enough (the roads are steep) but compact (some passages are narrow).
Think of thecomplete insurance (some roads are tortuous and narrow).
There is a lot of demand, book it early.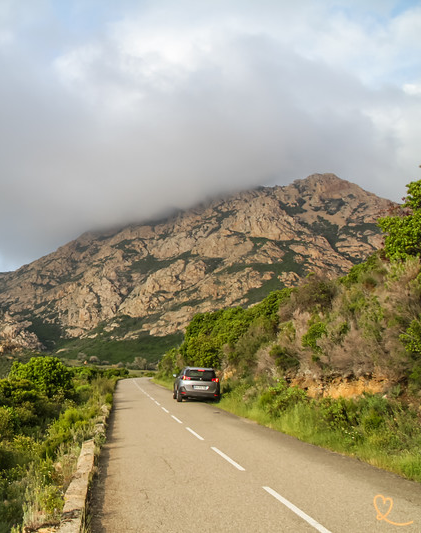 STEP 1 – Decide when to drive around Corsica
If your dates are already blocked and you have no choice, go to the next step. And don't worry, the island of Corsica is beautiful all year round!
If you haven't decided yet, here are some things to consider:
The best months to visit Corsica are considered to be from May to October – temperatures are pleasant, reaching over 20°C during the day.
July and August are very busy especially on the popular beaches and famous cities like Bonifacio (with the French school vacations)
May and October are our favorite months with flowers and fall colors – but if you want to swim in the ocean, the water might be too cold for some people
That leaves June and September, when the water is warm enough and the crowd is not yet crazy
If you travel in winter, there will be snow in the mountains and some passes may be closed
Anyway, because of the high mountains in the middle, the weather can change quickly from one hour to another and from one valley to another. But sometimes rain and gloomy clouds make the landscape even better because they bring out more detail. Above it is Cap Corse with the storm coming.
For example, below is the road that crosses the calanques de Piana in the fog. It was disappointing because the valley just before was completely sunny! Well, you have to be flexible.
STEP 2 – Where to go in Corsica – Regions and Map
Everywhere in Corsica, it is magnificent. There is not a single day that we thought "average". We were always amazed, at every turn, like in Iceland.
Corsica is separated into several regions, but I have created my own cut of "tourist regions" to visit. Below you will find a map to help you locate them, and then you can read the points of interest in each region to consider when planning your Corsica Tour by car.
Bastia and the Cap Corse
The northern tip of the island is called the Cap Corse. It is one of the most famous regions. It can be visited in one day, although we recommend at least 2.
The route takes you all around the peninsula through the villages. The west coast is particularly beautiful and wild with mountains plunging into the sea.
Points of interest:
Calvi and the Balagne
The Balagne is an ideal place to stay for a while. There are many things to see and beautiful beaches. The two main seaside resorts are Calvi and L'Ile-Rousse. It is really well arranged for tourism.
Points of interest:
Calvi and its Citadel
The Ile-Rousse with the walk on the island
The charming historical villages of the Balagne
The Agriates desert and its heavenly beaches
Lots of other nice beaches
Piana and the western center
This region is centered around the beautiful Gulf of Porto which is a Unesco heritage site. Spectacular landscapes and unique geological formations will leave you breathless.
Points of interest:
The famous Calanques les Piana (steep red cliffs)
The village of Evisa
The gorges of Spelunca
Cargèse and its beaches
Corte and Upper Corsica
Haute Corse is normally the whole northern region but I have only gathered the mountainous center and the north-eastern coast. It is a hiker's paradise.
Points of interest:
The historic city of Corte and its iconic viewpoint
The stunning and narrow Restonica valley
The old villages of the Castagniccia region
Ajaccio and the South West
There are many beautiful beaches along this coast, up to Propriano. The civilization on the west coast ends in the bay of Campomoro, which almost looks like a lake.
Points of interest:
Main city of Ajaccio
Boat trip to the Sanguinaires islands
Beautiful white sand beaches along the coast
Peninsula of Isolella
Sartene, the most Corsican of Corsican cities.
South Corsica
Probably the most famous region of Corsica because of Bonifacio's unique location and some of the best beaches in Europe that look like paradise.
Points of interest:
Map – our favorite destinations
Find all our ideas on where to go in Corsica, in this article.
STEP 3 – Corsica tour by car: how long?
Time to go around Corsica
Don't try to do the whole tour of Corsica in a road trip if you have less than 2 weeks.
Even with two weeks, diligence would be required to focus on only certain locations in each region to make it work.
3 weeks is much more comfortable.
Time to be dedicated to each region
Of course, you can focus on one area and visit it in depth.
But here are my estimates to give you a general idea of what to plan for. This period does not include the long hours spent on the beaches. I love road trips and seeing as much as possible
Bastia and the Cap Corse – 2 to 4 days
Calvi and Balagne – 2 to 5 days
Piana and the Central West – 2 to 5 days
Corte and Upper Corsica – 2 to 5 days
Bonifacio and South Corsica – 3 to 5 days
Ajaccio and the South-West – 3 to 5 days
Driving time in Corsica
STEPS 4 – How to get to Corsica
Corsica being an island, there are 2 ways to get there: by plane or by boat.
Flights to Corsica
For shorter travel times, I recommend flying. You can easily save a day's travel and car rental prices are reasonable (especially during the summer).
2 main airports : Bastia and Ajaccio
2 smaller ones: Figari (South) and Calvi (North)
Coming from outside Europe, you would have a stopover in a French continental airport
The local company is called Air Corsica
Volotea also has a wide range of flights
Flights from Paris take 2 hours
Ferry to Corsica
If you really want to come with your car, you can take a ferry from Italy or France (Nice or Marseille or Toulon):
You can arrive in Ajaccio, Bastia, Propriano, Porto-Vecchio or Ile-Rousse
You can leave from France – Nice (5 to 10 hours), Marseille (11 to 12 hours) or Toulon (5 to 10 hours)
You can also pass through several Italian cities (4 to 6 hours), mainly Genoa and Savona
You can find all your ferry options and schedules at Directferries.com.
And to help you choose, see our complete guide on ferries to Corsica.
STEP 5 – Rent a car in Corsica
If you are flying, it's time to rent your car. You will find all the international brands in the major airports and ferry terminals.
See our complete guide to car rental in Corsica.
Here are the main tips:
If you are not the most skilled driver, choose a car that is not too big so that you are more comfortable in the narrower sections of the roads
Choose a car with a good engine to drive more comfortably in the mountains
Note: In France, most cars are manual, so you will pay more to drive an automatic
You don't really need a 4×4, especially since most companies won't allow you to drive off-road even with a 4×4 for insurance reasons
Considering the roads, I would not rent a large motorhome
Compare prices on international car rentals at Discovercars.com – it's one of the top rated car rental sites by its customers! Consider the full insurance option – we always take it for peace of mind!
Book early to have a choice of your vehicle!
STEP 6 – Create your Corsica Tour Itinerary
Now that you have the dates and the transportation, all you have to do is decide on your itinerary in Corsica.
For inspiration, you can read my article on the 35 most beautiful places in Corsica.
See our itinerary suggestions:
Upcoming: 1 week, 10 days and 2 weeks
And you can use the maps and planning information in our ebook to plan your ideal Corsica road trip:
USE OUR GUIDE TO PLAN A


DREAM TRIP

TO

Corsica
All the information you need for your trip:
7 maps that make planning easier
130+ pre-selected locations
Practical advice
+ 220 photos to help you choose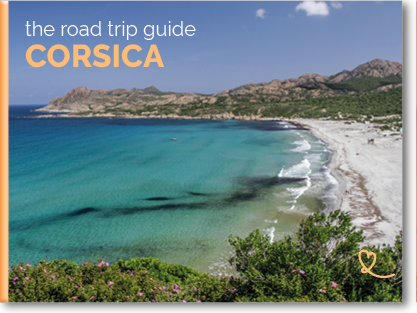 When planning your itinerary, remember to consider the following essential elements:
Travel time – Always allow more time to get from point A to point B than Google tells you. You will want to stop all the time to admire the scenery and the roads may have animals or traffic.
Daylight hours – Check the number of daylight hours you have when you travel. Check how much time you have to see all the sites while it's still light
Road Dififculty – In our eBook, I point out the roads that are a little more difficult. If you don't buy them, read the forums to make sure you're going to feel comfortable driving.
Flexibility of your plan – sometimes you can have storms coming in the afternoon. So plan to be flexible. At one time when we were there, people were complaining about the weather. But we didn't feel that way at all. We woke up earlier and did most of the exploring in the morning when the weather was nice. So we thought the weather was good.
STEP 7 – Book your accommodation in Corsica
There is a wide range of accommodations in Corsica – many campsites, hotels, resorts, rentals and all-inclusive.
There is something for everyone.
See all our suggestions in our article on where to stay in Corsica.
If you are only going to South Corsica, please read our article where to stay in South Corsica.
Some points to consider:
Generally the wifi is good, except on the Cap Corse
Bungalows in campsites will often add a fee for cleaning and for sheets and towels if you don't have your own.
Hotel pools are often not heated. So it can be cold during the intermediate seasons
Most establishments accept credit cards, but you may find some guesthouses in the interior of the country that will ask you for cash or a check (if you are French).
You can find a lot of choices on Booking.com. It is on this site that we book all our stays.
We think some of the best places to stay in Corsica are :
Bonifacio –
spend the night to see the sunset on these cliffs and enjoy the unique character of the city… I stayed at the Hotel Santateresa with great views of the city and the cliffs
– See photos and availability
The region of Porto-Vecchio –
I don't recommend the town itself, but staying in this area is great for exploring all the beaches and mountains of southern Corsica – We stayed at the residence U Livanti and really enjoyed the mini-villas, their views and the pool
– See photos and availability
Piana –
Given the slow drive to the calanques de Piana, it's a good idea to spend the night there so you can see the colors at sunrise and sunset – the Capo Rosso hotel has fantastic views from the pool!
– See photos and availability
STEP 8 – Suitcase for Corsica
Classic clothes. There is nothing special to think about.
And don't forget:
Swimsuit
Clothing for rain and for colder nights in the evening and in the mountains
Sunscreen
Sunglasses
Hat
Hiking shoes
And when it comes to electronics and other equipment, I recommend :
Photography equipment
GoPro for snorkeling and canyoning
An extra battery to charge your phone – you'll want to take lots of pictures and videos!
We also recommend binoculars to see the details of the calanques de Piana or the cliffs of Bonifacio, as well as the peaks of Bavella or Restonica
STEP 9 – Getting ready to drive in Corsica
We know that there are many people who were afraid to drive in Corsica and who write about it… These are certainly not ultra easy roads with long distance views, but most of the roads are not that difficult.
Note that not everyone who has experienced any difficulty takes the time to write it down on the Internet.
You just need to understand that:
the roads are almost never straight
animals can appear in the middle of the road but as the road is winding, you don't go fast
there are some places where the roads are really not very wide against the cliffs. So, if you pass a truck or a bus, you may have to back up a bit
Take your time and breathe. The millions of people who didn't have problems tend not to write on the Internet that everything went well, you only see people who were scared
The only time we recommend not driving is if you are all very anxious about driving in general.
Learn more with our article about driving in Corsica.
Here is our video to give you an idea:
STEP 10 – Corsica road trip – Prepare your GPS
What I hate most when I travel is wasting time. Turn around to find a place, miss an exit.
Sometimes this leads to adventure, but most of the time it only leads to frustration.

That's why we don't rent a GPS with the car. We have our own TomTom. With this system, we can use the MyDrive system on the computer to add all the GPS coordinates of the hotels as well as the parking coordinates for all the attractions we want to see.

NOTE – All locations in our eBook include the GPS coordinates of the nearest parking lot for exactly this reason.
USE OUR GUIDE TO PLAN A


DREAM TRIP

TO

Corsica
All the information you need for your trip:
7 maps that make planning easier
130+ pre-selected locations
Practical advice
+ 220 photos to help you choose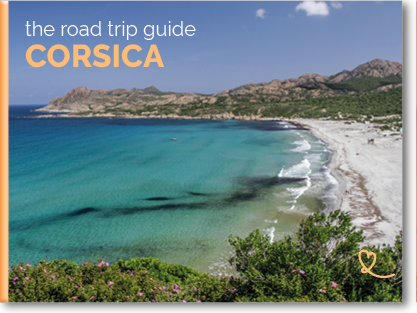 STEP 11 – Getting ready for your Corsica tour by car
People
At first glance, Corsicans may seem rough and uninviting, but after a few sentences and a smile, you will see that they are in fact very warm and welcoming.
By the end of August, you may encounter some people in the tourism industry who are losing patience with tourists who have no respect for others and the environment. Smile and be nice, everything will be perfect!
Language
Knowing a few words in the local language is always appreciated. The official language is French but they are very proud of their local Corsican language and many people still speak it.
FR – Corsica :
Hello – Salute
Goodbye – Avvedeci
Please – Per piace
To ringraziavvi
Excuse me – Scusatemi
Food
There are excellent products to taste in Corsica, my top 5 would be :
Local cheese
Local charcuterie – salty and tasty
Canistrelli (cookies)
Local wine
Mussels from the pond of Diana
Other tips for a road trip in Corsica
The emergency number is 112 (or the classic numbers for the French)
The plugs are with 2 round holes.
Bring cash for hostels in remote areas
Tap water is safe and delicious in the mountains