Discover, in photos, our selection of the most beautiful natural swimming pools in Corsica (whether in the south or the north): magical places to swim in a river or under a waterfall and cool off in the heat.
Genoese bridges, rock formations, emerald waters… there's something for everyone!
Our guide includes a map to locate the options nearest you and tips on how to get there.
BEFORE OUR TIPS + PHOTOS
HERE ARE OUR FAVORITES IN Corsica
Our guide to planning your road trip: eBook
Our favorite towns to stay in:
This guide is completely independent, based on our experiences. We visited the area anonymously, making our own choices and paying all our bills in full.
Corsica's most beautiful natural pools: map + selection
There are so many places to swim in the rivers of Corsica, it's hard to list them all.
Here's our personal selection with a map to help you find your way around and decide where to go:
1. Cavu natural pools (Les-3-Piscines)
Why we love
Les Piscines naturelles de Cavu, also known as Les 3 piscines, is a hidden gem in the heart of the Isle of Beauty. We fell in love with this bathing area. It's popular, but if you avoid the middle of the day, you'll be able to enjoy its beauty.
The scenery is breathtaking, surrounded by verdant mountains and refreshing waterfalls. The crystal-clear waters of the Cavu flow into a series of natural pools carved out of the rock, forming pools of turquoise and emerald hues. The cool, clear waters, surrounded by smooth rocks sculpted by time, flow between pools with mini waterfalls.
Access and advice
Porto-Vecchio region
30min drive from Porto-Vecchio
Paid main parking lot in season, then 30min walk along the track with river views.
Or drive up the slope if you're going to eat out.
From the restaurant, a flight of fairly high steps leads down to the pools.
Toilets in parking lots
If you continue walking, you'll find even more pools, such as the less-frequented Marion Bridge.
OUR TIPS FOR

RENTING A CAR

IN

Corsica
Compare prices on our preferred platform: DiscoverCars – one of the best rated sites.
Choose a car that is powerful enough (the roads are steep) but compact (some passages are narrow).
Think of thecomplete insurance (some roads are tortuous and narrow).
There is a lot of demand, book it early.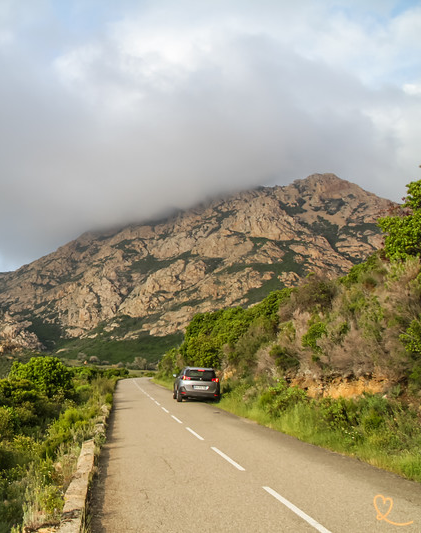 2. Fango Valley and Ponte Vecchiu
Why we love
The Natural Swimming Pools of the Fango Valley are a true aquatic paradise nestled in an unspoilt setting.
Located in the Scandola nature reserve, these pools offer an enchanting spectacle of tumultuous waterfalls and clear pools surrounded by lush vegetation and, above all, magnificent, colorful rock formations. The Fango River meanders through the mountains, creating natural pools of varying sizes and depths.
It was hard for us to agree to turn back! The main walk begins with a pretty stone bridge: Ponte Vecchiu.
Access and advice
South of Calvi, along the D351
40min drive from Calvi
Ample paid parking in season just across the road from the point.
Easy access to the bridge, but very steep to reach the water here. Walk along the river to find other places with easier access.
3. Polischellu waterfalls
Why we love
The Cascades de Polischellu (or Pulischellu) are a must-see in the Solenzara valley. There's a succession of basins and waterfalls within easy reach.
The most famous is a 2-level waterfall with a large emerald pool.
The craggy rocks surrounding the pool add to the wild and picturesque atmosphere of the place, while the lush vegetation adds a touch of greenery to this enchanting landscape.
One of Corsica's beginner canyoning trails ends at this waterfall with a fun jump back! (see booking link in the block after our advice).
Access and advice
In the Solenzara valley
1h15 drive from Porto-Vecchio
Pay parking along the D268 road
15min walk to the main waterfall – fairly easy walk on the road, then through the trees.
Be careful to climb on the left side of the river, not the right.
OUTDOOR ACTIVITIES


EN

South Corsica
4. Aïtone waterfalls
Why we love
The Aïtone waterfalls and their natural pool are an idyllic sight. We loved our time here, surrounded by impressive chestnut and Laricio pine trees.
We loved crawling through the rocks to discover more nooks and crannies, mini waterfalls and little pools of water.
The place is charming and refreshing!
It's the perfect place to recharge your batteries and connect with nature, letting yourself be enveloped by the beauty and tranquility of this unspoilt natural environment.
Access and advice
Above the village of Evisa
Inland from Porto-Ota
40min drive from Porto Ota
Short 10min flat walk under the trees, then fairly high steps and paths between large rocks.
5. Solenzara swimming pools
Why we love
The Solenzara valley is the best-known river bathing area in southern Corsica. It is sometimes listed as Corsica's most beautiful river.
The natural swimming pools of Solenzara in Corsica offer an idyllic setting for cooling off and relaxing in the heart of nature. Situated along the Solenzara River, these natural pools offer crystal-clear waters and beautiful rock formations, while admiring the mountain peaks.
Access to the river is possible at several levels along the main road, including a fairly flat area called "Solenzara beach".
Access and advice
In the Solenzara valley
50min to 1h10 drive from Porto-Vecchio
Various paid and unpaid parking lots along the route
6. Piscia di l'Onda
Why we love
The waterfall and natural pool at Piscia di l'Onda offer a veritable oasis of freshness and natural beauty. The 50m-high cascade is impressive, with its waters rushing down the cliffs to create a revitalizing waterfall.
Below, a natural pool with transparent waters invites visitors to take a dip. Or simply relax and listen to the sound of the water.
The advantage is that the pool is shaded, making it an ideal spot in the height of summer.
Access and advice
30min walk from the bridge along the D757 road
Longer if you hike all the way from the village
There are 2 on Google Maps
50min drive from Porpriano
A few minutes' drive from the village of Moca-Croce
Intermediate access (up and down). There are 2 waterfalls, so go down to the second one.
7. Cascade des Anglais
Why we love
These cascades feature small waterfalls that cascade into a series of natural, crystal-clear basins. It's a very popular spot at the crossroads of the GR20, but also very refreshing on hot summer days.
But beware, the water is very cold. Queen Victoria's British officers came to enjoy its benefits (hence the name, Cascade des Anglais).
Access and advice
East of Ajaccio
1 hour's drive from Ajaccio
2 pedestrian accesses, 20 to 30min walk
Everything is well indicated
Easy walking
FOR QUALITY ADVICE


QUALITY

Support us
Do you appreciate all the free content you find on our blog?
Our independence, the only guarantee of qualitytips, is partly based on your generosity!
We offer you to give us a coffee (or several) in the hope of sharing it with you one day in person!
8. Spelunca gorges and Genoese bridge at Pianella
Why we love
Not far from the famous calanques de Piana, discover the completely different landscapes of the Spelunca gorges.
The gorge is like a sword through pink granite, covered with dense vegetation.
You'll find plenty of places to swim, including around the 15th-century Genoese bridge at Pianelle.
The waters are emerald green.
Access and advice
Route D124, inland from Porto Ota
15min drive from Porto Ota
Easy access from the roadside
9. Spina Cavallo bridge
Why we love
It combines a historic site, a small architectural marvel and beautiful natural surroundings.
Here, the 13th-century Pisan bridge over the Rizzanese has a surprising "horse-back" architecture. One of a kind!
Next to it you'll find a small sandy beach for splashing about. The waters are less turquoise, but the place is very peaceful.
Access and advice
In the Propriano and Sartène region
Along the D69 road
10min drive from Sartène
Parking available on a median opposite the bridge
Very easy access
USE OUR GUIDE TO PLAN A


DREAM TRIP

TO

Corsica
All the information you need for your trip:
7 maps that make planning easier
130+ pre-selected locations
Practical advice
+ 220 photos to help you choose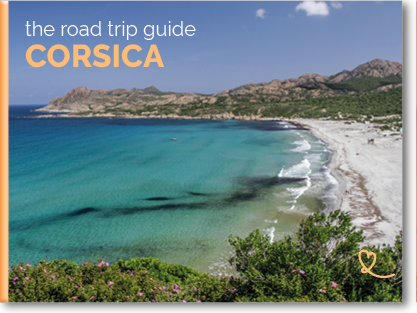 10. Struccia waterfall
Why we love
It's not the biggest pool you can imagine, but we loved the little parchment and the charm of the waterfall, enough for a good 15m-high shower!
You're in one of Corsica's wildest regions: Castagniccia.
The rocky cove is nestled in a verdant forest (even in summer).
Access and advice
In the heart of Corsica
1h15 drive from Corte
1h20 drive from Bastia
Departure from the village of Carcheto Brustico (D71 road)
15-minute trail past the cemetery
Fairly easy access
11. Restonica Valley – Grotelle pools
Why we love
The Restonica river rises in Lake Melo at an altitude of 1700 m and flows through one of Corsica's most beautiful valleys.
The descent is dotted with pools and small waterfalls. If you'd like to freshen up, this is the place to go.
There are several around the Grotelle sheepfolds or along the footpath.
Be aware, however, that the access road is narrow and the parking lot not very large, as this is also the starting point for the popular hike to the lakes.
Access and advice
In the heart of Corsica
30min winding, narrow road (in part) from Corte
Find out more in our article on the valley.
Easy access from road or footpath
---
Departure from France and Italy
Advantage: you can take your car!
---
Airports in Bastia, to visit the North, Figari to visit the South, or Ajaccio convenient for all Corsica.
Compare flights!
12. Manganellu river and Meli waterfall
Why we love
The natural pools of the Manganellu River in Corsica offer a refreshing retreat amid breathtaking natural scenery. Located along the Manganellu River, these pools are characterized by their crystal-clear waters, which flow into natural pools surrounded by rocks and lush vegetation. You just have to make a little effort to get there.
The trail first takes you to the 20m-high Meli waterfall before reaching Manganellu and its series of emerald-colored pools.
We've got to get back there and take your pictures!
Access and advice
Heart of Corsica
40mùin drive from Corte
Walk from the village of Canaglia, 45min to 1h15
Not very well signposted (path on right after point)
Purcaraccia waterfalls (closed without guide)
The natural pools of the Cascades de Purcaraccia in Corsica are among the most beautiful and spectacular. Nestling in the Alta Rocca valley, these pools are formed from the crystalline waters of the waterfall that cascades down the steep cliffs. One natural pool after another offers refreshing turquoise waters with beautiful rock formations all around.
A prefectoral decree now limits access to these pools to groups accompanied by authorized personnel.
The most beautiful natural pools in South Corsica
Here's a list of 10 natural swimming pools in Corse du Sud (geographical southern half), with our favorites listed above, and others to consider:
Cavu natural pools (Les-3-piscines)
Polischellu waterfalls
Swimming pools of Solenzara
Piscia di l'Onda
Cascade des Anglais
Spina Cavallo bridge
Purcaraccia (but closed)
L'Ortolo
Baracci Canyon
Carbuccia bridge
…
The most beautiful natural pools in Northern Corsica
Here's a list of 7 natural swimming pools in northern Corsica (geographical northern half), with our favorites listed above, and others to consider:
Fango Valley
Aïtone waterfalls
Spelunca gorges
Struccia waterfall
The Hell Bridge
Ucellulin cascades
La Figarella
…
Frequently asked questions
Are Corsica's natural pools safe for swimming?

In general, natural swimming pools in Corsica are considered safe for bathing. However, it is important to take certain precautions: Monitor weather conditions and forecasts. Heavy rainfall can cause rapid changes in water flow, making swimming dangerous. It is advisable to check with local authorities or tourist guides for current conditions.
It is also important to exercise caution when swimming. Make sure you know your limits and don't venture into areas that are too deep or have too strong a current.
Is there an entrance fee for Corsica's natural pools?
Access to Corsica's natural pools is generally free. Most of these sites are located in unspoilt natural areas and require no special entrance fees. However, some parking lots charge a fee to help maintain the site.
What's the best time of year to visit Corsica's natural pools?
The best time to visit Corsica's natural pools is generally during the summer months, from June to September. During this period, temperatures are higher, making swimming more pleasant and refreshing. The natural pools also offer welcome relief on hot Corsican summer days.
However, the natural pools are very popular in July and August, when the number of tourists to Corsica explodes.
Spring is also the best time to admire the waterfalls.
Are there any special rules for visiting Corsica's natural pools?
When visiting Corsica's natural swimming pools, it's important to follow certain rules to preserve these fragile natural environments and guarantee everyone's safety. Here are some general rules to bear in mind:
Keep an eye on the weather
Downstream of dams, watch out for rising water levels
Wear good footwear for hiking, and prefer water shoes for going in the water.
Don't leave any garbage behind
Follow the marked trails to avoid damaging the vegetation.
Don't make a fire
Don't disturb wildlife
Be aware of your swimming skills
Follow safety instructions: If signs indicate specific warnings or restrictions, please observe them carefully.
Imperative supervision of children
Don't dive head first (rocks may appear deeper than they are).
Don't drink the water, even if it's clear
Protect yourself from the sun
Are Corsica's natural swimming pools suitable for children?
Some are shallow and without strong currents, making them suitable for children. But not all of them.
Natural hot pools
There are hot springs in Corsica, but they are often exploited, as in the Caldane baths near Sartène.