Staying at the Version Maquis Citadelle Hotel in Bonifacio was an incredible experience. We loved our stay in this establishment.
Nestled in an exceptional natural setting, the hotel offers absolute tranquility, conducive to relaxation and serenity.
In this article, we'll take a closer look at the Version Maquis Citadelle Hotel in Bonifacio. You'll find plenty of photos to give you a complete overview of this magnificent hotel and all the information you need to make your stay a success.
This review is completely independent, we stayed anonymously and paid our bill in full.
Why stay at the Version Maquis Citadelle Hotel (Bonifacio)?
The Hotel Maquis Citadelle is undoubtedly one of Bonifacio's finest luxury hotels and embodies the town's upscale image. Its qualities are many:
Breathtaking views of the citadel: Enjoy breathtaking views of Bonifacio's citadel from the hotel's rooms and common areas.
Surrounded by maquis: Immerse yourself in the heart of Corsican nature by staying at this hotel, which is surrounded by maquis, offering a peaceful, unspoilt setting.
Peaceful luxury: Hotel du Maquis Citadelle combines luxury and tranquility. Enjoy a serene, relaxing stay in elegant, refined surroundings.
But if you're tired of the view of the Citadelle of Bonifacio (let's face it…), we've got otherluxury hotels in southern Corsica to choose from.
---
See more photos of Hotel Version Maquis Citadelle in Bonifacio
---
Is the Maquis Citadelle hotel in Bonifacio worth it? Our review
For us, the Hôtel Version Maquis Citadelle is undeniablyone of the best establishments in Bonifacio, Corsica.
It's an ideal place to relax, recharge your batteries and enjoy the tranquility of the surrounding countryside. The scents and landscapes typical of Corsica add a touch of magic to this oasis of calm.
Its infinity pool offers a unique view of the citadel, and the impressive 600 m2 spa guarantees a rejuvenating stay.
FOR QUALITY ADVICE

QUALITY
Support us
Do you appreciate all the free content you find on our blog?
Our independence, the only guarantee of qualitytips, is partly based on your generosity!
We offer you to give us a coffee (or several) in the hope of sharing it with you one day in person!
Decoration and atmosphere
The decor and ambience of the Maquis Citadelle hotel in Bonifacio reflect a perfect harmony with the surrounding nature. Attention to detail and choice of materials create a luxurious, contemporary atmosphere.
Architect David Oswald, of Corsican studio Albore, has brought this vision to life, designing a minimalist space that enhances the natural beauty of the surroundings. The khaki-tone cushioned chairs and use of wood resonate with the environment, while the clean design creates a soothing ambience.
The entire hotel is imbued with sophistication and refinement, with clean lines and well-thought-out spaces. Every detail has been carefully selected to create a harmonious and captivating visual experience. This attention to detail is unique to 5-star hotels and sets them apart in the luxury sector.
---
See availability and rates of Hotel Version Maquis in Bonifacio
---
BEST THINGS TO DO

IN

Southern Corsica
---
Discover our articles on the region:
---
Discover our articles on Bonifacio:
---
Discover our articles on Porto-Vecchio
The room
Our room at Hôtel Version Maquis Citadelle was a true haven of peace, with a contemporary, minimalist and uncluttered decor. We were delighted by its harmonious integration with the surrounding nature, creating a soothing, serene atmosphere.
In terms of facilities, the room was well equipped to meet our needs. We found a coffee machine and a kettle, as well as a quality Bluetooth station that has advantageously replaced the portable speaker that follows us on our travels.
---
View availability at Hotel Version Maquis in Bonifacio
---
The view from the room
Depending on your choice, you'll either have a view of the hotel garden or the citadel. In both cases, you can take full advantage of the maquis that surrounds and protects the hotel.
All rooms have private terraces, so you can take full advantage of the view and the peace and quiet. With landscapes of this quality, we warn you, returning home can be difficult…
The bathroom
The bathroom in our room at Hôtel Version Maquis Citadelle featured a beautiful walk-in shower, offering both an elegant design and a pleasant showering experience, truly rejuvenating after a dip in the pool despite the capricious weather.
Hygiene products from the authentic Corsican Isula brand were available, as well as a bathrobe (really soft) and slippers.
USE OUR GUIDE TO PLAN A

DREAM TRIP

TO

Corsica

All the information you need for your trip:
7 maps that make planning easier
130+ pre-selected locations
Practical advice
+ 220 photos to help you choose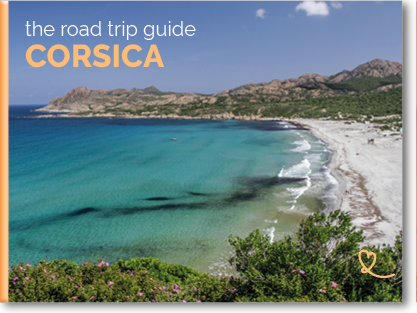 The breakfast
The advantage of staying in a hotel that also serves as a restaurant is that breakfast is often a real treat for the taste buds. Presented as a buffet, it offered a variety of choices to satisfy our culinary curiosity.
We particularly appreciated the presence of local products, such as the delicious home-made jams. Everything was fresh, carefully prepared and appetizingly presented.
Breakfast was hearty, offering a multitude of sweet and savory options, with fresh viennoiseries, tasty breads, juicy fruit and a selection of quality Corsican cheeses and charcuterie.
A special mention for the waffles, which were simply delicious. We couldn't resist their soft texture and delicious taste…
Equipment and common areas
The Hotel Version Maquis Citadelle in Bonifacio offers an exceptional range of facilities in keeping with its 5-star positioning.
First and foremost, the hotel boasts a magnificent outdoor infinity pool with breathtaking views of the surrounding maquis and citadel.
For fitness enthusiasts, the hotel offers a fully-equipped gym with Technogym equipment, featuring innovative sports equipment. Yoga classes are also available for enthusiasts.
For ultimate relaxation, the hotel boasts a 600-square-meter spa offering a luxurious experience. Enjoy the sauna, hammam, banya (Russian sauna), ice fountain and a full range of treatments from the renowned Biologique Recherche brand.
In terms of additional services, the hotel offers facilities such as boat hire to discover the marine surroundings and, even more atypical, a free electric Porsche shuttle to the port or citadel. But if you're feeling more bucolic, you might prefer to use the electric bikes provided by the hotel.
The restoration
Hotel Version Maquis Citadelle in Bonifacio offers a complete culinary experience for its guests, with a good-quality bar and restaurant.
The poolside bar is the ideal place to relax and enjoy a refreshing drink. Enjoy a variety of creative cocktails, revitalizing smoothies and detoxifying waters. What's more, the bar offers a selection of Corsican wines, allowing wine-lovers to discover the rich, powerful local flavors.
The hotel restaurant offers original, generous and resolutely Mediterranean cuisine. At lunchtime, you can enjoy light dishes such as fresh salads, grilled fish and tasty meats. In the evening, the atmosphere becomes more refined and you can enjoy a complete gastronomic experience. An open kitchen lets you watch the chef and his brigade at work.
We had the pleasure of dining in the hotel restaurant and were delighted by the quality and creativity of the dishes. And once again, what a view…
Practical information about the Hotel Version Maquis Citadelle in Bonifacio
Type
Version Maquis Citadelle is a 5-star hotel in one of Corsica's most magical towns. Prices are reasonable, but not exorbitant in the off-season.
---
---
Where is the Version Maquis Citadelle Hotel?
The hotel is located high above the town, about 2 km from the marina in Bonifacio, Corsica.
Driving times from the main Corsican towns.
From Porto-Vecchio: about 30 minutes by car.
From Ajaccio: about 2 hours and 20 minutes by car.
From Calvi: approx. 3.5 hours by car.
From Bastia: approx. 2 hours 40 minutes by car.
From Corte: approx. 2 hours and 20 minutes by car.
These times may vary according to traffic conditions.
How to get there
The easiest way to get to Bonifacio is by car, but you can also opt to drive:
For the ferry, even though the ferry terminal is only a 15-minute walk from the hotel, it's easier to get to Propriano or Porto-Vecchio. To find out more about ferry connections, visit our article with all our tips for booking your ferry.
For the plane. The nearest airport is Figari-Sud Corse, about 20 minutes' drive from the hotel. We recommend renting a car at the airport or taking a cab to the hotel.
OUR TIPS FOR
RENTING A CAR

IN

Corsica
Compare prices on our preferred platform: DiscoverCars – one of the best rated sites.
Choose a car that is powerful enough (the roads are steep) but compact (some passages are narrow).
Think of thecomplete insurance (some roads are tortuous and narrow).
There is a lot of demand, book it early.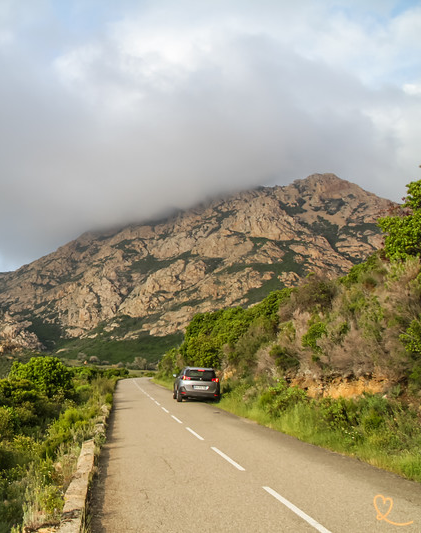 Parking
The Maquis Citadelle hotel in Bonifacio offers dedicated parking for guests, providing both convenience and security for vehicles. The parking lot is above ground, but covered to protect cars from the elements and the sun's rays.
The parking lot is equipped with charging stations for electric vehicles.
For people with reduced mobility
Hotel Version Maquis Citadelle is accessible on request to people with reduced mobility (PRM), who are very welcome.
We invite you to contact the hotel staff directly to make arrangements for your stay.
Is the Version Maquis hotel in Bonifacio family-friendly?
Although there are no rooms specifically for families, the hotel does offer a spacious suite that can comfortably accommodate a family with two children under 16.
The hotel also provides cots for families with young children. All you need to do is make a prior request when booking, so that the hotel can prepare and organize cots in the room.