You want to visit Corsica and you wonder which city to choose: Calvi or Ile-Rousse?
Here are the results of our battle Calvi vs Ile-Rousse comparing, with photos:
The charm and ease of exploration,
The best access to the beaches,
The best monuments and museums,
The most beautiful day trips,
…
Where will you go?
This opinion is completely independent, based on our experiences. We visited the area anonymously, making our own choices and paying all our bills in full.
Calvi or Ile-Rousse – Summary of the comparison
Short answer
Both cities have a long history and a lot of charm. You can't go wrong staying in one of them. So here is a summary of our personal opinion on the comparisons. In the article, you will find more details about each section (with pictures).
Access = equal (airport for Calvi and ferry for Ile-Rousse, and proximity to Bastia)
Charm of the streets = L'Île-Rousse
Easy to explore = L'Île-Rousse
Most beautiful beaches in the city = Calvi
Most beautiful beaches around the city = L'Île-Rousse
Most beautiful main attraction = equality (nature for Ile-Rousse or historical for Calvi)
Best atmosphere / gastronomic scene = equality
Nightlife = Calvi
Most beautiful excursions in the region = equality
Sea and land activities = equality
If you travel without a car, Calvi has the most to offer
They are both among the best cities to stay in Corsica.
Where are they located? Can I visit both? – Map
The 2 cities are close to each other, in the Balagne region.
Here is our map with the top 6 places to visit in the region(see our complete list).
It is very easy to move between the two, so even if you stay in one, you can visit the other and enjoy its assets:
By car, the driving time between the 2 via the main road T30 is 30min
By train from the beaches, the U Trinichellu transports you between the 2 in less than an hour and also allows you to discover the beautiful beaches of Balagne between the 2.
OUR TIPS FOR

RENTING A CAR

IN

Corsica
Compare prices on our preferred platform: DiscoverCars – one of the best rated sites.
Choose a car that is powerful enough (the roads are steep) but compact (some passages are narrow).
Think of thecomplete insurance (some roads are tortuous and narrow).
There is a lot of demand, book it early.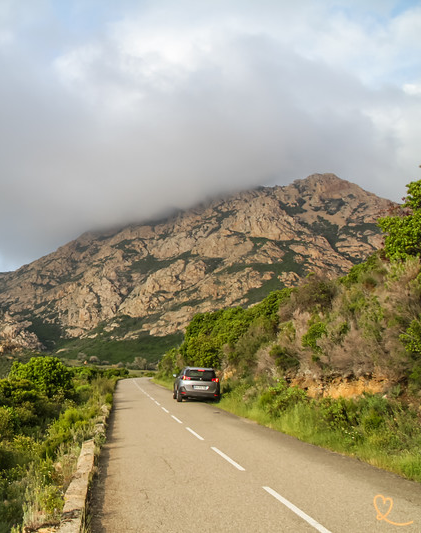 Accommodations intro
The 2 cities have very nice hotel offers.
We recommend hotels later in this article, but if you have already decided:
City charm / Atmosphere
Explore the streets of Calvi
Calvi is a mixture of atmosphere:
The area of the citadel with its historic streets that offer a journey back in time.
The waterfront around the marina with its wider streets, restaurants, hotels and lots of life.
Explore the streets of L'Île-Rousse
Ile-Rousse was founded by the most famous leader of the Corsican people Pasquale Paoli in 1758 (although the place has been inhabited since antiquity). He wanted a port that was not controlled by the Genoese.
In this port city, the roads are straight and the architecture dates mostly from the late 18th to early 19th century.
You will find a church, a covered market, and pedestrian streets.
And L'Île-Rousse has its own fine sandy beach in town. Right next to the Pascal Paoli square. You can really do everything on foot!
Our opinion = L'Île-Rousse
Even if we love the Citadel of Calvi, our favorite in terms of charm is for L'Île-Rousse. The city is smaller and we find it has more character buildings.
FOR QUALITY ADVICE


QUALITY

Support us
Do you appreciate all the free content you find on our blog?
Our independence, the only guarantee of qualitytips, is partly based on your generosity!
We offer you to give us a coffee (or several) in the hope of sharing it with you one day in person!
Ease of exploration
Our opinion = L'Île-Rousse
ClaireÎle-Rousse is much easier to explore on foot.
It is more concentrated and a little more flat.
But Calvi is not so bad, the biggest difficulty is the citadel with its old cobbled streets and its stairs.
In Calvi, there is a pontoon along the entire beach to give you easy access.
Beach of Calvi or Beach of Ile-Rousse
In this section we only talk about the beach in the city. The following section looks at the beaches around these cities.
Beach of Calvi
Calvi's beach is truly unique in Corsica: a long stretch of sand, views of the mountains, views of a citadel, a pine tree border and easy access to the city.
It really offers a lot of advantages and we love the combination of nature and city. Here the city does not take over the beach. No skyscrapers.
On the other hand, we warn you, it is covered with people in summer…
White sand
Supervised beach in summer in some areas
Rental of umbrellas, mattresses, pedal boats…
Some sections are private beaches
Restaurants on the beach and in the city nearby
Beach of Ile-Rousse
There are 4 beaches within walking distance, one of which is private. They all have several names, and it can get confusing…
The Napoleon beach is the most central, next to the Place Paoli. It is a nice sandy beach with a view of the islands and the bay. It is not very big but charming.
It is a supervised beach in season.
However, being in a city and easy to access, it is very busy in summer!
Our opinion = Calvi
Here, there is no doubt. Calvi is the winner.
Having access to such a large beach in the middle of town is great. And we love the view of the city and the citadel.
Most beautiful beaches around Calvi and Ile-Rousse
Most beautiful beaches around Calvi
Calvi is in a bay where you will find other small beaches in coves.
They are not large but have charm with the views of the bay, the citadel and the mountains in the background.
For example you can go to:
The beach of the Sainte-Restitude
The beach of Arinella-Lumio
The Punta di Spanu point
See our article on the most beautiful beaches around Calvi.
Most beautiful beaches around L'Île-Rousse
Around Ile-Rousse, the beaches have less spectacular views but they are wilder and more beautiful. In Bodri, you can find a very fine white sand under your feet!
For example you can go to:
See our article on the most beautiful beaches around L'Île-Rousse.
Our opinion = L'Île-Rousse (but not far)
In our opinion, from Ile-Rousse you are closer to the most beautiful sandy beaches.
But anyway with the beach train, you have easy access to many beaches from both cities.
Be aware that in the Mediterranean, at any period, some beaches in Corsica can be covered with algae (Posidonia grass). This can happen at any beach but not at the same time. It's random. And so the beach seems less paradisiacal, but this is essential for the ecosystem.
USE OUR GUIDE TO PLAN A


DREAM TRIP

TO

Corsica
All the information you need for your trip:
7 maps that make planning easier
130+ pre-selected locations
Practical advice
+ 220 photos to help you choose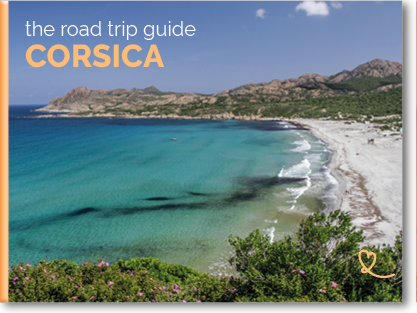 What to do: islands of Pietra or citadel of Calvi
The citadel of Calvi
Calvi is very recognizable for its citadel located on a peninsula.
Start by admiring it from the beach, then go and get lost in its alleys!
It was built under the Genoese government, between 1483 and the seventeenth century in order to have stronger defenses. There are impressive fortifications all around.
Note: we really don't recommend the citadel to people with walking difficulties. There are many slopes and stairs and the ground is covered with uneven pavement.
See all our tips on visiting the citadel.
And see our complete guide on What to do in Calvi.
The islands of Pietra (and their lighthouse) in Ile-Rousse
The main thing to do in Ile-Rousse is to enjoy the island walk to the top of the lighthouse. It all starts on the seaside promenade, on foot or by tourist train.
What makes the area famous is the series of rocky islands of red porphyry. This vibrant color is what attracts many visitors.
It is even more beautiful at the beginning or end of the day when the sun is low and the colors are even more vibrant.
Learn more about the ballad.
OR see our guide with all the best things to do in Ile-Rousse.
Our opinion = equality, according to your interests
If you are more of a nature lover, then L'Île-Rousse wins with its beautiful islands.
If you are more into history, then the Citadel of Calvi will be a great playground for you.
Excursions in Balagne and further afield
The Balagne region for both cities
The Balagne region is famous for its charming villages spread over the hills between the mountains and the sea.
There are a lot of nice little "fortress villages" with great views and a long history.
The buildings are full of alleys, stone houses and construction using rocks as part of the walls!
Our favorites include: Pigna, Speloncato and Sant'Antonino.
Find our selection in our article on the most beautiful villages of Balagne.
If you don't have a car, organized tours leave from Calvi and Ile-Rousse to the most famous villages – see the availability of organized tours
Calvi, closer to Piana
From Calvi it is easier to explore the calanques de Piana. You save half an hour of driving. And you can even leave directly by boat.
Learn more in our article on Piana and its region.
Île-Rousse, closer to the Agriates desert
From Île-Rousse, you are closer to the magnificent Agriates desert.
You can do organized tours in 4WD to discover its wild nature and its dream beaches such as Saleccia (but you can also find them from Calvi).
See the options in organized tours from Calvi
See the options in organized tours from L'Île-Rousse
Learn more in our article on the Agriates desert.
Sea and land activities
Activities in Calvi
You can:
Activities in L'Île-Rousse
You can:
Hotel offer – where to stay
Where to stay in Calvi – accommodation suggestions
Hotel Onda
Onda On the beach side, we found the decoration of the Onda hotel very successful. It's warm, modern and soothing. A great experience!
see pictures and availability
Kasano Hotel
Right next to the citadel, this host and his artwork offered us an elegant and inspiring experience, and we think you'll love it too.
see pictures and availability
Luxury
Hotel La Villa Calvi with beautiful perspective effects
see prices, pictures and availability
Camping
Camping La Pinède is just a few minutes walk from the beach.
They have small, clean and affordable bungalows.
See the best hotel and rental offers // or see our article on the best hotels in Calvi
Where to sleep in Ile-Rousse – accommodation suggestions
See the best hotel and rental offers // or see our article on the best hotels in L'Île-Rousse
Our opinion = equality
Both cities have a great offer of hotels and rentals.
Catering offers
Corsica has many delights.
Enjoy the stores and restaurants with : Cookies (canistrellis, courellinis…), cold cuts, cheeses…
Restaurants in Calvi
In Calvi, we recommend, among others
Restaurant A Casetta
If you are looking for delicious Corsican charcuterie, look no further.
Restaurant Il Capitano
And if you are looking for more developed dishes with one of the most beautiful views of Calvi from the terrace on the 5th floor. Here is the right choice for you;
Marine Life Restaurant
In a very pleasant setting, with the soft sound of the halyards of the pleasure boats moored nearby, you will be able to taste a creative cuisine as we like them. The prawns will be cooked with soy and citrus caramel, sprinkled with peanut chips, while the pork loin will be topped with a honey spice juice…
Restaurants in L'Île-Rousse
In Ile-Rousse, we recommend, among others
U Bistrotellu d'a Quadrera
In one of the alleys of the city, a restaurant which handles humor and very good Corsican family recipes. You can opt for the soup of the chef's ex-wife or tackle the entrecote steak topped with its Corsican cheese sauce. Only happiness and conviviality!
The Restaurant Le Rendez-Vous
A must in Ile Rousse, the restaurant of the hotel L'escale Côté sud which offers not one, but two terraces with a breathtaking view on the bay. The menu is wide, enough to satisfy all tastes and appetites. We advise you to combine tapas and a generous salad with good Corsican products.
Acula Marina Restaurant
A restaurant with its feet in the water, overlooking the beach of Caruchettu. What a pleasure to taste swordfish a la plancha or paccheri Sicilian style in such a setting!
Access – how to get to Calvi or L'Île-Rousse
Both cities are easily accessible:
In Calvi, you find a small airport – in summer, you have flights from Lyon, Marseille, Nice, Paris Orly, Toulouse, Brussels Charleroi, Paris CDG, Vienna, Salzburg, London Stansted
In L'Île-Rousse, ferries of Corsica Ferries and Corsica Linea arrive from Nice, Marseille or Toulon.
Or you can arrive in Bastia by plane or by ferry.
Driving time between Bastia and Ile-Rousse = 1h30
Driving time between Bastia and Calvi = 2h
---
Departure from France and Italy
Advantage: you can take your car!
---
Airports in Bastia, to visit the North, Figari to visit the South, or Ajaccio convenient for all Corsica.
Compare flights!