Is Corsica worth visiting?
Looking for your next destination? You ask yourself: is Corsica worth visiting, why go there?
This Mediterranean island seems to be, indeed, an excellent choice: between sumptuous beaches and majestic mountains, no time to get bored.
To convince you, we have listed in this article the main reasons why we love traveling to Corsica. However, we still want to offer you a realistic vision. That's why we also list the small disadvantages you should know before going.
This opinion is completely independent, based on our experiences. We visited the area anonymously, making our own choices, and paying all our bills in full.
Is Corsica worth visiting? – summary
Absolutely.
Like any destination, it has its advantages and disadvantages. But it is a truly beautiful island where in just a few hours you can go from paradisiacal beaches to high mountains. It has character, as much by its landscapes, as by its gastronomy or its culture.
Finally, as you can imagine, we would not have created a site dedicated to Corsica, if we did not love the region…
Here is a short video, to give you an idea of what to expect…
Reason 1 – For the landscapes, between sea and mountain
The first advantage of Corsica is that you do not have to choose. You can enjoy both: the sea and the mountains.
Sometimes in just an hour's drive or so, you can go from a beach paradise to spectacular mountains.
For example, in the South, you can spend the morning at the beautiful beach of Palombaggia with its umbrella pines, its fine sand, its turquoise waters and its colored rocks .
And in the afternoon, go up to the mountains to walk and refresh yourself.
For example, in only 1h20 of road, you arrive at the needles of Bavella, one of the most beautiful places in the Corsican mountains…
Reason 2 – For its exceptional sites
There are many things to see in Corsica, no time to get bored.
But when we talk about the most beautiful places in Corsica, they are not only beautiful, they are exceptional.
Among our favorites, see in the South, the citadel of Bonifacio, with its houses perched on the edge of high white cliffs.
And if you are more natural, you can discover in the middle of the west coast, the famous calanques de Piana and the reserve of Scandola. This site is listed in the World Heritage of Unesco. The colors, shapes and geology of this place are fascinating. Giant pink, red and orange cliffs that fall straight into the sea.
OUR TIPS FOR

RENTING A CAR

IN

Corsica
Compare prices on our preferred platform: DiscoverCars – one of the best rated sites.
Choose a car that is powerful enough (the roads are steep) but compact (some passages are narrow).
Think of thecomplete insurance (some roads are tortuous and narrow).
There is a lot of demand, book it early.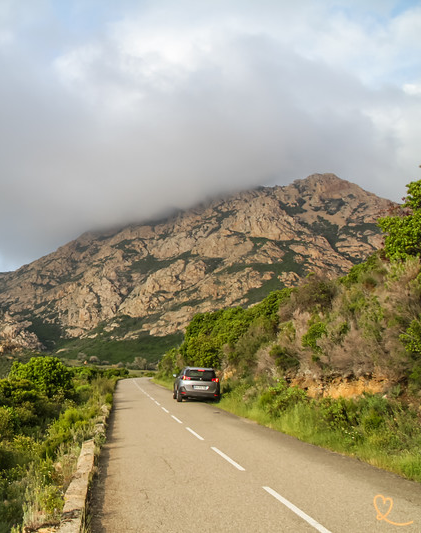 Reason 3 – For the variety of its beaches
We have already talked about the variety of landscapes between beaches and mountains, but even between the beaches, you have a great diversity all around the island.
In the north, you can find black beaches (non volcanic) on the west coast of Cap Corse.
In the Agriates desert and in Balagne, you will find beaches of fine white sand.
To the south, you will discover
Some are long and sandy, others are coves surrounded by rocks …
Among all our favorite beaches of Corsica, let us quote:
The beach of Ostriconi. Here, the access road is higher than the beach, which allows for an unobstructed view of the white sand, the intense colors of the water and the rocks of the Agriates desert in the background.
The beach of Saint-Antoine with its lunar-like landscape, white rock formations and an impressive pierced cave.
You have to walk a bit to admire it, but it is worth the detour!
Reason 4 – For its towns and villages of character
Corsica does not have the most beautiful villages and cities in Europe. They are not as "Instagrammable" as others. But they have something much more attractive: character.
The somewhat austere houses nestle against each other, representing the close-knit people of Corsica. They blend into the landscape and do not compete with it.
The most famous villages are Pigna and Sant-Antonino, but we had a particular liking for Speloncato, also in Balagne.
And how can we not mention the city of Sartene with its old center on the mountainside. It is the city known as "the most Corsican of Corsican cities".
Its history dates back to medieval times, and part of the city was built in the early 16th century.
There are several views of the mountain and the city, charming streets and a photogenic church.
USE OUR GUIDE TO PLAN A


DREAM TRIP

TO

Corsica
All the information you need for your trip:
7 maps that make planning easier
130+ pre-selected locations
Practical advice
+ 220 photos to help you choose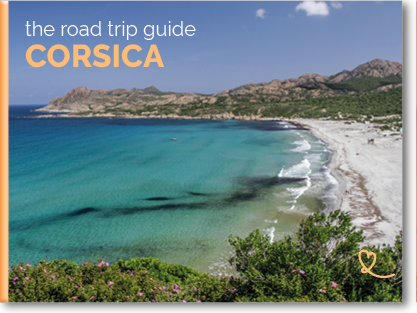 Reason 5 – For its outdoor activities
With the sea and the high mountains, there is no lack of activities to choose from.
Hiking
ATV
Diving
Sea kayaking
Via Ferrata
Canyoning
Rafting
Swimming in the sea or river
…
Among our favorites:
Introduction to canyoning in Pulischellu – read more and see availability
Sea kayaking near Propriano (west coast) – read more and see availability
Via Ferrata to cling to the mountain walls with breathtaking views. There are different courses depending on your level (including juniors) – see programs and availability
Reason 6 – For its climate
Well, let's be honest, this is also one of the very good reasons to visit Corsica.
It has a Mediterranean climate with high temperatures and a lot of sunshine in summer.
In July and August, the average temperature is around 27° and the water reaches 23 to 24°C. Swimming is therefore very pleasant.
FOR QUALITY ADVICE


QUALITY

Support us
Do you appreciate all the free content you find on our blog?
Our independence, the only guarantee of qualitytips, is partly based on your generosity!
We offer you to give us a coffee (or several) in the hope of sharing it with you one day in person!
Reason 7 – For its culture
Yes, the first reason to come to Corsica is the magnificent nature.
But, even if the island is not super rich in museums, it offers great cultural experiences. Among our favorites:
Corsican polyphonic songs
Corsica has a musical tradition that we love. When visiting Corsica, be sure to find a small polyphonic choral concert. They often take place in churches. Even without understanding the Corsican language, you will be transported by this experience that you will feel with your whole body.
Corsican cuisine and charcuterie
Corsican cuisine is often described as a mixture of French and Italian, but with its own personal touches. The menus offer you a lot of meat: wild boar, lamb, veal and especially, cold cuts. Like the Corsicans, the charcuterie is strong in taste!
Prehistoric sites
If, like us, you like archaeological sites, take the direction of South Corsica. It shelters some sites which will surprise you, with, among others, the statue-menhirs. See our list of the main sites.
The history of Napoleon
Because of its strategic location, Corsica has had a turbulent history and the island has changed hands between nations and rulers several times.
2 figures are to be remembered in the Corsican history:
Pascal Paoli who declared Corsica independent from France in 1755, after the Genoese domination. But the armies of the king of France took back the island in 1769.
And Napoleon, born in Ajaccio under the name of Napoleone Buonaparte. Today, you can visit his family home in Ajaccio.
---
Departure from France and Italy
Advantage: you can take your car!
---
Airports in Bastia, to visit the North, Figari to visit the South, or Ajaccio convenient for all Corsica.
Compare flights!
What you may not like about Corsica
Again, let's be honest, there are a few things about Corsica that you may not like:
The winding and sometimes narrow roads
Who says mountains, says mountain roads.
There are, in Corsica, narrow and winding roads. You'll see a lot of people complaining about it on the Internet.
But remember, the majority had no problems and they didn't take the time to write on the internet that everything went well for them.
To get an idea, check out my article on driving in Corsica with photos and videos.
Summer crowds
It is one of the favorite places of the French to go on vacation in summer. In July and August the most famous sites are full of people and tourists. It is not always pleasant. If you can, get away during the summer. Or get up early to enjoy the beaches without too many people and the most beautiful lights.
The prices
Since you are on an island and it is popular, prices during the summer season can be quite high.
Remember to book early to get more choices and better prices.
OUR TIPS FOR

RENTING A CAR

IN

Corsica
Compare prices on our preferred platform: DiscoverCars – one of the best rated sites.
Choose a car that is powerful enough (the roads are steep) but compact (some passages are narrow).
Think of thecomplete insurance (some roads are tortuous and narrow).
There is a lot of demand, book it early.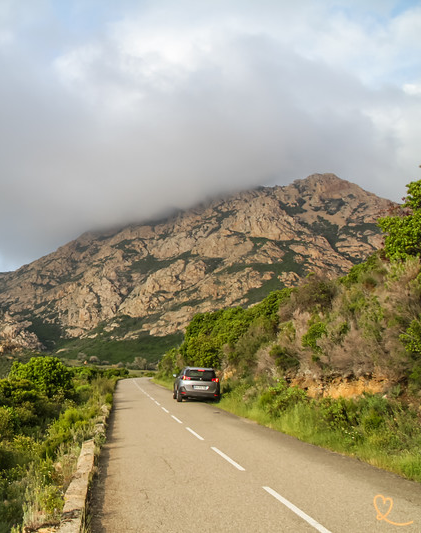 Where to go in Corsica? North or South?
See our complete article comparing North Corsica and South Corsica, for a detailed comparison with lots of criteria and pictures. But here is a summary of our opinions:
Density of beautiful beaches = South Corsica
Most beautiful villages = North Corsica
Best cultural sites = equality (prehistoric in the south, Roman in the north, and Genoese everywhere)
Most beautiful natural sites = south Corsica (but Piana and Scandola are at the limit so can be counted for both)
Most beautiful cities = equality
Nature activities = equality
Crowd = North Corsica, a little less crowded
Gastronomy = equality
Which island to choose: Corsica or Sardinia
Both islands are beautiful and offer unique experiences, so it's hard to choose one over the other without knowing your personal preferences and interests. However, here is some general information that may help you make a decision:
Corsica is known for its rugged mountains, sandy beaches and crystal clear waters. The island also has a rich history and a unique culture, with its own Corsican language. If you are interested in outdoor sports such as hiking, climbing or kayaking, Corsica is an excellent choice.
Sardinia is also known for its beautiful beaches, but it has a flatter topography than Corsica. It also has fascinating archaeological sites, including the ruins of the Nuraghic civilization, which existed on the island thousands of years ago. If you are more relaxed and cultural, Sardinia can be an interesting option even if we still prefer Corsica…