When we think of Corsica, we imagine beaches, mountains, citadels… but Corsica also has some fascinating prehistoric sites: dolmens, statue-menhirs, alignments, megalithic enclosures…
We take you to discover the main sites established since the Neolithic: Filitosa, Cauria and Cuccuruzzu. Here are all our practical tips for choosing which site to explore, and for preparing your visit.
This opinion is completely independent, based on our experiences. We visited the area anonymously, making our own choices, and paying all our bills in full.
Prehistoric sites of Corsica: Map
The prehistoric sites that have been discovered are, for the moment, mainly in southern Corsica, but there are also indications in northern Corsica.
Many sites remain to be discovered and excavated.
Map of the main sites
Short historical summary
There is currently no evidence of human presence in the Paleolithic.
On the other hand, Mesolithic burials have been excavated, proof of an occupation from the 9th millennium BC. Discovered in 1972, the oldest skeleton would be dated between 7000 and 6500 BC and baptized "The Lady of Bonifacio".
The perennial colonization of Corsica dates from the Neolithic period around 5700 BC. Communities settled with their animals. Corsica becomes more densely populated around 4500 BC, and the populations are in contact with their Mediterranean neighbors.
From the Bronze Age to the 2nd millennium B.C., these populations erected numerous dolmens and statue-menhirs, including those we will see in this article.
Roger Grosjean, archaeologist
Roger Grosjean was the leader of the archaeological excavations on the prehistory in Corsica. He is the one who launches the excavations in Cuccuruzzu, Cauria, Tappa, Arraggio. He is at the origin of the Shardan invasion theory to explain the statue-menhirs.
OUR TIPS FOR

RENTING A CAR

IN

Corsica
Compare prices on our preferred platform: DiscoverCars – one of the best rated sites.
Choose a car that is powerful enough (the roads are steep) but compact (some passages are narrow).
Think of thecomplete insurance (some roads are tortuous and narrow).
There is a lot of demand, book it early.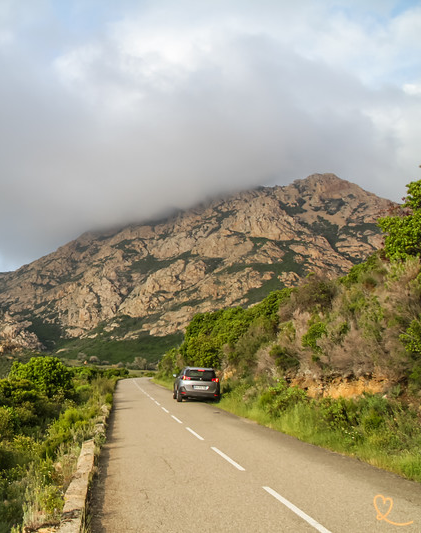 1. Filitosa
History and description
Open-air museum with testimonies of ancient communities from the 6th millennium B.C. to the Roman Empire.
We really enjoyed the walking tour that loops around the various points of interest. It leads you to several structures and megaliths and offers breathtaking views of the area.
The artifacts found on the site are displayed in the museum.
Discovered in 1946, the site has been inhabited for 8000 years. It is one of the most beautiful examples of megalithic art of Corsica, and it still puzzles the scientists.
It is especially known for its status-menhirs which make it one of the most impressive sites of statuary art in the Mediterranean.
Where is Filitosa
In South Corsica
Between Ajaccio and Sartene, town of Sollacaro
You need a car to get there
Ajaccio to Filitosa = 1h10 drive
Sartene to Filitosa = 35min
Bonifacio to Filitosa = 1h30
Porto-Vecchio to Filitosa = 1h40
Practical advice
Count 1h30 to make the visit: the external loop and the museum
The walk is 800m with some stairs and sloping sections
Schedule: 9am to 1 hour before sunset for the site
Museum hours: 10am to 7pm
Price: 9 euros
Brasserie near the entrance
Toilets at the entrance level
Avoid the middle of the day when groups touring Corsica by bus disembark.
Protect yourself well from the sun
PLAN A


DREAM TRIP

TO

Corsica
7 maps that make planning easier
130+ pre-selected locations
Practical advice
+ 220 photos to help you choose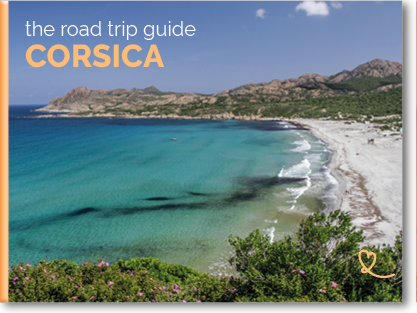 2. Cauria (Stantari, Funtanaccia, Rinaju)
History and description
On the site of Cauria, you can make an easy walk to admire 3 different sites:
Stantari: statue-menhirs aligned in a field.
The alignment is perfect, and the stones seem to face all centuries and erosions.
The site must have had at least 30 stones, called stantare.
Rinaju / Renaghju: another group of stones raised. Here a chronology has been evaluated. It seems that there were 60 stones around 4500 BC and 180 around the first millennium BC.
Funtanaccia: the most beautiful example of dolmen in Corsica. This collective funerary monument is the best known and best preserved on the island: an enormous slab placed on 6 vertical stones.
We liked very much the calm that rules there and the state of preservation of the dolmen.
Where is Cauria
In South Corsica
Between Sartene and Bonifacio
You need a car to get there
Ajaccio to Cauria = 1h45 driving time
Sartene to Cauria = 25min
Bonifacio to Cauria = 1h10
Porto-Vecchio to Cauria = 1h20
The last 3 km of road have big potholes
Practical advice
Count 1h to 1h30 to make the visit
Easy walking except for the section in the wetlands
Times and prices: free access
Depending on the weather conditions (fire risk…), the area may be closed to access
No convenience
Protect yourself well from the sun
WHERE TO SLEEP

IN

South Corsica
---
3. Cucuruzzu and Capula
History and description
In the Alta Rocca region, Cucuruzzu is one of the main sites of the Bronze Age.
The trail through the forest seemed mystical, especially in the rain. This site offers a different experience than the other two, because of its position in the mountains. It allows to discover the remains of a habitat in the middle of big rocks offering a habitable surface of 400m2: the Castello di Cucuruzzu, a village-fortress with a tower which dates from about 2000 to 1500 B.C.
Moreover, from the megalithic formations, you can enjoy fantastic views over the valley with the Bavella peaks in the background. We found the place splendid.
Where is Cucuruzzu
In South Corsica
You have to want to go there, it is not on the tourist routes – you need a car to get there.
In the mountains between Propriano and Porto-Vecchio
Next to the village of Levie
Ajaccio to Filitosa = 2h drive
Sartene to Filitosa = 45min
Bonifacio to Cucuruzzu = 1h30
Porto-Vecchio to Filitosa = 1h15
Practical advice
Audio-guided visit in 1h30 (or 2h if it's raining and slippery…)
Easy walking except for the section in the wetlands
Opening hours: open from April 1 to October 31 at least from 9:30 am to 6 pm (last entry 2 hours before closing time)
Price: 4 euros
No convenience along the walk.
FOR QUALITY ADVICE


QUALITY

Support us
Do you enjoy all the free content you find on our blog, without intrusive ads?
Our independence, the only guarantee of qualitytips, is partly based on your generosity!
We offer you to give us a coffee (or several) in the hope of sharing it with you one day in person!
Museums on Prehistoric Corsica
Museum of Alta-Rocca
Located in Levi, the museum of Alat Rocca allows you to discover the geological, historical and cultural aspects of the micro-region.
At the historical level, there are pieces discovered in Cuccuruzzu, as well as the bones of the "Lady of Bonifaico".
The tour is free, with brochures in English, Italian, Corsican, German and French available at the reception desk.
Opening hours:
from June to September: 10am to 6pm
from October to May, Tuesday to Saturday from 1 to 5 pm (closed on Sundays, Mondays and holidays)
Price: 4 euros
Departmental Museum of Prehistory (Sartene)
Museum in the city of Sartene with collections of island archaeology from the first recorded settlements (about 10,000 years ago) to the end of the Genoese era in the 15th century AD.
You can discover statues-menhirs, and pieces from the Roman period and the Middle Ages.
Opening hours:
from June to October: 10am to 6pm
April to May: Tuesday to Saturday from 1 to 5 pm (closed on Sundays, Mondays and holidays)
November to March: Monday to Friday from 9am to 4pm (closed on weekends and holidays)
Price: 4 euros
PLAN YOUR TRIP TO

Corsica
---
7 other lesser known prehistoric sites
Araguina-Sennola
A cave that served as a shelter for prehistoric populations.
It is estimated that at the time the vault was overhanging by more than 10m with an opening of more than 5.50m high.
However, the rock is crumbling and falling apart.
57 different archaeological strata have been identified.
It is here that the burial of the "Lady of Bonifacio" was discovered.
In South Corsica
Avenue Sylver Bohn, Bonifacio
Next to a gas station
No access
Half visible from the street
Castellu d'Arraggio (Araghju)
Monumental prehistoric fortress erected on a rocky point: assemblies of granite blocks on a height of 4m in certain places and a thickness of 2m.
It is known for its front door which still has its lintel
It offers a splendid view of the coastline.
In South Corsica
North of Porto-Vecchio
Village of Arraggio
1h round trip with steep climb
Tappa website
The site of Tappa is a prehistoric fortification on a rocky promontory (60m of altitude). Of circular plan, it is a rather classic torra, dated between 1400 and 1200 BC. Only some csections of the mu that protected the site are still visible.
In South Corsica
West of Porto-Vecchio, 10 minutes by car
20 minutes walk there and back.
---
Option 1: by ferry
Departure from France and Italy
Advantage: you can take your car!
---
Option 2: by plane
Airports in Bastia, to visit the North, Figari to visit the South, or Ajaccio convenient for all Corsica.
Compare flights!
Site of Ceccia
Circular monument of approximately 12m of diameter dating from 1350 BC. The panorama is exceptional.
In South Corsica
West of Porto-Vecchio, 10 minutes by car
30 minute walk there and back
Sloping path, wear walking shoes
Not very well indicated
Site of Foce
The biggest Torra of Corsica, dated from the Bronze Age. It has a circular plan of 16m or 18m (depending on the sources…) in diameter and some walls are still 3m high.
It was originally 2 floors.
In South Corsica
Commune of Argiusta-Moriccio
in the mountains between Propriano and Ajaccio
Balestra site
Another Torra at the top of a hill at 502m of altitude. It has a circular plan.
In South Corsica
Municipality of Petreto-Bicchisano
10 minute walk to and from the D757 road
La Grotta Scritta
The Grotta Scritta is a site with cave paintings. Its particularity is that some of the motifs remain, to this day, still enigmatic.
At Cap CorseWest side
In Olmeta-di-Capocorso
Unmarked trail