Staying at the Hotel Le Scandola in Piana was one of the highlights of our stay in Corsica.
We loved spending the night here and endlessly admiring the view over Piana, the Gulf of Porto and the calanques.
In this article we tell you all about our stay at this hotel, with plenty of photos to get your own idea.
This review is completely independent, we stayed anonymously and paid our bill in full.
Why stay at Hôtel Le Scandola
Hotel Le Scandola is an ideal vacation destination for travelers wishing to explore the Piana region. Here are the hotel's 3 main assets:
View of the Gulf of Porto and Piana and the Scandola Reserve: Hotel Le Scandola offers a breathtaking view of the Gulf of Porto and Piana and the Scandola Reserve. From the hotel, you can admire spectacular scenery and enjoy the surrounding nature.
Home-cooked breakfasts: Hotel Le Scandola offers home-cooked breakfasts made with fresh, local produce. You'll be able to enjoy a variety of delicious dishes, and spend a pleasant moment tasting the best of Corsican gastronomy.
Warm welcome: we were made to feel very welcome and appreciated being guided in our breakfast choices. We were among authentic gourmets!
---
View availability at Hotel Le Scandola
---
Is the Scandola worth it? Our review
If you want to explore the magnificent Piana region, the Scandola hotel is a great option. The hotel can also put you in touch with partners for guided hikes in the Scandola nature reserve, horseback riding or boat trips.
You can get off to a good start after the hotel's gourmet breakfast, explore the surrounding area during the day and enjoy the evening with a magnificent view from your room or on the terrace, sipping a cocktail from the "bar détente". It's hard to imagine a more symbiotic relationship!
USE OUR GUIDE TO PLAN A

DREAM TRIP

TO

Corsica

All the information you need for your trip:
7 maps that make planning easier
130+ pre-selected locations
Practical advice
+ 220 photos to help you choose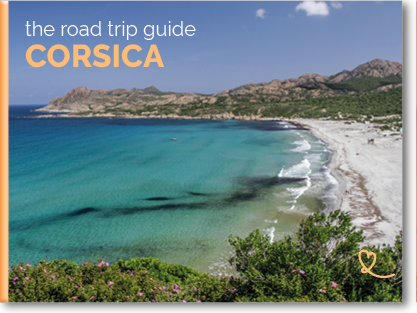 Decoration and atmosphere
As you can see, the show at Hôtel le Scandola is more outside than inside the hotel. The common areas feature a deep blue color and a very natural decor blending light cottons and woven woods with little touches of pep to liven things up.
The hotel boasts a magnificent terrace overlooking both the Gulf of Porto and the beautiful village of Piana. Magic!
---
See photos of Hôtel Le Scandola
---
The room
Our room was decorated with quality products, neutral enough not to distract from the view. We particularly liked the dark wood furniture, a pretty lamp and the room's natural hues. The whole thing is soft and comfortable.
Room amenities included a coffee machine with capsules and a key attached to a small piece of wood to keep with the very natural feel of the hotel.
The view from our room is absolutely spectacular. We can see the sea and the cliffs of the Scandola reserve rising above the turquoise waters.
The view is even more beautiful in the evening, when the sun sets and the colors are reflected on the ocean. We can also see boats sailing in the gulf. It's a breathtaking view and we're delighted to have had the chance to enjoy it!
---
View availability at Hôtel Le Scandola
---
FOR QUALITY ADVICE

QUALITY
Support us
Do you appreciate all the free content you find on our blog?
Our independence, the only guarantee of qualitytips, is partly based on your generosity!
We offer you to give us a coffee (or several) in the hope of sharing it with you one day in person!
The bathroom
Our bathroom was modern and included a large spacious shower. Unfortunately, the water pressure wasn't very strong, which made waking up a little difficult, but nothing dramatic, as breakfast was waiting for us…
We had hygiene products from the tea-based cosmetics brand, Thémaé, on hand. A pleasant return to nature…
The breakfast
Breakfast at Le Scandola hotel in Piana is a buffet featuring local products such as Piana honey and chestnut cream.
But what really makes the difference are the many homemade products , such as Fiadone (Corsican cheese and egg), as well as cakes, jams, Corsican cookies, muffins and rice pudding made in-house. We didn't know what to do with our heads (and teeth…).
This local offer complemented a solid selection of sweet products (pastries, fresh fruit salad, fruit compote, cookies, cakes, cereals, etc.) and savoury products (cold meats, cheese).
Breakfast is served in a dining room and on a terrace with a breathtaking view of Piana, the calanques and the Gulf of Porto. The background music is made up of Corsican polyphonic songs, which is a very pleasant way to get into the mood.
Equipment and common areas
The hotel provides guests with 6 friendly electric bikes. We don't have the time, so we'll leave it for another time, but the experience was very tempting in this setting that lends itself so well.
OUTDOOR ACTIVITIES

EN
South Corsica
The restoration
The hotel has a"bar détente" located on the terrace. It offers refreshing drinks, Corsican beers, local wines and cocktails, as well as snacks and light dishes featuring local produce.
Practical information about Le Scandola hotel in Piana
Type
3-star hotel
---
See current offers at Hotel Le Scandola
---
Where the hotel is located
Ajaccio to Hôtel Le Scandola in Piana: 1h20
Calvi to Hôtel Le Scandola in Piana: 2h
Bastia to Hôtel Le Scandola in Piana: 3h10
Corte to Hôtel Le Scandola in Piana: 2h30
Hotel Le Scandola is located in Piana, Corsica. Situated at an altitude of 450 metres, it offers breathtaking views of the sea and the islands of the region.
OUR TIPS FOR
RENTING A CAR

IN

Corsica
Compare prices on our preferred platform: DiscoverCars – one of the best rated sites.
Choose a car that is powerful enough (the roads are steep) but compact (some passages are narrow).
Think of thecomplete insurance (some roads are tortuous and narrow).
There is a lot of demand, book it early.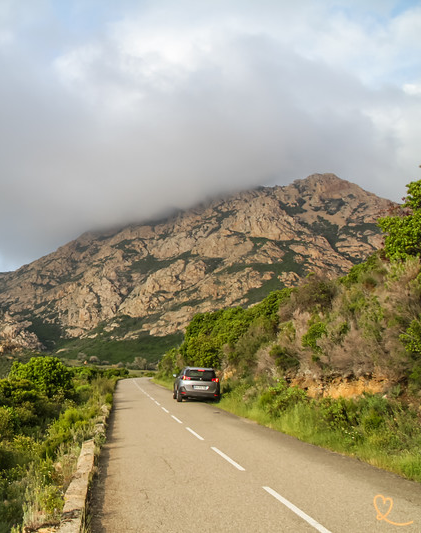 How to get there
There are 3 ways to get to Porto-Vecchio:
Land atAjaccio airport and rent a car (1h20 drive)
Take the ferry with your car to Ajaccio (1h20 drive)
Take a bus from Ajaccio that drops you off at Place de l'Eglise in Piana (less than a 10-minute walk).
As is often the case in Corsica, the easiest way is by car!
Parking
The hotel has a free parking lot behind the hotel, although not very large, it is sufficient for the size of the hotel. There is also a dedicated space for bicycle parking.
For people with reduced mobility
Hotel Le Scandola in Piana has no elevators, making it difficult to access the various floors. However, there are wheelchair-accessible and partially adapted rooms (low washbasin and raised toilet).
As always, we recommend that you contact the hotel directly to discuss the conditions of your stay.
Is Scandola family-friendly?
Hotel Le Scandola in Piana offers family rooms, either "deluxe" family rooms or "double" family rooms for up to 2 adults and 2 children.
---
View availability at Hotel Le Scandola
---
BEST THINGS TO DO

IN

Southern Corsica
---
Discover our articles on the region:
---
Discover our articles on Bonifacio:
---
Discover our articles on Porto-Vecchio