Staying at the Hôtel A Cheda in Bonifacio guarantees a truly enchanted break in Bonifacio.
We particularly appreciated the hotel's charm, where natural materials compete with lush vegetation to create a truly enchanting cocoon.
In this article, we give you our opinion of the hotel and invite you to take a look at the many photos to form your own opinion.
This review is completely independent, we stayed anonymously and paid our bill in full.
Why stay at Hotel A Cheda
Hotel A Cheda is the ideal place to spend an unforgettable stay. For us, these are the 3 main advantages:
The charm of stone and gardens offers a calm, relaxing setting where you can completely unwind and enjoy nature in all its tranquility.
The gourmet restaurant offers refined cuisine and exquisite dishes cooked with herbs from the garden.
If you're looking for the ultimate in exclusivity, our rooms with private swimming pools and saunas are an experience to be savored… (watch out for the ride home!).
---
See more pictures of Hotel A Cheda
or its extension
A Speranza (suites with private pool)
---
Is Hotel A Cheda worth it? Our review
We love the Hotel A Cheda in Bonifacio because it offers a relaxing, intimate atmosphere in symbiosis with nature. Everything is on a human scale, carefully thought out, luxurious without being ostentatious.
This hotel really has a lot of charm, and we loved touring the vegetable garden before going to the restaurant to find the first beans of the year on our plate. Here, we live by the rhythm of the seasons.
In keeping with its exceptional setting, the hotel has embarked on an ambitious eco-responsible approach .
For us, it's one of the best Bonifacio luxury hotels, and evenone of our favorites in Corsica.
USE OUR GUIDE TO PLAN A

DREAM TRIP

TO

Corsica

All the information you need for your trip:
7 maps that make planning easier
130+ pre-selected locations
Practical advice
+ 220 photos to help you choose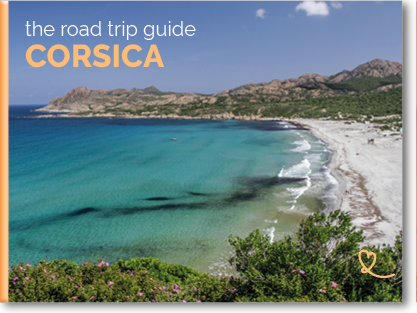 Decoration and atmosphere
A natural ambience in this hotel, where stone competes with driftwood and lime plaster. The decoration is in unison with a"raw" inspiration, whether in wood or metal.
The garden, with its many fountains, small icons and Mediterranean species, had a fairy-tale quality all of its own.
The staff were very welcoming and shared a lot of information about the hotel and its history.
The room
We really liked the minimalist decor of the room, with the omnipresent wood (headboard and wood cladding on one of the walls) warming up the lime walls.
We fell in love with the wood furniture, discreetly lit by a discreet LED chandelier. What a contrast!
As we had booked a suite, our room had its own terrace opening onto a small Mediterranean garden, and we had our own private sauna and small swimming pool.
We also found a kettle and a bottle of filtered water in the room, in line with their eco-certification.
We also asked to visit a room in the A Cheda section and the whole is very coherent. Whatever you choose, you won't be disappointed!
---
View Hotel A Cheda availability
or in its extension
A Speranza (suites with private pool)
---
FOR QUALITY ADVICE

QUALITY
Support us
Do you appreciate all the free content you find on our blog?
Our independence, the only guarantee of qualitytips, is partly based on your generosity!
We offer you to give us a coffee (or several) in the hope of sharing it with you one day in person!
The bathroom
Our bathroom was very pleasant and we really enjoyed lounging in it.
It featured not only a whirlpool bath, but also a tropical shower! Natural light flooded into the room, making for a very relaxing atmosphere. The bathroom was paved with mosaics and we fell in love with the original, deep and harmonious basins.
We also found cosmetics from the Provencal brand l'Occitane. The citron-scented liquid soap comes directly from a young couple in Bonifacio who use water from their cave to make it!
The breakfast
The Hotel A Cheda in Bonifacio offers a varied and hearty buffet breakfast.
You'll find local products such as Corsican charcuterie and cheeses, as well as homemade crepes and pancakes.
You can also indulge in sweet and savory options, such as fruit salads, pastries, fruit, bread, scrambled eggs with bacon and salmon.
The breakfast room is very pleasant, with a large glass roof overlooking the garden. We can't get enough of it!!!
Equipment and common areas
Hôtel A Cheda boasts a 50m2 heated swimming pool in the heart of the garden, accessible to children and surrounded by pleasant sunbathing areas. The hotel also features a Jacuzzi. Beach towels are provided in your room.
Do not make




THE SAME MISTAKE

WE MADE

On one of our last trips to Europe, a hacker stole our credit card details while we were using a hotel WiFi.
So our trip began with a "card blocked" call… Not funny at all!
Learn from our mistake, make a small VPN investment to surf without worry.
The restoration
The hotel boasts a renowned gourmet restaurant, one of the best on the island. Chef Lionel Lebrun revisits the fundamentals of Corsican tradition, sourcing from the hotel's own kitchen garden or from regional producers. Here, we're locavore!
We started with a truly perfect egg, accompanied by Corsican mint, saffron and truffle, and that was just the beginning.
The hotel bar is located by the swimming pool and offers a wide choice of original cocktails featuring Corsican products, as well as a wide selection (as in the restaurant) of Corsican wines.
History
A Cheda was created in 1995 and is still owned by its founder Edmond Cridel. Originally a restaurant, the hotel has gradually integrated itself into the landscape it loves so much.
In fact, it was in the face of the threat of a building that he bought the neighboring land in 2017 to develop his suites with swimming pool. He had the good idea of entrusting the architecture to Jean Matthieu de Lipowsky, who founded the Orma agency in Corte with 3 friends he had met on the benches of the Marseille architecture school. A real facelift, with curvaceous layouts that respect the Corsican identity. We love it!
OUTDOOR ACTIVITIES

EN
South Corsica
Practical information about Hotel A Cheda in Bonifacio
Type
---
See current offers at Hotel A Cheda
or in its extension
A Speranza (suites with private pool)
---
Where the hotel is located
from Porto-Vecchio: 30min.
from Ajaccio: 2h30min.
from Calvi: 3h40min.
from Bastia: 2h50min.
from Corte: 2h20min.
Hotel A Cheda is located at the following address: T10, 20169 Bonifacio, Corsica, France.
OUR TIPS FOR
RENTING A CAR

IN

Corsica
Compare prices on our preferred platform: DiscoverCars – one of the best rated sites.
Choose a car that is powerful enough (the roads are steep) but compact (some passages are narrow).
Think of thecomplete insurance (some roads are tortuous and narrow).
There is a lot of demand, book it early.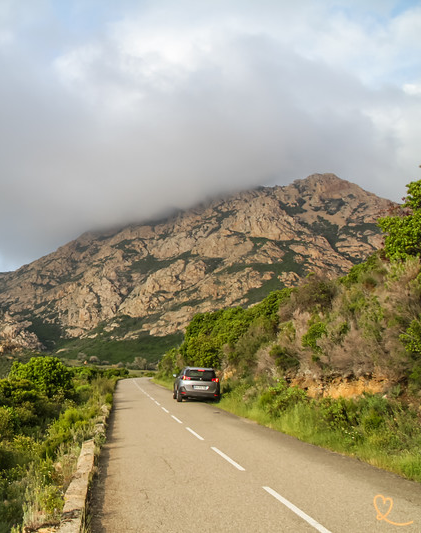 How to get there
To get to Bonifacio, the easiest way is by car, but you can also opt to drive:
For the ferry, even though the ferry terminal is only a 15-minute walk from the hotel, it's easier to get to Propriano or Porto-Vecchio. To find out more about ferry connections, visit our article with all our tips for booking your ferry.
For the plane. The nearest airport is Figari-Sud Corse, about 20 minutes' drive from the hotel. We recommend renting a car at the airport or taking a cab to the hotel.
---
Departure from France and Italy
Advantage: you can take your car!
---
Airports in Bastia, to visit the North, Figari to visit the South, or Ajaccio convenient for all Corsica.
Compare flights!
Parking
The hotel has a dedicated, free, covered parking lot under green roofs. Electric charging stations are also available.
For people with reduced mobility
The Hôtel A Cheda in Bonifacio offers rooms accessible to disabled guests, with a choice of suites or "grand charme" rooms.
All PMR rooms have a separate toilet.
Is Hôtel A Cheda family-friendly?
Hotel A Cheda in Bonifacio offers family rooms for families. Some suites and rooms can accommodate 2 adults and 2 children, and an extra bed is available in "Charme" and "Supérieure" rooms.
And as mentioned above, the pool is child-friendly!
BEST THINGS TO DO

IN

Southern Corsica
---
Discover our articles on the region:
---
Discover our articles on Bonifacio:
---
Discover our articles on Porto-Vecchio