The Ostriconi beach in Balagne, near L'Île-Rousse, is a place we really enjoyed. Wild and unspoilt, it's easy to get to via a lovely promenade. It is also the starting and/or finishing point of the Agriates coastal path. With its dunes, white sand and turquoise waters, this beach is sure to please!
Here's our guide to help you plan your visit: map, access, sand, conditions…Our article offers you the chance to discover this beach through numerous photos so you can make up your own mind.
This review is completely independent, we visited the area anonymously and paid our bills in full.
Why visit the Plage de l'Ostriconi near L'Île-Rousse
Is the Plage de l'Ostriconi worth it?
Absolutely! In fact, we've listed it among the most beautiful beaches in Corsica. Ostriconi is rarely mentioned in lists of the best places in Corsica, because it's not close to a large town. Yet it's one of the sights that impressed us most on our visit to the island. At Ostriconi, the access road is higher than the beach, giving you a breathtaking view of the white sand and intense colors of the water, with the rocks of the Agriates desert in the background.
Why choose this beach?
Plage de l'Ostriconi is a wild and beautiful beach in Haute-Corse. Here are 3 main reasons to visit:
Wild landscapes: set in an unspoilt natural environment, with the Agriates desert and its dunes in the background, the setting is splendid. Don't hesitate to set off on a hike: it's the starting point for the Agriates coastal path!
It's a lovely walk to get there: first along a dirt track, then a sandy path, offering a wide variety of views over the landscape.
To avoid crowds: because it's far from the big cities, and there's a long way to get there, there are very few people. We feel privileged!
Access and map – Plage de l'Ostriconi (Balagne, Northern Corsica)
Where to find Plage de l'Ostriconi
The beach is located on the west coast of Haute-Corse, in the Balagne region. It is located at the following address, between Île-Rousse and Saint-Florent: Lieu-dit Ostriconi, 20226 Palasca.
Here are the approximate driving times from several Corsican towns to the Ostriconi beach:
From Ajaccio: 2h20,
From Bastia: 1h30,
From Calvi: 1h,
From Saint-Florent: 50min,
From Corte: 45min,
From Île-Rousse: 25min.
Here is a map to help you find your way:
OUR TIPS FOR

RENTING A CAR

IN

Corsica
Compare prices on our preferred platform: DiscoverCars – one of the best rated sites.
Choose a car that is powerful enough (the roads are steep) but compact (some passages are narrow).
Think of thecomplete insurance (some roads are tortuous and narrow).
There is a lot of demand, book it early.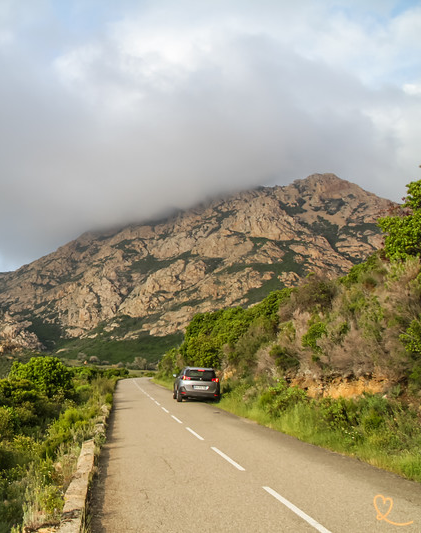 How to get there – access road
To reach the beach, take the main T30 road towards Île-Rousse, and follow the signs for "Site de l'Ostriconi". You'll pass the Ostriconi campsite and follow a concrete road to the beach access road. You then have to climb a dirt track to the parking lot. Drive carefully as this is a tight bend with poor visibility.
A few bus routes link Île-Rousse to Saint-Florent, but only in summer. To check which buses stop at the "Ostriconi Camping" stop, visit the official websites of the bus companies, like the Mariani bus website here.
Parking de la Plage de l'Ostriconi
The parking lot is large, free and accessible to vehicles under 2m. The floor is covered with gravel.
Access to the beach from the parking lot
It's quite a long walk from the parking lot to the beach. On the way up, there's a slight downhill slope. The path is concreted at first, then quickly becomes a dirt track with pebbles. Next, the area becomes more marshy: you move through tall grass until you reach a pontoon. We particularly appreciated this point of view. The path then becomes sandy, and the first dunes appear. Due to the particularities of this path, we recommend that you avoid flip-flops!
Watch out for pools forming on the beach. We had to cross one to get to the seashore, and we were amazed at the depth of the water: it was up to our thighs!
USE OUR GUIDE TO PLAN A


DREAM TRIP

TO

Corsica
All the information you need for your trip:
7 maps that make planning easier
130+ pre-selected locations
Practical advice
+ 220 photos to help you choose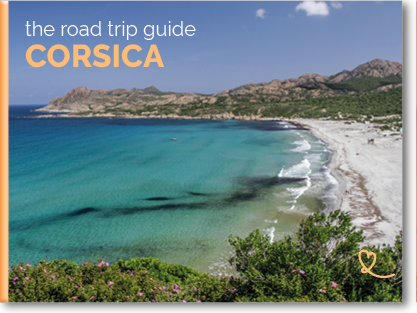 On the sand and in the water…practical advice
Best time to visit
The best time of year to go to the beach at Ostriconi, in Northern Corsica, depends on individual preferences. However, Corsica's peak tourist season is between June and September, which means that the beach will be busiest at these times. However, given its remote location and difficult access road, you won't come across crowds of tourists.
As for the best time of day, it's best to visit the beach in the early morning or late afternoon to avoid the midday heat. Before you go, check the weather forecast. The access road can be muddy in wet weather, and the beach is often windy.
Type and size of beach: sand
The ground is mainly white sand, with touches of black sand, making this beach a great place to bask in the sun and swim in the turquoise waters. There are many areas of wet sand. Given its size, around 700 meters long, you can be sure of finding a quiet spot to settle down, even when it's busy. You'll be surrounded by dunes and rocks at the end of the beach.
Note that at any period, some beaches in Corsica can be covered with algae (Posidonia meadows). This is essential for their renewal.
This can happen at any beach, but not at the same time. It's random.
Conditions for swimming
In fine weather and without Posidonia meadows, the water is crystal-clear, with sublime turquoise hues. The seaside slope is quite steep and the water gets very deep very quickly. Beware of pools forming on the beach, especially for your children. The depth may not seem significant, but it's quite the opposite, especially in the center! Go in a bathing suit if you don't want to soak your clothes.
The bathing area is located in the center of the beach. Motorized vehicles are not permitted. There is only a windsurfing area behind the swimming area. As on all beaches, it's important to remain vigilant and respect the rules of safety at sea. Don't swim in rough seas: the beach is notoriously dangerous in bad weather, with currents that can sweep bathers out to sea.
WHERE TO STAY

IN

L'île Rousse
---
Option 1: near the beach
We recommend..:
---
Option 2: in the old town center
We recommend..:
---
Option 3: along route T30
We recommend..:
---
Option 4: luxury hotels a little further afield
We recommend..:
See all our reviews in our article on the best hotels in Ile Rousse
Facilities and activities
Monitoring
The beach is supervised only in summer.
Showers, toilets, deckchairs…
Plage de l'Ostriconi does not have showers, changing rooms or deckchairs for hire. There are public toilets in the parking lot, but they seemed to be closed when we went there.
Shadow
Unfortunately, there's no shade, with the exception of the natural area behind the beach.
Nautical activities
There are no water sports activities. However, if you have your own equipment, this is a windy beach, ideal for windsurfing. Windsurfers have a special area to practice their sport.
OUTDOOR ACTIVITIES


AT

North Corsica
Catering
As this beach is very wild, there are no restaurants.
FOR QUALITY ADVICE


QUALITY

Support us
Do you appreciate all the free content you find on our blog?
Our independence, the only guarantee of qualitytips, is partly based on your generosity!
We offer you to give us a coffee (or several) in the hope of sharing it with you one day in person!
Information for children, mobility, dogs, naturism…
Ostriconi Beach with children
There are no games for children. Keep them under surveillance because of the risks of this beach (deep pools, strong currents…).
Dogs on the beach
Yes, dogs are allowed on the Ostriconi beach, provided they are kept on a leash.
Access for people with reduced mobility
Unfortunately, there are no facilities for people with reduced mobility to access the Plage de l'Ostriconi. What's more, the access road is difficult.
Ostriconi Beach and naturism
It is not possible to practice naturism on this beach.
Other beautiful beaches nearby
The Balagne region abounds in beautiful beaches, which we have listed in a dedicated article. Our favorite beach, closest to Ostriconi, is Lozari. Otherwise, here's our selection of beaches south of Ile-Rousse:
Bodri beach: see our article.
Plage de l'Alcajola: article to follow.
Sant'Ambroggio beach: article to come.