We were lucky enough to discover theHotel Les Bergeries De Palombaggia in Porto Vecchio, and our memories of it are still very fond.
This luxurious hotel blends harmoniously into the surrounding natural environment and offers spectacular sea views.
In this article, we present the hotel's idyllic setting, services and rooms, with plenty of photos to help you make up your own mind.
This review is completely independent, we visited anonymously and paid our bill in full.
Why stay at Hôtel Les Bergeries De Palombaggia
Les Bergeries De Palombaggia is one of the finest luxury hotels in Porto-Vecchio, Corsica. It offers a unique experience thanks to its 3 main assets:
Typical stone buildings: The hotel's buildings are built of stone, giving it an authentic style typical of the region's sheepfolds.
Integration with nature: The hotel is perfectly integrated into its natural surroundings, surrounded by rocky outcrops and scrubland, with a view of the sea and the famous Cerbicale islands.
Infinity pool with sea view: The infinity pool offers a breathtaking view of the sea and gives the impression of stepping into the maquis. Magic!
---
View Hotel Les Bergeries De Palombaggia availability
---
Is Hotel Les Bergeries De Palombaggia worth it? Our review
This is undoubtedly one of the best hotels in Porto-Vecchio and one of the best-known in southern Corsica, a true haven of peace located just 5 minutes from Corsica's most famous beach, Palombaggia.
In perfect harmony with its environment, it offers an idyllic setting to reconnect with nature and recharge your batteries.
Decoration and atmosphere
Inherited from Corsica's pastoral past, sheepfolds are solid buildings with thick walls. Adapted to the contemporary constraints of a hotel, they remain marked by the use of raw materials (stone and wood).
The decor is discreet, so as not to distort the space, but also to let nature take center stage.
---
See photos Hotel Les Bergeries De Palombaggia
---
USE OUR GUIDE TO PLAN A

DREAM TRIP

TO

Corsica

All the information you need for your trip:
7 maps that make planning easier
130+ pre-selected locations
Practical advice
+ 220 photos to help you choose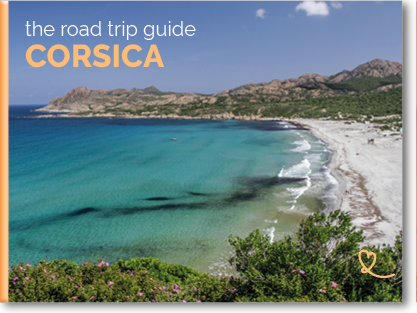 The room
Our room was sober and uncluttered, leaving plenty of room for natural materials to harmonize perfectly with its exceptional setting.
We particularly liked the omnipresent leaf motif from the curtains to the frame above the bed, with a beautiful gradation around the brown.
Most rooms have a terrace with a magnificent view of the maquis, the sea and the small Cerbicale islands facing the Gulf of Porto-Vecchio. Spend a late evening in the setting sun, comfortably installed on your terrace, enjoying this view, it was just… perfect!
The room was equipped with a coffee machine and minibar.
---
View availability at Hôtel Les Bergeries De Palombaggia
---
The bathroom
Our pleasant bathroom featured a bathtub and a walk-in shower built into the wall like a closet. Fun and very graphic, pleasing to the eye!
Bathrobes and slippers are available.
The breakfast
Breakfast at the Hôtel Les Bergeries De Palombaggia in Porto-Vecchio is a varied and comprehensive buffet.
Here you can sample local products such as jam, honey and other delicacies. Corsica PDO by Stephane Micaelli as well as sweet products (viennoiseries, 4 types of bread including the CampaillouThis is a rye sourdough bread with tasty notes of caramel, cake, chocolate doughnuts, fruit) and savoury (Corsican charcuterie and cheese, eggs).
FOR QUALITY ADVICE

QUALITY
Support us
Do you appreciate all the free content you find on our blog?
Our independence, the only guarantee of qualitytips, is partly based on your generosity!
We offer you to give us a coffee (or several) in the hope of sharing it with you one day in person!
Equipment and common areas
The infinity pool is magnificent, blending in perfectly with the natural surroundings. This long swimming corridor will give you the impression that you're about to throw yourself into the maquis, while glimpsing the sea in the distance. Luxury, calm and pleasure, as Charles would say…
If you want to go to the nearby beach of Pallombaggia, you can either opt for the sporty buggy or the more comfortable golfette! And finally, if you've got your sea legs, you can opt for a half-day or full-day excursion on the comfortable bergeries boat.
The restoration
The hotel has 2 restaurants:
La Terrasse for a light lunch by the pool, featuring many regional products,
LaTable de Mina, a highly creative gourmet restaurant led by young chef Lucas Perez Gonzales, blends Spanish, Corsican and Italian influences to our delight.
The hotel bar offers a wide choice of cocktails, 3 of which are inspired by Corsica, from Capo'Spritz to the aptly named Soleil de Corse…
OUTDOOR ACTIVITIES

EN
South Corsica
History
Hôtel Les Bergeries De Palombaggia was opened in 2007 as a 3-star hotel. Over the years, the hotel has been renovated and upgraded, and is now a 5-star hotel and Relais et Château.
Practical information about the Hotel Les Bergeries De Palombaggia in Porto-Vecchio
Type
5-star hotel
---
See current offers at Hôtel Les Bergeries De Palombaggia
---
Where the hotel is located
Ajaccio to Hôtel Les Bergeries De Palombaggia: 2h50 min
Calvi to Hôtel Les Bergeries De Palombaggia: 3h30 min
Bastia to Hôtel Les Bergeries De Palombaggia: 2h45 min
Corte to Hôtel Les Bergeries De Palombaggia: 2h15 min
The Hôtel Les Bergeries De Palombaggia is located in Porto-Vecchio, South Corsica, just a 5-minute drive from Palombaggia beach. It is about 10 km from the center of Porto-Vecchio and 25 km from Figari airport.
OUR TIPS FOR
RENTING A CAR

IN

Corsica
Compare prices on our preferred platform: DiscoverCars – one of the best rated sites.
Choose a car that is powerful enough (the roads are steep) but compact (some passages are narrow).
Think of thecomplete insurance (some roads are tortuous and narrow).
There is a lot of demand, book it early.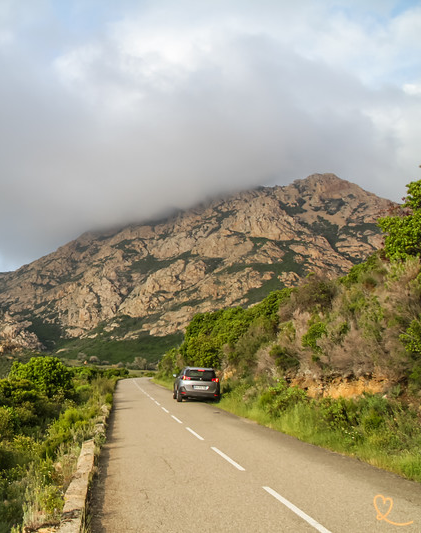 How to get there
There are 3 ways to get to Porto-Vecchio:
Land atFigari airport and rent a car (30-minute drive)
Take a train to Bonifacio, then catch a coach to the center of Porto-Vecchio (20-30 minutes).
As is often the case in Corsica, the easiest way is by car!
Parking
The hotel has a dedicated parking lot for guests with electric charging stations.
For people with reduced mobility
This hotel does not seem ideal for people with reduced mobility, but we invite you to contact the hotel to find out about their possibilities.
Is Hotel Les Bergeries De Palombaggia family-friendly?
Hôtel Les Bergeries De Palombaggia in Porto-Vecchio offers family rooms with 2 bunk beds discreetly housed behind a sliding door. However, the hotel does not offer an extra cot for a baby.
BEST THINGS TO DO

IN

Southern Corsica
---
Discover our articles on the region:
---
Discover our articles on Bonifacio:
---
Discover our articles on Porto-Vecchio