Staying at the Hotel Serenada in Algajola is synonymous with tranquillity, friendliness and simplicity. Right next to the long Aregno beach at the foot of the hotel, this 3-star establishment offers breathtaking panoramic views of the surrounding countryside.
In the small village of Algajola in Corse-du-Nord, between L'Île-Rousse and Calvi, enjoy a seaside vacation with your feet in the water.
In this article, we give you all the details you need to form your own opinion of the hotel. We've also taken plenty of photos to give you a good idea of the establishment.
This review is completely independent, we stayed anonymously and paid our bill in full.
Why stay at Hotel Serenada?
Staying at this family-run establishment overlooking the sea will be a memorable experience, and we've listed it among the best hotels to stay at in Balagne. In our opinion, these are the hotel's 3 main assets:
A hotel with its feet in the water: set on a magnificent sandy beach, Hotel Serenada lets you enjoy the spectacular scenery and turquoise waters of the sea. You can also relax by strolling along the beach, enjoying the sunsets and taking part in water sports.
Our very spacious room: well equipped and tastefully furnished, our room was spacious, comfortable and modern. The only view you'll have is of the sea, the fine sand or the surrounding mountains, depending on the room you book: the ideal place to relax and forget everything while enjoying the view.
Complete peace and quiet: the hotel is set in a quiet, peaceful location, perfect for rest and relaxation. Surrounded by the sea and mountains in the distance, you'll find a tranquil, relaxing atmosphere.
---
See more photos of Hotel Serenada.
---
Is Hotel Serenada worth it? Our review
We really liked this 3-star hotel. Ideal for waterfront vacations with direct access to the beach. The rooms are comfortable and equipped with everything you could possibly need. We highly recommend this establishment and would return without hesitation.
OUTDOOR ACTIVITIES

AT
North Corsica
Decoration and atmosphere
The hotel's owners have chosen soft pastel colors for the interior. The furniture is modern and refined, surrounded by plants and flowers.
The ivory-colored sofa contrasts with the rough-hewn wooden tables and dark-tiled floor. The hotel staff are very friendly and always have a smile on their faces. What's more, the welcome is really pleasant and the service top-notch.
The floral reminders are not only found in the vases, but also on the wallpaper in some of the hotel's corridors. An original choice, as seen here with the embossing of flowery, colorful rosettes on vintage black-and-white printed wallpaper.
On the hotel's outdoor terrace, you'll enjoy magnificent sea views and breathtaking sunsets in a decor that blends the modern with the ancient, characterized by stone walls and a wooden roof.
FOR QUALITY ADVICE

QUALITY
Support us
Do you appreciate all the free content you find on our blog?
Our independence, the only guarantee of qualitytips, is partly based on your generosity!
We offer you to give us a coffee (or several) in the hope of sharing it with you one day in person!
The room
Our room was spacious and comfortable, with a large, cozy bed and a raw wood headboard that highlighted the irregularities of the material. Above, 2 funnel-shaped lamps illuminated the bed on either side.
We particularly appreciated the decorative objects and works of art in the room. In this relatively sober room, with its white walls and dark parquet floor, an armchair and a pretty painting brought movement and color to the theme of aquatic fauna and flora.
Practical: a kettle with 2 paper cups and several tea and infusion bags were at our disposal. Ideal for a hot drink in the quiet of our room!
And finally, the icing on the cake: our private balcony with a panoramic view of the beach.
We had a lovely view that we never tired of admiring.
---
See availability at Hotel Serenada.
---
The bathroom
Our bathroom was spacious, with a modern walk-in shower and plenty of storage space. There was also a mirror and a washbasin. Several towels were neatly folded when we arrived in the room.
In the shower, you'll find soap from the Naturals Liquid Soap brand of organic products and intelligent skincare.
Finally, the toilet is separate from the bathroom, which is sometimes more suitable.
OUR TIPS FOR
RENTING A CAR

IN

Corsica
Compare prices on our preferred platform: DiscoverCars – one of the best rated sites.
Choose a car that is powerful enough (the roads are steep) but compact (some passages are narrow).
Think of thecomplete insurance (some roads are tortuous and narrow).
There is a lot of demand, book it early.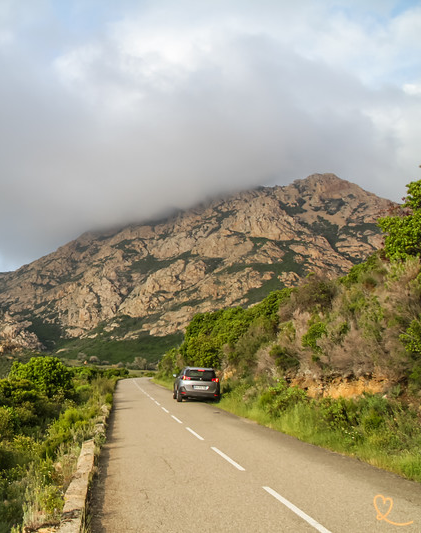 The breakfast
Breakfast is served as a varied buffet in the hotel restaurant. We particularly appreciated the choice of products on offer, both sweet (desserts, cakes, etc.) and savoury (eggs, charcuterie, etc.).
Fruit salads, fresh juices, dairy products, cheeses and local charcuterie on the menu!
On the other side of the buffet, we were delighted to find an assortment of dried fruits: prunes, dried apricots, walnuts, raisins, hazelnuts, dried figs and almonds. For all tastes and, above all, to fill up on energy first thing in the morning!
One of the delights of the buffet: homemade Corsican cookies. It was really nice to be able to taste all these local specialties at the hotel.
The kitchen team is keen to please the hotel's guests, and even the jams served at breakfast are homemade. A treat!
We chose to sit between the inside and outside of the restaurant to enjoy the view, be sheltered from the morning sea breeze and not be too far from the delicious buffet.
You can also opt to have breakfast directly on the terrace to feel the warm caresses of the sun in the morning and admire the particularly relaxing panoramic view. It almost feels like a meditation.
USE OUR GUIDE TO PLAN A

DREAM TRIP

TO

Corsica

All the information you need for your trip:
7 maps that make planning easier
130+ pre-selected locations
Practical advice
+ 220 photos to help you choose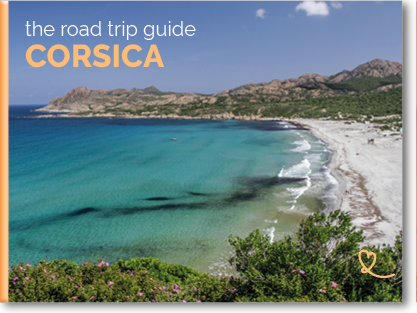 Equipment and common areas
The hotel provides its guests with:
a shared terrace with comfortable armchairs and sofas for gazing out over the turquoise sea,
free Wi-Fi connection,
private parking reserved for customers,
and a deckchair and beach towel rental service.
Do not make




THE SAME MISTAKE

WE MADE

On one of our last trips to Europe, a hacker stole our credit card details while we were using a hotel WiFi.
So our trip began with a "card blocked" call… Not funny at all!
Learn from our mistake, make a small VPN investment to surf without worry.
The restoration
A full buffet breakfast with local flavors is served every morning, so you can recharge your batteries right on the water! The hotel's restaurant is also open for lunch and dinner. You'll enjoy traditional Corsican cuisine based on daily local fish products, and end your meal on a sweet note: the chef's delicious homemade ice creams.
A little history
For 50 years, Hotel Serenada has been run by 4 generations of the same local family. The owners have chosen to open this cosy, friendly hotel in the seaside Mediterranean village of Algajola in Corse-du-Nord. Communal areas and rooms are designed as little havens of peace and well-being, offering a bubble of intimacy to hotel residents.
Practical info about Hotel Serenada in Algajola
Type
The Hotel Serenada in the village of Algajola is a 3-star establishment offering quality facilities. The value for money is very good, given the hotel's location and the range of services on offer.
---
Read more about it:
---
Where the hotel is located
The hotel is located on Rue de la Marine in Algajola (20220), in Corse-du-Nord.
Driving time from Porto-Vecchio: 3h10.
Driving time from Ajaccio: 2h45min.
Driving time from Calvi: 25min.
Driving time from Bastia: 1h45min.
Driving time from Corte: 1h10.
These journey times are approximate and depend on traffic density.
How to get there
To get to the hotel, you can take the bus from Calvi to Algajola, which takes about 30 minutes, and the hotel is a 5-minute walk from the Algajola stop. Remember to check timetables and routes on the official CorsicaBus website.
To get to Calvi, you can take a ferry with or without your car for access by sea. If you arrive by plane, the nearest international airports are Calvi, 20 minutes from the hotel by car, and Bastia, around 1h25 away.
See available ferry schedules and book.
To make getting around Corsica easier, the car is the most practical option, as you'll have more freedom of movement.
Parking
The hotel has a private outdoor parking lot reserved for hotel guests.
OUR TIPS FOR
RENTING A CAR

IN

Corsica
Compare prices on our preferred platform: DiscoverCars – one of the best rated sites.
Choose a car that is powerful enough (the roads are steep) but compact (some passages are narrow).
Think of thecomplete insurance (some roads are tortuous and narrow).
There is a lot of demand, book it early.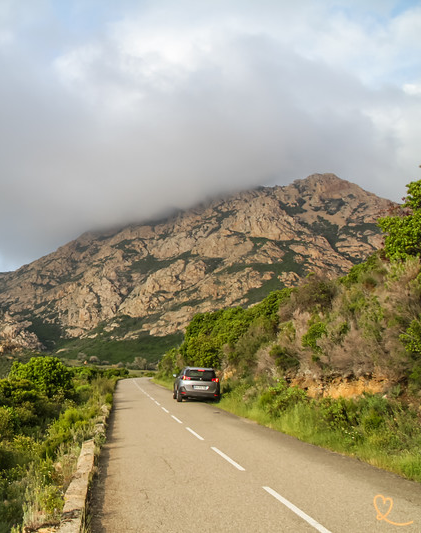 For people with reduced mobility
The hotel's public areas and rooms meet PMR accessibility criteria and standards, with plenty of space and an elevator to make moving around easier. Don't hesitate to ask when you make your reservation about the specific requirements for people with reduced mobility and other visitors.
Is Hotel Serenada family-friendly?
The resort is ideal for families looking for a waterfront vacation. The hotel's rooms and suites can accommodate up to 4 people, and a 4-bedroom villa with private pool is also available, subject to availability. What's more, the on-site restaurant makes it easy to organize meals with your children, whether for breakfast, lunch or dinner, with balanced, home-cooked, local cuisine. You'll be able to reconnect with marine and mineral nature with your little ones, as well as taking advantage of water sports activities in the area. All you have to do is pack your bags. Let's go!
All our tips in this article were put into words with the help of Myriam.