Sleeping at the Hôtel Rocabella in L'Île-Rousse was both an original and relaxing experience for us. The main attraction is the large terrace with Jacuzzi in the suite we booked. We also loved its colourful Art Deco style! You can also enjoy panoramic views of the sea and L'Île-Rousse marina.
In this article, we describe our stay at the hotel in detail and share plenty of photos so you can make up your own mind.
This review is completely independent, we stayed anonymously and paid our bill in full.
Why stay at Hotel Rocabella?
This 4-star establishment is an excellent option for those seeking calm and luxury in a surprising and unusual setting. In our opinion, this is one of the best hotels to stay at in L'Île-Rousse, and one of the finest luxury establishments in the town. In our opinion, these are the hotel's 3 main assets:
Quiet but close to the city center: located in a quiet area, the accommodation is just a few minutes from the city center, the marina and the sea, making it an ideal vacation spot.
Large suite with terrace and Jacuzzi: our spacious accommodation featured a private terrace and Jacuzzi, making it the perfect setting for moments of relaxation and unwinding.
Elegant modern decor: the hotel is decorated with refinement and taste, allowing you to enjoy a unique, colorful and luxurious setting.
---
See more photos of Hotel Rocabella.
---
Is the Hotel Rocabella worth it? Our review
We are very satisfied with our stay in this hotel. Conveniently located near the beach and marina, the hotel offers comfortable, well-equipped rooms. The art deco style of the hotel's public areas and rooms is both original and elegant. A must if you're staying in LÎle-Rousse!
OUTDOOR ACTIVITIES

AT
North Corsica
Decoration and atmosphere
This upscale hotel offers a luxurious, elegant setting in art deco style. The mix of colors, textures and materials lends a real charm to the place. Gilding and mirrors give this hotel real cachet, with touches of the 1920s.
The furnishings are modern and comfortable, and the equipment is of the highest quality. The interior architect designed the hotel to offer guests a unique experience, combining color and sobriety.
Calm, luxury and voluptuousness best characterize this place: the lighting is also carefully chosen to create a soft, warm atmosphere. Do you know lithotherapy? The hotel invites you to discover the benefits and virtues of stones and crystals to enhance your well-being. In fact, our room was named "chrysolite", a yellow-green gemstone with a strong symbolic value that helps restore strength and confidence.
FOR QUALITY ADVICE

QUALITY
Support us
Do you appreciate all the free content you find on our blog?
Our independence, the only guarantee of qualitytips, is partly based on your generosity!
We offer you to give us a coffee (or several) in the hope of sharing it with you one day in person!
The room
Our suite was spacious, comfortable and well decorated with many art deco objects. The decor was modern and elegant.
We found the following amenities: a large, soft bed with fluffy pillows, flat-screen TV, wardrobe, fridge with minibar, safe and electric kettle.
A kitchen area was provided, with everything we needed: sink, microwave, cutlery, plates.
Also very practical near the minibar, a Nespresso coffee machine with kettle, herbal teas, tea and coffee for a hot drink in the peace and privacy of our room.
In the night area of our suite, we had access to a functional desk with enough space to sit and work quietly if needed.
Our room was located on the 2nd floor of the hotel, offering us a beautiful view of the horizon: the sea, L'Île-Rousse marina and the surrounding mountains. From our terrace, we could admire the sunset and the changing colors of the sea. A beautiful show!
The icing on the cake is the private Jacuzzi on our terrace. What a pleasure to bask in a whirlpool bath while gazing out over the bay of L'Île-Rousse!
---
See availability at Hotel Rocabella.
---
The bathroom
Head for the bathroom, still in art deco style. The walk-in shower and walls feature rough black-and-white patterns, reminiscent of the irregularities of the natural stones and crystals used in lithotherapy. The round, black washbasin was striking and added a refined dimension to the room.
For greater comfort and convenience, the toilet was separated from the bathroom.
Finally, Nuxe skincare products were provided on arrival in the room.
OUR TIPS FOR
RENTING A CAR

IN

Corsica
Compare prices on our preferred platform: DiscoverCars – one of the best rated sites.
Choose a car that is powerful enough (the roads are steep) but compact (some passages are narrow).
Think of thecomplete insurance (some roads are tortuous and narrow).
There is a lot of demand, book it early.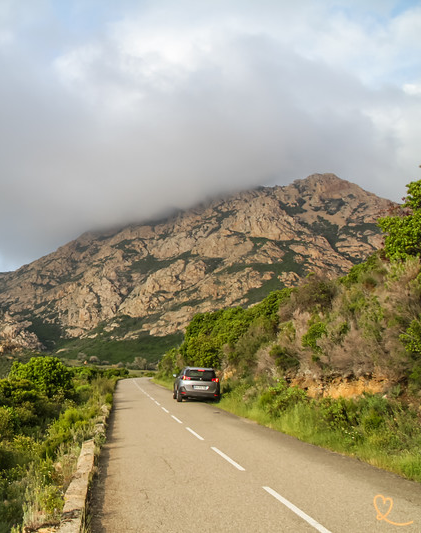 The breakfast
Breakfast, another unexpected moment during our stay! Served from 6.30am to 11am as a buffet in the hotel restaurant, we were impressed by the choice of products on offer, whether sweet (pastries, viennoiseries, fresh fruit, etc.) or savory (eggs, bacon, cheeses, etc.).
Fruit, cakes and breads were arranged on colorful art deco furniture, combining the old with the new.
A selection of dried fruit was available for breakfast, for our pleasure and to fill up on energy first thing in the morning. Almonds, dates and raisins – which do you prefer?
We appreciated the attention to detail and the hotel's willingness to offer regional products, such as these jams from local producers.
We were even treated to home-made sheep's milk yoghurts in the hotel kitchens. A treat!
Breakfast can be served indoors in the restaurant's main dining room or on the shared terrace on the 1st floor overlooking the bay. You can also contact room service to have breakfast in your accommodation. Room service is available until 12 noon.
USE OUR GUIDE TO PLAN A

DREAM TRIP

TO

Corsica

All the information you need for your trip:
7 maps that make planning easier
130+ pre-selected locations
Practical advice
+ 220 photos to help you choose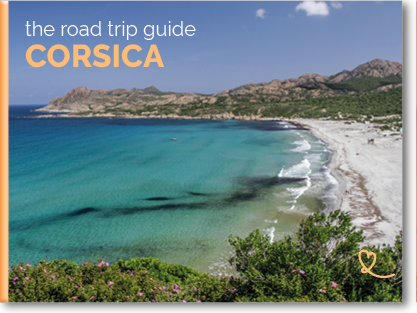 Equipment and common areas
The hotel's owners are committed to providing their guests with a unique experience. In an art deco decor combining modernity and conviviality, the establishment offers a terrace with panoramic views over the marina and the sea, access to the jacuzzi and private parking reserved for guests. A spa with steam room, sauna, treatments and massages will open at the hotel in July 2023.
Do not make




THE SAME MISTAKE

WE MADE

On one of our last trips to Europe, a hacker stole our credit card details while we were using a hotel WiFi.
So our trip began with a "card blocked" call… Not funny at all!
Learn from our mistake, make a small VPN investment to surf without worry.
The restoration
Hotel Rocabella's restaurant serves breakfast every day from 6:30am to 11am. For a bite to eat, however, you can also head to L'Île-Rousse town center, just 2 steps from the hotel, where you'll find a host of shops and restaurants. Some rooms have a kitchen area, so you can eat in the peace and quiet of your accommodation if you wish.
A little history
This 4-star establishment is one of L'Île-Rousse's finest hotels. The owners want to take their guests on a journey back in time, with various touches dedicated to the 1920s in the common areas and bedrooms.
Practical information about Hôtel Rocabella in L'Île-Rousse
Type
The Hôtel Rocabella in L'Île-Rousse is a 4-star establishment offering services in the luxury category.
---
Read more about it:
---
Where the hotel is located
The hotel is located at 2 Rue Pontellole in L'Île-Rousse (20220), North Corsica.
Driving time from Porto-Vecchio: 3h.
Driving time from Ajaccio: 2h45min.
Driving time from Calvi: 35min.
Driving time from Bastia: 1h35min.
Driving time from Corte: 1h.
These journey times are approximate and depend on traffic density.
How to get there
To get to the hotel, you can take the bus from Calvi to L'Île-Rousse, which takes about 45 minutes. The hotel is 2 steps from the L'Île-Rousse stop. Remember to check timetables and routes on the official CorsicaBus website.
To get to L'Île-Rousse, you can take a ferry, with or without your car, for access by sea. If you arrive by plane, the nearest international airports are Calvi, 30 minutes from the hotel by car, and Bastia, around 1h15 away.
See available ferry schedules and book.
To get around Corsica easily, the car remains the most practical way to enjoy greater freedom of movement and travel.
Parking
The hotel provides private outdoor parking for guests.
OUR TIPS FOR
RENTING A CAR

IN

Corsica
Compare prices on our preferred platform: DiscoverCars – one of the best rated sites.
Choose a car that is powerful enough (the roads are steep) but compact (some passages are narrow).
Think of thecomplete insurance (some roads are tortuous and narrow).
There is a lot of demand, book it early.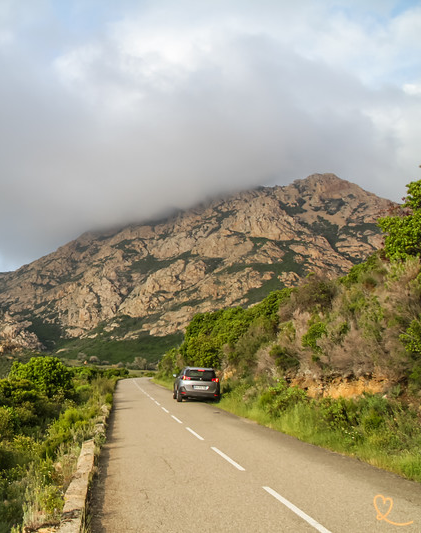 For people with reduced mobility
Comfort category rooms meeting PRM accessibility criteria and standards are available on the first floor of the hotel on request. Please do not hesitate to contact reception directly for further information on how to welcome different types of visitors.
Is Hotel Rocabella family-friendly?
This is a very family-friendly hotel. Our rooms and suites are spacious and offer every comfort for you and your children. Sofa beds are available in suites and junior suites. Enjoying the Jacuzzi together and the panoramic view will undoubtedly be a very soothing moment for the whole family.
All our tips in this article were put into words with the help of Myriam.