We recently had the opportunity to stay at the Hôtel Résidence Aria Marina and were totally won over.
Incredible sea views and breathtaking sunsets are undoubtedly the main assets of this establishment. We stayed in an apartment ideal for a group of people.
In this article, you'll find a detailed description of our experience at the hotel, as well as photos to give you your own idea of the place.
This review is completely independent, we stayed anonymously and paid our bill in full.
Why stay at Hotel Aria Marina?
We really appreciated this establishment for its exceptional setting and facilities. In fact, we've listed it in our selection of the 10 best hotels in Propriano and in our ideal itinerary for 2 weeks in Corsica. Here are the 3 main advantages in our opinion:
an incredible view: the hotel offers breathtaking views of the sea, mountains and Corsican vegetation. We were overwhelmed by this magnificent natural environment. From sunrise to sunset, the scenery is splendid! How can one tire of such a spectacle?
a heated swimming pool overlooking the Gulf of Valinco: surrounded by deckchairs for relaxing and enjoying this exceptional setting. We went for a swim at the end of the day. The reflection of the sun's rays on the water fascinated us.
a balcony with a view of the Corsican mountains: from our room, we were lucky enough to enjoy a panoramic view of the sea and the mountains. Here you can relax and enjoy the scenery.
---
See more pictures of Hotel Aria Marina!
---
Is the Résidence Aria Marina worth it? Our review
The aparthotel has good facilities, including 2 swimming pools. It is particularly suited to families or groups of people. We have fond memories of the panorama from here. It's one of the most beautiful views we've seen in Corse-du-Sud! We highly recommend this hotel and are sure you will enjoy your stay.
OUTDOOR ACTIVITIES

EN
South Corsica
Decoration and atmosphere
When we arrived at the hotel, we were charmed by its natural, authentic surroundings. Situated on an uphill slope, this establishment offers breathtaking views of the Gulf of Valinco and the Corsican mountains. In our photo below, you can see how the apartments in the residence look from the sea.
From the terrace of the 1st (unheated) pool, we observed a breathtaking landscape. Can you imagine yourself sitting at this table with a glass in your hand? The atmosphere in the residence is very family-oriented and relaxed. Outdoor spaces are simply laid out to make room for the exceptional décor. There's no need to overdo it with a panorama like this!
Our room was very spacious, and particularly well suited to a family of 4 or more. In terms of decoration, textured walls and elements in natural materials gave the room an organic feel. We found the atmosphere in our apartment warm and friendly.
FOR QUALITY ADVICE

QUALITY
Support us
Do you appreciate all the free content you find on our blog?
Our independence, the only guarantee of qualitytips, is partly based on your generosity!
We offer you to give us a coffee (or several) in the hope of sharing it with you one day in person!
The apartment
The decor of the homes blends in perfectly with the surrounding natural environment. The colorful world is soft, creating a peaceful atmosphere. We liked the wooden furniture and woven raffia chairs. The apartments are warm and comfortable. We recommend that you stay here with your family or friends, as they offer pleasant privacy.
We immediately felt at home in this accommodation, thanks to the simple, practical decor. This residence has the advantage of offering fully-equipped apartments, so there was a fully-equipped kitchen. It's ideal if you want to save money and avoid eating out every day!
We found the room rather small, but the atmosphere was cocooning. Tones of beige and brown made the room soothing. In our photo, you can get a better idea of the textured walls.
The main feature of our apartment was the balcony. The terrace was large and offered a breathtaking view of the sea and mountains. As night fell, we watched the moon reverberate off the water. The sunsets were equally spectacular. From this balcony, you can appreciate the beauty of the Corsican landscape.
---
See availability at Hotel Aria Marina!
---
The bathroom
In our apartment, the bathroom featured a small shower, sink, mirror and shelves for storage. We also had towels at our disposal, as well as a care kit. Simple yet functional, this is not the room where you'll be spending most of your time.
We just wanted to warn you that the toilet is not separate from the bathroom.
OUR TIPS FOR
RENTING A CAR

IN

Corsica
Compare prices on our preferred platform: DiscoverCars – one of the best rated sites.
Choose a car that is powerful enough (the roads are steep) but compact (some passages are narrow).
Think of thecomplete insurance (some roads are tortuous and narrow).
There is a lot of demand, book it early.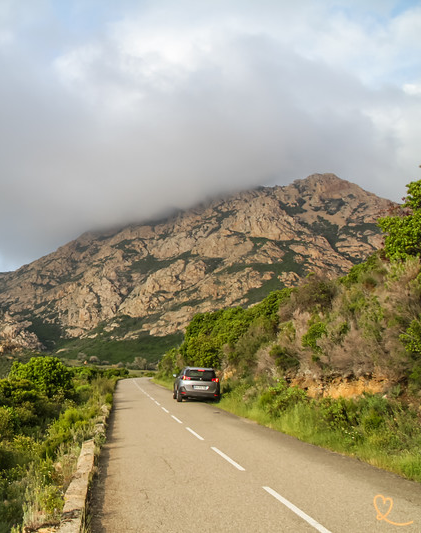 The breakfast
The hotel serves a continental breakfast. It can be served on the terrace around the pool or in the dining room. Unfortunately, we didn't get a chance to try it out, as it was only open from 9am to 11am. We had to leave early for an activity. We did, however, enjoy the superb view of the Gulf of Valinco from the breakfast room. Overall, customers are very satisfied with the experience.
USE OUR GUIDE TO PLAN A

DREAM TRIP

TO

Corsica

All the information you need for your trip:
7 maps that make planning easier
130+ pre-selected locations
Practical advice
+ 220 photos to help you choose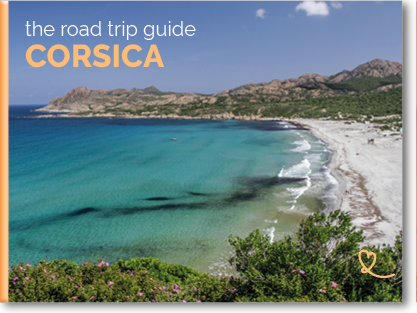 Equipment and common areas
The aparthotel boasts 2 swimming pools. During our stay, the larger of the 2 was not yet heated. It was located next to the reception and had a large terrace. We can guarantee you that the view was once again very beautiful from this spot! There were plenty of deckchairs and loungers to enjoy the Corsican sunshine.
We fell in love with the 2nd pool, which was smaller but heated. It had more charm in our opinion, despite its size. The setting was incredible! We could contemplate the Gulf of Valinco while swimming. The experience was like a dream.
Are you planning to come with friends or family? This is the hotel for you! You can play a spirited game of table tennis before taking a dip in the pool. There are also children's play areas.
Do not make




THE SAME MISTAKE

WE MADE

On one of our last trips to Europe, a hacker stole our credit card details while we were using a hotel WiFi.
So our trip began with a "card blocked" call… Not funny at all!
Learn from our mistake, make a small VPN investment to surf without worry.
The restoration
The hotel bar is a pleasant and authentic place. It offers a variety of alcoholic beverages and soft drinks. We really liked the counter and the original shape of the bar.
We found the view of the bay spectacular from our table. We wish we could relive the moment! Would you like to come in for a drink?
Practical information about the Aparthotel Aria Marina in Propriano
Type
Hotel Aria Marina is a 3-star establishment with exceptional sea and mountain views. This is a residence with excellent facilities and fully equipped apartments suitable for families.
---
See current offers at Hotel Aria Marina!
---
Where the hotel is located
The Hotel Aria Marina is located at Lieu-dit Cuparchiata (20110) in Propriano, Corse-du-Sud.
Driving time from Ajaccio: 1h20min.
Driving time from Bonifacio: 1h10min.
Driving time from Calvi: 3h40min.
Driving time from Bastia: 3h30min.
Driving time from Corte: 2h25.
These journey times are approximate and depend on traffic density.
How to get there
To get to Corsica, you have 2 options: plane or ferry. If you choose the ferry option to get to Corse-du-Sud, you can arrive in Ajaccio. It's a 1h20-minute drive to Propriano.
See available ferry schedules and book.
You can also land at Sud Corse Figari airport, about 1 hour's drive from the town. You can then hail a cab or take a bus to Propriano. See the official Tourist Office website for a list of possible bus routes.
We strongly recommend that you have access to a car for your trip to Corsica. If you want to see Corsica's exceptional landscapes, you'll need a car. On the other hand, if you want to stay in town, you can walk to most tourist attractions from the hotel.
Parking
The hotel has several free parking areas for guests. As it's also a residence, it's very large. Parking spaces are strategically located for easy access to rooms and apartments.
OUR TIPS FOR
RENTING A CAR

IN

Corsica
Compare prices on our preferred platform: DiscoverCars – one of the best rated sites.
Choose a car that is powerful enough (the roads are steep) but compact (some passages are narrow).
Think of thecomplete insurance (some roads are tortuous and narrow).
There is a lot of demand, book it early.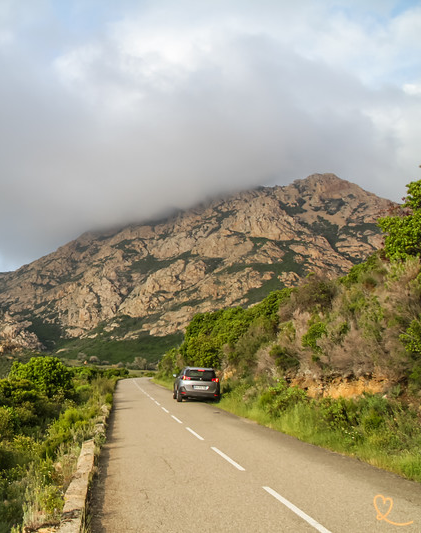 For people with reduced mobility
The establishment is divided into apartments, suites and rooms. It is located on a slope, which can make access difficult for people with reduced mobility. However, you can rent the "Casetta" accommodation, which has an access ramp and a parking space, to make the most of your stay.
The paths leading to the different areas of the residence are not really suitable for people with mobility difficulties.
Is Aria Marina family-friendly?
The residence has dedicated apartments for families. They are very spacious and comfortable. There are also 2 swimming pools for the enjoyment of young and old alike! Children's play areas are available on site. We highly recommend this hotel to groups.
All our tips in this article were put into words with the help of Elisa.