Are you planning to visit the magnificent calanques de Piana during your stay in Corsica? Staying at the Hôtel Capo Rosso will allow you to stop and enjoy these unique landscapes. We were lucky enough to spend a night at this 4-star hotel and came away delighted. Famous for its view of the Gulf of Porto, it also boasts a large swimming pool and gourmet restaurant.
In this article, we'll give you a detailed account of our experience at this establishment, with plenty of photos.
This review is completely independent, we stayed anonymously and paid our bill in full.
Why stay at Hotel Capo Rosso?
This luxury hotel is located in Piana, on the Calanques road. In addition to its ideal location for discovering theseUNESCO World Heritage geological formations, it also offers other advantages to its guests. In fact, we've listed it among the best hotels to stay at in Piana. Here are its main strengths:
Spectacular views of the calanques de Piana: from the rooms, restaurant and swimming pool, the calanques stretch out all around the hotel. In the distance, you can admire the Gulf of Porto and the Bay of Scandola.
Its large outdoor swimming pool: heated and overlooking the calanques, the pool is open every day from 8am to 10pm – what more could you ask for? Surrounded by a terrace with deckchairs and a lounge area, it's the perfect place to relax.
Its gourmet restaurant, La Table de Neptune, serves top-quality Corsican cuisine using fresh produce. It offers a sublime panorama of the calanques, enough to awaken all your senses!
---
See more photos of Hotel Capo Rosso.
---
Is Hotel Capo Rosso worth it? Our review
Certainly! We were very satisfied with our stay at this hotel. The staff were friendly and attentive. Spending a night in this establishment was the ideal way to make the most of the calanques de Piana. Indeed, while the road that winds through these cliffs is sublime, it's also dangerous, and it's difficult to stop and really admire the scenery. The balcony of our room was the perfect place to take the time to contemplate this exceptional natural heritage, away from the tourist traffic of the Calanques road.
OUTDOOR ACTIVITIES

AT
North Corsica
Decoration and atmosphere
The hotel's rosy exterior perfectly matches the hues of the surrounding calanques, oscillating between pink and orange. Its large rectangular sliding patio doors and curved balconies hark back to 1960s or 1970s construction.
Inside, the decor is rather old-fashioned. The reception hall on the first floor is rather cold and sober. Nevertheless, it remains pleasant, with lots of natural light streaming in through its bay windows.
The bar has the same features, although there are a few modern touches, such as the imitation stone wall. The wide armchairs and thick carpet give this space a cosy feel.
Decorative elements caught our eye, notably the water wall separating the staircase from the entrance hall.
The atmosphere was warmer in the upstairs common areas, with their soft hues and antique furnishings.
FOR QUALITY ADVICE

QUALITY
Support us
Do you appreciate all the free content you find on our blog?
Our independence, the only guarantee of qualitytips, is partly based on your generosity!
We offer you to give us a coffee (or several) in the hope of sharing it with you one day in person!
The room
Like most of the common areas, our room had an old-fashioned charm about it. As soon as we entered, we were drawn in by the balcony and the view of the calanques.
The room featured a functional desk area, complete with TV and minibar.
We found at our disposal: a kettle, 2 cups, tea and coffee bags, and 2 glasses of water.
The sleeping area was also open to the outside, opening onto the balcony. What could be better than waking up and admiring the calanques? The bed was comfortable and we were able to use slippers and a bathrobe, perfect for the pool.
Finally, the balcony, accessible from both the sleeping area and the office area, was very pleasant, offering a panoramic view of the gulf and the pool. The armchairs were comfortable.
---
Check availability at Hotel Capo Rosso.
---
The bathroom
Our bathroom was equipped with a corner bathtub. Its sober beige tones matched the rest of the room's decor. The toilets were separate.
In addition to Nuxe hygiene products (shampoo and shower gel), a shower cap and nail files were available.
OUR TIPS FOR
RENTING A CAR

IN

Corsica
Compare prices on our preferred platform: DiscoverCars – one of the best rated sites.
Choose a car that is powerful enough (the roads are steep) but compact (some passages are narrow).
Think of thecomplete insurance (some roads are tortuous and narrow).
There is a lot of demand, book it early.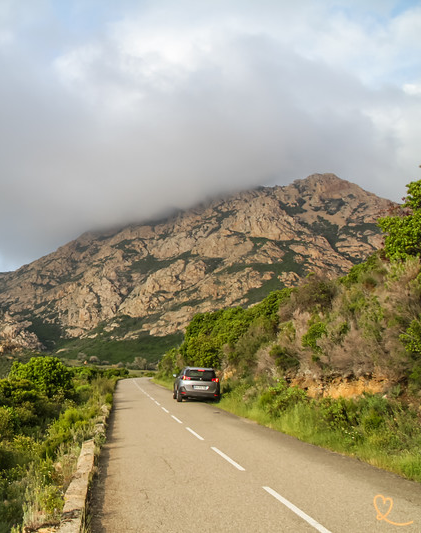 The breakfast
Served between 7:30 and 10:30 a.m. in the hotel restaurant "La Table de Neptune", breakfast is a varied, high-quality buffet. You'll find a wide range of Corsican products, including honey and an impressive selection of jams.
Homemade cakes were also featured among a wide range of sweet products (pancakes, pastries, cereals).
Finally, as far as savoury dishes are concerned, we must mention the quality of Corsican charcuterie. This hearty breakfast was one of the best we tasted on our road-trip through the northern part of Corsica.
USE OUR GUIDE TO PLAN A

DREAM TRIP

TO

Corsica

All the information you need for your trip:
7 maps that make planning easier
130+ pre-selected locations
Practical advice
+ 220 photos to help you choose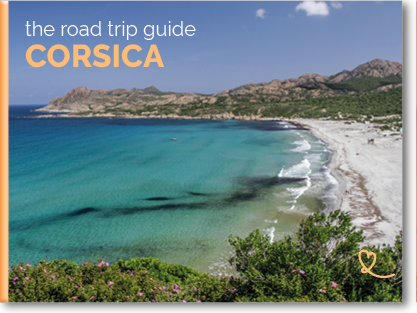 Equipment and common areas
This hotel features a host of quality amenities to enhance your experience. During your stay, you will have access to the following facilities:
the outdoor pool: open daily from 8am to 10pm, this area includes a large heated pool surrounded by a terrace with deckchairs and parasols, a lounge area with comfortable armchairs, a shower and toilets. Access to the pool is via a staircase in the parking lot. Its location, adjacent to the bar, is very convenient for a quick refreshing drink!
the gastronomic restaurant: dinners at the "Table de Neptune" are served from 7pm to 9:30pm. Enjoy Corsican cuisine featuring local, seasonal produce, with a view of the Gulf of Porto. In fact, the room features large bay windows, and a large adjoining terrace is also available.
the bar, with its lounge and terrace: called Les Caves de Neptune, the bar is ideally located between the restaurant and the swimming pool. In addition to non-alcoholic beverages (pressed juices, sodas, cocktails…), the bar offers a wide selection of wines, particularly Corsican, as well as digestifs, classic cocktails and original creations. You can enjoy them in the cosy lounge or on the terrace to make the most of the view.
This accommodation also offers a number of services:
a concierge service,
a luggage storage service,
free wifi connection,
free-access board games,
24-hour reception.
Pets are allowed on the premises for €15 per day per animal. For further information, please contact reception.
Do not make




THE SAME MISTAKE

WE MADE

On one of our last trips to Europe, a hacker stole our credit card details while we were using a hotel WiFi.
So our trip began with a "card blocked" call… Not funny at all!
Learn from our mistake, make a small VPN investment to surf without worry.
The restoration
The hotel features a bar offering a wide selection of alcoholic beverages (wines, digestifs, classic and signature cocktails), as well as non-alcoholic drinks (pressed juices, sodas, non-alcoholic cocktails).
The hotel restaurant "La Table de Neptune" offers a new menu every month, based on seasonal produce. However, you'll find a range of meat and fish dishes, cooked in a refined, Mediterranean-inspired style. Chef Bruno Lebris works exclusively with local suppliers.
To find out more about this restaurant with its exceptional views over the calanques, read our dedicated article.
Practical information about Hôtel Capo Rosso in Piana
Type
Hotel Capo Rosso in Piana is a 4-star establishment offering luxury accommodation, with swimming pool and breathtaking views of the calanques.
---
Read more about it:
---
Where the hotel is located
Hôtel Capo Rosso is located on the Route des Calanques, in Piana (20115) in the Corse-du-Sud department, although it's more to the north of the Isle of Beauty.
Driving time from Porto-Vecchio: 3h40min.
Driving time from Ajaccio: 1h30min.
Driving time from Calvi: 2h10min.
Driving time from Bastia: 3h15min.
Driving time from Corte: 2h30min.
These journey times are approximate and depend on traffic density.
How to get there
We recommend that you travel to Piana from Ajaccio. You can reach Corsica's capital by plane or ferry. To help you make the right choice, take a look at our article comparing these two solutions.
See available ferry schedules and book.
If you're going by plane, you'll need to rent a car at the airport to make the most of your stay in Corsica. The road to the calanques de Piana is very enclosed and narrow, and this part of the west coast has almost no public transport. In season, if you're not afraid of winding roads, you can take a tourist bus from Ajaccio bus station to Piana in 2 hours, via Cargèse. We recommend you contact the Ajaccio tourist office for further information.
Parking
The hotel offers free parking for its guests. There are herringbone parking spaces near the main building, as well as along the road leading to the second building, near this second set of rooms, and a space reserved for people with reduced mobility at the top of the climb.
OUR TIPS FOR
RENTING A CAR

IN

Corsica
Compare prices on our preferred platform: DiscoverCars – one of the best rated sites.
Choose a car that is powerful enough (the roads are steep) but compact (some passages are narrow).
Think of thecomplete insurance (some roads are tortuous and narrow).
There is a lot of demand, book it early.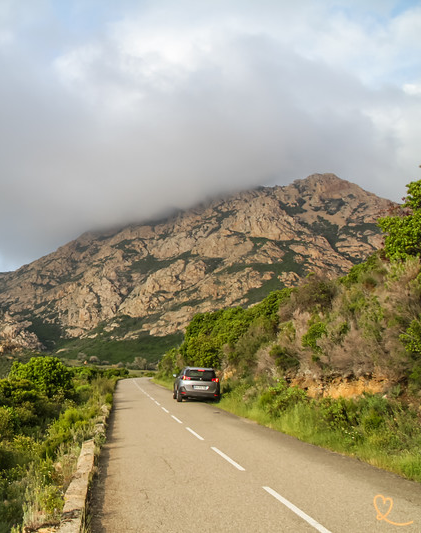 For people with reduced mobility
Unfortunately, this establishment has only one suite (charm suite) suitable for disabled guests. There are numerous staircases throughout the hotel, from the main entrance to the upper floors and the swimming pool. There is no elevator. Please contact reception for further information.
Is Hotel Capo Rosso family-friendly?
The hotel has suites (Charme and Prestige) sleeping up to 4, with a king-size bed and sofa bed. However, extra beds and cribs can be added to all rooms on request. However, there is a charge for this service (except for the installation of cots). We advise you to check the current rates when booking. A real plus for this hotel is the free access to board games in the lounge area near the bar.
All our tips in this article were put into words with the help of Fanny.