Taking a tour of the Balagne region? We found a charming luxury hotel in Monticello. Sleeping at Hôtel A Piattatella near L'Île-Rousse was an unforgettable experience for us. In the heart of the Corsican maquis, this charming stone building is a journey in itself. If you're looking for a picturesque yet luxurious place in the heart of nature, this is the place for you!
Its main attraction is undoubtedly the breathtaking mountain views .
In this article, we present our experience and impressions of this accommodation. You'll also find a few photos to give you an idea.
This review is completely independent, we stayed anonymously and paid our bill in full.
Why stay at Hotel A Piattatella?
In our opinion, this is one of the best hotels to stay at in L'Île-Rousse, and also one of the best luxury establishments in the region. The hotel offers a unique and unforgettable experience thanks to its 3 main assets:
Surrounded by greenery: this hotel is surrounded by beautiful natural surroundings, which allowed us to enjoy breathtaking views and a relaxing ambience.
Mountain views: the hotel offers magnificent views of the surrounding mountains, allowing guests to feel completely disconnected from their daily lives.
Calm and serenity: the hotel is located in a quiet, secluded area in the mountains. Our nights of sleep have rarely been so peaceful and restorative.
---
See more photos of Hotel A Piattatella.
---
Is Hotel A Piattatella worth it? Our review
This exceptional view is well worth the detour. If you're looking for a luxurious and refined stay in L'Île-Rousse, this hotel is an outstanding choice. In an enchanting setting, you'll find the perfect balance of comfort, charm and tranquility. This tastefully renovated former sheepfold is surrounded by a superb Mediterranean garden that plunged us into an ocean of serenity.
The rooms are elegantly decorated, with a harmonious blend of contemporary and traditional styles. It's almost tempting not to leave the hotel and take full advantage of everything it has to offer. For us, it's an excellent choice of accommodation!
OUTDOOR ACTIVITIES

AT
North Corsica
Decoration and atmosphere
The hotel, housed in a former sheepfold, has been tastefully renovated. The owners have sought to successfully combine architecture inspired by traditional Italian and Mediterranean styles, with stone walls, vaulted ceilings and brick arches.
The furniture is modern and the colors bright. The walls are finished in old stone. Wicker chairs add a touch of finesse, and plants soften the pleasant, convivial atmosphere.
Highly modern facilities, an atypical library and refined decorative choices add a luxurious dimension to this establishment at the crossroads of the picturesque and the contemporary.
FOR QUALITY ADVICE

QUALITY
Support us
Do you appreciate all the free content you find on our blog?
Our independence, the only guarantee of qualitytips, is partly based on your generosity!
We offer you to give us a coffee (or several) in the hope of sharing it with you one day in person!
The room
Our room was spacious and comfortable, decorated in beige and white tones that added a touch of elegance to the stone wall. We particularly appreciated the contemporary decor and the breathtaking view of the city. The room was equipped with a flat-screen TV, free Wi-Fi, a small desk, a minibar, a safe, air conditioning and a private bathroom.
The mix of raw materials such as stone, wood and rope lent character to the room.
A coffee machine, bottles of drinking water, coffee and tea as well as a kettle and shortbread were kindly placed at our disposal in the room on arrival.
The view from our room was as beautiful as it was indescribable, as you can see from the photo below. The clouds danced gracefully over the towering mountains, surrounded by verdant nature as far as the eye could see. We could hardly take our eyes off this exceptional view. An exquisite moment of contemplation.
---
See availability at Hotel A Piattatella.
---
The bathroom
Very modern, our en suite bathroom was spacious and well equipped. The dark marble contrasted with the white of the sanitaryware and the light wood of the furniture. We had a bath with shower, washbasin and mirror. There were also shelves for storing towels and toiletries. Lit by a window, the bathroom was also illuminated by spotlights in the ceiling.
If you prefer a walk-in shower to a bathtub, just ask. You'll have both at your disposal in your bathroom – not bad, eh?
An array of Algotherm skincare products, a marine cosmeceutical brand, was laid out in our bathroom on arrival.
For added comfort and peace and quiet, especially if there were several of us sharing a room, the toilet is separate from the bathroom.
OUR TIPS FOR
RENTING A CAR

IN

Corsica
Compare prices on our preferred platform: DiscoverCars – one of the best rated sites.
Choose a car that is powerful enough (the roads are steep) but compact (some passages are narrow).
Think of thecomplete insurance (some roads are tortuous and narrow).
There is a lot of demand, book it early.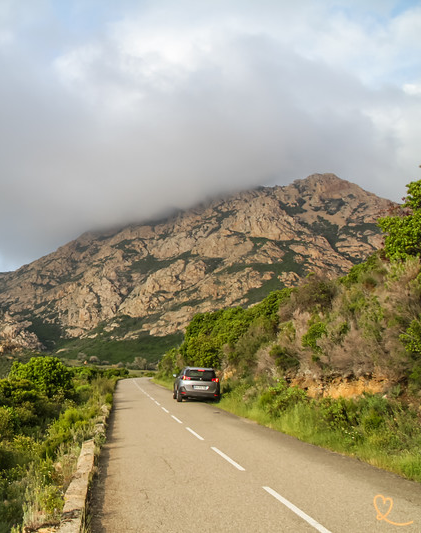 The breakfast
The hotel's 5-star restaurant serves a varied buffet breakfast every morning. We really appreciated the choice of sweet and savoury products with hot and cold drinks, as well as many local products.
USE OUR GUIDE TO PLAN A

DREAM TRIP

TO

Corsica

All the information you need for your trip:
7 maps that make planning easier
130+ pre-selected locations
Practical advice
+ 220 photos to help you choose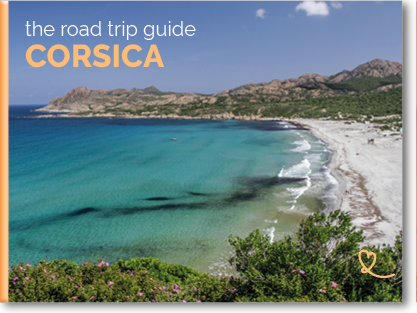 Equipment and common areas
This 5-star hotel offers a wide range of facilities and services to make your stay unforgettable. We had plenty to keep us busy:
the possibility of using the city's tennis courts in the immediate vicinity of the hotel if you enjoy racket sports:
a panoramic outdoor pool with breathtaking views of the Corsican maquis and a 2nd outdoor pool;
a gym (who says you can't exercise on vacation?),
a spa with steam room, sauna and whirlpool,
a restaurant and bar with terrace for a drink in the heart of nature,
common spaces in the calm and serenity of the mountains,
a verdant garden that blends in perfectly with its natural surroundings.
Do not make




THE SAME MISTAKE

WE MADE

On one of our last trips to Europe, a hacker stole our credit card details while we were using a hotel WiFi.
So our trip began with a "card blocked" call… Not funny at all!
Learn from our mistake, make a small VPN investment to surf without worry.
The restoration
This hotel really does have it all: in addition to the top-class facilities on offer, you have access to a gourmet restaurant right inside. The breakfast buffet is served here every morning.
For lunch and dinner, the menu offers refined, local and authentic cuisine. You'll discover the culinary traditions of Corsica's terroir, with products from sustainable sources. All in an idyllic setting, perched on the terrace, you'll catch a glimpse of the majestic surrounding mountains and the region's verdant nature. Enjoy!
A little history
The Hôtel A Piattatella is a charming establishment in the heart of the Balagne region, surrounded by Corsican nature. Luxury, quality and naturalness are the watchwords of the owners, who aim to offer their guests an unforgettable stay. In Corsican, "piattatella" means "hiding place". Pushing open the doors of this intimate and confidential place between the mountains and the foliage, come and discover an ideal hideaway to spend a dream vacation in total discretion in the immensity of the Corsican landscapes.
Practical information about Hotel A Piattatella in Monticello
Type
Hotel A Piattatella is a 5-star establishment offering luxury services and facilities in the top-of-the-range category.
---
Read more about it:
---
Where the hotel is located
The hotel is located on Chemin Saint-François in Monticello (20220), North Corsica.
Driving time from Porto-Vecchio: 2h50min.
Driving time from Ajaccio: 2h30min.
Driving time from Calvi: 40min.
Driving time from Bastia: 1h35min.
Driving time from Corte: 1h.
These journey times are approximate and depend on traffic density.
How to get there
To get to the hotel, you can take bus line 2 from the Île-Rousse bus station to the "Monticello Centre" stop, which takes about 35 minutes. Don't forget to check timetables and routes on the official Balagne public transport network website. From the bus stop, the hotel is less than 20 minutes on foot or 3 minutes by car.
To get to Île-Rousse, you can fly into Calvi international airport, a 35-minute drive from the establishment, or Bastia airport, about 1h15min away. You can also take a ferry, with or without your car, for direct access by sea to Île-Rousse. From the port, it's about a 15-minute drive to the hotel.
See available ferry schedules and book.
To get around Corsica easily, the car remains the most practical way to enjoy greater freedom of movement and travel.
Parking
The hotel provides private outdoor parking for your car.
Electric vehicle charging stations are available on site if required.
OUR TIPS FOR
RENTING A CAR

IN

Corsica
Compare prices on our preferred platform: DiscoverCars – one of the best rated sites.
Choose a car that is powerful enough (the roads are steep) but compact (some passages are narrow).
Think of thecomplete insurance (some roads are tortuous and narrow).
There is a lot of demand, book it early.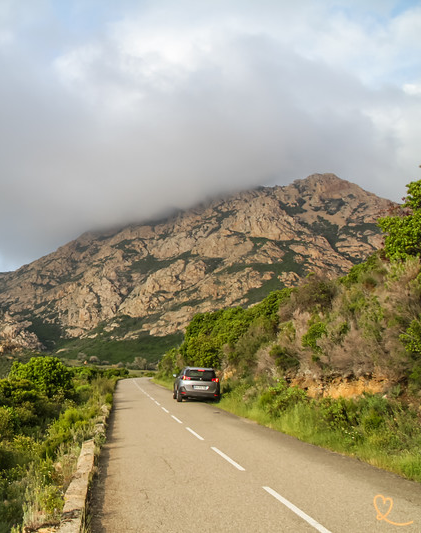 For people with reduced mobility
As the hotel is housed in a former sheepfold, not all facilities meet accessibility criteria and standards for people with reduced mobility. What's more, there are a few staircases in the outdoor areas. However, one of the hotel's 17 rooms is equipped with PRM access. Please do not hesitate to contact reception directly if you have any questions about how to welcome different types of visitors.
Is Hotel A Piattatella family-friendly?
Whether you're a solo traveler, a couple or a family, you can make the most of the facilities offered by this superb hotel in the heart of nature. Some rooms are set out like small apartments, while others are on the ground floor, giving you the convenience and comfort you need to enjoy your family vacation. The hotel's many activities, including the panoramic outdoor pool, the 2nd outdoor pool, the garden and the city's tennis court, are sure to delight young and old alike! All this in a verdant setting so that your children can make the most of their contact with nature. Happy vacations!
All our tips in this article were put into words with the help of Myriam.