Golden sand, clear waters and less people… Chevanu beach (plage de Chevanu) is ideal for those who are looking for a little peace and quiet or a good place to snorkel.
Between the point of Brizzi and Capineru, this beach has a lot of charm.
Here is our guide to help you plan your visit: map, access, sand, conditions…
Why visit the beach of Chevanu in Pianottoli
Is Chevanu beach worth it?
If you are looking for a less crowded beach with coves, sand and clear water, Chevanu beach (also called Kevano beach) is a good option.
It is one of the most beautiful beaches around Bonifacio(see our list).
Why choose this beach
Chevanu is much less famous than the beaches on the side of Porto-Vecchio (such as on Palombaggia), but it is an excellent choice for several reasons:
It is easy to access
On the whole, it is not too busy
It has several handles, allowing everyone to find their own little corner
It has a gentle slope to enter the water
But it is especially appreciated for its underwater activity. It is a good place for snorkeling.
Access and map – plage de Chevanu, Bonifacio, Corsica
Where is the beach of Chevanu?
Southwest coast of Corsica
On the commune of Pianottoli-Caldarello
Not far from Figari
Driving time from Bonifacio = 30min drive
Driving time from Figari = 15min
Driving time from Porto-Vecchio = 40min
8 min detour from the main road T40
Here is a map to help you find your way:
OUR TIPS FOR

RENTING A CAR

IN

Corsica
Compare prices on our preferred platform: DiscoverCars – one of the best rated sites.
Choose a car that is powerful enough (the roads are steep) but compact (some passages are narrow).
Think of thecomplete insurance (some roads are tortuous and narrow).
There is a lot of demand, book it early.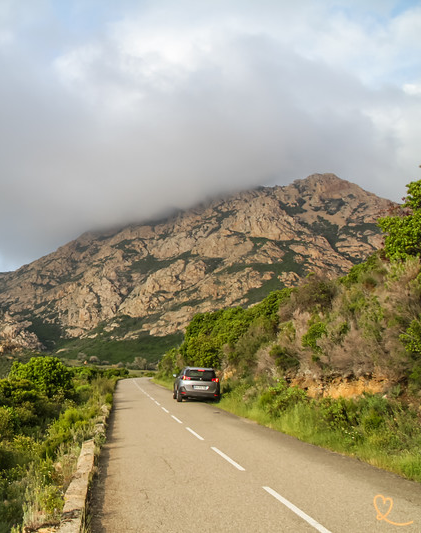 How to get to Chevanu
The beach is accessible by car.
From the main road T40, turn towards the coast (the beach is indicated): to the left if you go up with Ajaccio, or to the right if you drive towards Bonifacio.
You have less than 4km left.
The last 200m are unpaved and there are a lot of bumps. But as it is not long, no worries, you don't need a 4×4, even if the track tends to degrade. Take your time, and don't go into the holes head on.
Avoid after heavy rains.

Parking
The parking lot is just a small area where the vegetation has been removed.
It is not big. Off season no problem. In the middle of the summer season, we still recommend arriving early.
The advantage of the small parking lot is that it limits the number of visitors.
It is free.
Sorry, we really didn't take a good picture of the parking… We were probably in too much of a hurry to get to the beach!
Access step to the trough
Once parked, it is easy to reach the beach.
The path is visible in the middle of the dense vegetation.
It is enough to walk 100m to reach the end of the longest cove.
FOR QUALITY ADVICE


QUALITY

Support us
Do you appreciate all the free content you find on our blog?
Our independence, the only guarantee of qualitytips, is partly based on your generosity!
We offer you to give us a coffee (or several) in the hope of sharing it with you one day in person!
On the sand and in the water… practical advice
Best time to visit
This beach is pleasant all year round.
In winter, even if the water is too cool, you can enjoy the colorful rocks and the dense vegetation that surrounds the beach.
As for Corsica in general, there are more people in summer, and especially between mid-July and mid-August. At this time, it is better to visit early.
The beach is oriented more to the south.
The sand
The beach is covered with golden sand.
It is not the finest on the island but it is pleasant.
No shade on the beach. Bring your own umbrella.
Note that at any period, some beaches in Corsica can be covered with algae.
This can happen at any beach but not at the same time. It's random.
Conditions for swimming
The beach is ideal for swimming and snorkeling.
It is rather well sheltered from the north and west winds thanks to a fairly closed bay facing south.
To be avoided when the wind blows from the South, like the wind U Libeccio…
And the waters are generally quite transparent.
Beware there may be sea urchins!
Nautical activities
There is no equipment rental on this beach.
But it is a very good place for those who like:
We tell you more, below, about the species you can find.
Conditions with children
The slope to enter the water is quite gentle which is ideal with children.
But the beach is never supervised.
USE OUR GUIDE TO PLAN A


DREAM TRIP

TO

Corsica
All the information you need for your trip:
7 maps that make planning easier
130+ pre-selected locations
Practical advice
+ 220 photos to help you choose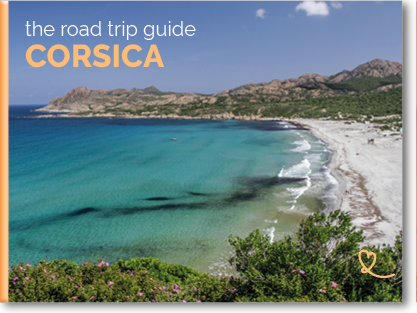 Restaurant at the beach of Chevanu
On the beach itself, there are no buildings and no restaurants.
You can find some restaurants in Viagenti and Pianottoli-Caldarello in general.
It takes less than 10 minutes to drive.
Hotels near Chevanu beach
There is no hotel on the beach, but there are 2 campsites close by: Camping Kévano and Camping Le Damier.
Less than 10 minutes away by car, you can find accommodations, especially rentals, such as the apartments of the Residence Ribellinu surrounded by greenery.
– see prices, pictures and availability
WHERE TO STAY

IN

South Corsica
---
Option 1: Around the famous beaches
We recommend..:
---
Option 2: in the maquis around Bonifacio
We recommend..:
---
Option 3: in Bonifacio itself (citadel or marina)
We recommend..:
---
Option 4: in Propriano
We recommend
Coves, Chevanu pond and Bruzzi point
Chevanu has a first long cove, where you arrive from the parking lot.
But there are also other creeks in its continuity.
Between each cove, you can find rock formations of different colors: gray or red.
From the beach you have a beautiful view of the Bruzzi point with its hills.
All this area is a Natura 2000 site in the heart of the natural reserve of the Bouches de Bonifacio.
The protection is mainly the coast, with some maritime area, with the Bruzzi Islands.
Behind the beach, the pond of Chevanu is also protected.
We haven't had time to explore everything yet.
---
Departure from France and Italy
Advantage: you can take your car!
---
Airports in Bastia, to visit the North, Figari to visit the South, or Ajaccio convenient for all Corsica.
Compare flights!
Underwater – snorkeling in Chevanu
Chevanu beach is also very popular with snorkelers.
Bring your mask and snorkel!
From what we could read, you can find spaces of sandy areas and species that like to live in the Posidonia meadows (very well preserved in the area).
We read someone saying they saw a stingray.
Other beaches nearby
San Giovanni Beach (St. John)
One of our favorite beaches is not far from Chevanu, San Giovanni beach, also called St. John.
Hidden in the bay of Figari, this beach has beautiful smooth rocks spread along the beach. They have different shades of gray and shapes rounded by the elements.
This beach is particularly beautiful on cloudy days.
Photographers particularly appreciate it.
See our article
Beach of Figari
Along the cove of Figari, you can find several beaches. On the east coast, the beach of Figari is a narrow strip of sand with a very gentle slope.
The sand is quite thick. You have to walk to get there.
Arbitru and Martinu Beach
And further north, you can walk to other isolated beaches such as:
l'Anse d'Arbitru, small and wild
Martinu beach with all its little piles of stones.
See our list of the most beautiful beaches around Bonifacio.