Sleeping at the Auberge Lustincorne in the village of Patrimonio was an exotic, gentle, country experience! In the heart of the vineyards around Saint-Florent, we were lucky enough to spend a night in this establishment, lulled by the calm and tranquility that reign there.
Its location is the inn's main asset, offering 360° views of the mountains and vineyards, just 10 minutes from the beach.
In this article, you'll find our review of the hotel, its facilities, services and rates. Numerous photos will give you a clearer idea of the place.
This review is completely independent, we stayed anonymously and paid our bill in full.
Why stay at Auberge Lustincorne?
Auberge Lustincorne offers a relaxing and truly exotic stay. In fact, we've listed it among the best places to stay in and around Saint-Florent. Thanks to its 3 main assets:
Beautiful views of the Corsican mountains: The hotel is in an idyllic location, with breathtaking views of Corsican nature. Enjoy breathtaking views from the inn or from your room.
Delicious breakfast: varied and hearty, we really enjoyed the breakfast. Enjoy local produce and Corsican specialties, all lovingly prepared by the kitchen team.
Great peace and quiet: The atmosphere at the hostel is very soothing, providing an ideal environment in which to relax and unwind. Enjoy the silence and tranquillity to recharge your batteries and relax.
---
See more photos of Auberge Lustincorne.
---
Is the Lustincorne Inn worth it? Our review
The hotel's excellent location offers magnificent views of the mountains and vineyards. The rooms are comfortable and functional, and the pool very pleasant. In short, we highly recommend the Auberge Lustincorne for a stay in the heart of nature, and would return without hesitation.
OUTDOOR ACTIVITIES

AT
North Corsica
Decoration and atmosphere
The Auberge Lustincorne in Patrimonio is a haven of peace set in a listed site. This intimate and confidential place has 8 functional rooms to give you access to comfort in the middle of the mountains. Surrounded by lush greenery, this place is both far from the hustle and bustle of the city and close to all the local tourist attractions.
Natural materials such as wood, stone and wrought iron are integrated into the design to create a warm, rustic and welcoming ambience. This bright, red-tiled building blends in perfectly with the surrounding landscape.
We loved this idyllic setting, which makes it the perfect destination for a relaxing vacation away from everyday life.
FOR QUALITY ADVICE

QUALITY
Support us
Do you appreciate all the free content you find on our blog?
Our independence, the only guarantee of qualitytips, is partly based on your generosity!
We offer you to give us a coffee (or several) in the hope of sharing it with you one day in person!
The room
Our room was very functional with a large comfortable bed and a wardrobe. The decor was sober and uncluttered, highlighting raw materials such as the metal of the lamps and the wood of the furniture.
A small table surrounded by 3 wicker chairs faced the bed, an ideal spot for reading, taking a short break or sipping a hot drink before bedtime.
Our room was very spacious and offered us a truly unique view that helped us feel relaxed and at ease. A landscape worthy of a painter's canvas!
---
See availability at Auberge Lustincorne.
---
The bathroom
The bathroom features a walk-in shower, hairdryer, washbasin and mirror. We also had a small window that brought natural light into the room. The walls were decorated with pretty mosaic motifs that brightened up the bathroom. Finally, towels were neatly rolled up on a small table when we arrived.
OUR TIPS FOR
RENTING A CAR

IN

Corsica
Compare prices on our preferred platform: DiscoverCars – one of the best rated sites.
Choose a car that is powerful enough (the roads are steep) but compact (some passages are narrow).
Think of thecomplete insurance (some roads are tortuous and narrow).
There is a lot of demand, book it early.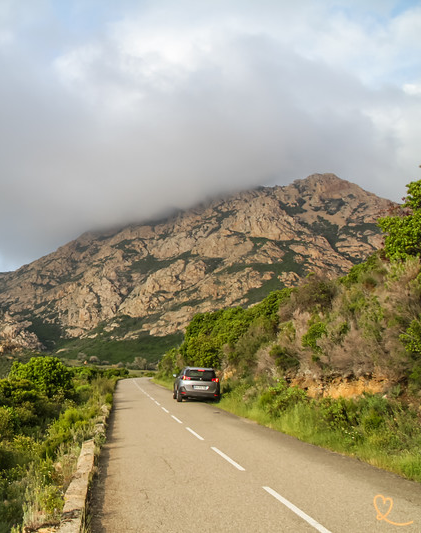 The breakfast
The inn offers a buffet breakfast with local flavors. We appreciated the choice of products available, both sweet and savoury. Breads, cereals, madeleines, jams and yoghurts, as well as charcuterie, eggs and local cheeses were on offer. Of course, you'll have a choice of hot and cold beverages: juice, tea, herbal tea and coffee. Enjoy your meal!
USE OUR GUIDE TO PLAN A

DREAM TRIP

TO

Corsica

All the information you need for your trip:
7 maps that make planning easier
130+ pre-selected locations
Practical advice
+ 220 photos to help you choose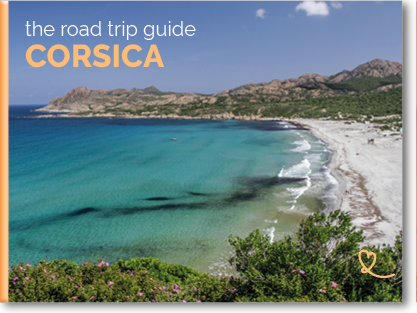 Equipment and common areas
Practicality and comfort are the watchwords at this inn in the Corsican countryside. Everything is conducive to relaxation:
a shared terrace with deckchairs in the shade of the trees for admiring the landscape and the sunset,
an outdoor swimming pool surrounded by mountains, vineyards and a flower garden,
a lounge with TV and Wi-Fi connection.
Do not make




THE SAME MISTAKE

WE MADE

On one of our last trips to Europe, a hacker stole our credit card details while we were using a hotel WiFi.
So our trip began with a "card blocked" call… Not funny at all!
Learn from our mistake, make a small VPN investment to surf without worry.
The restoration
At this inn, you can enjoy a buffet breakfast every morning. However, the establishment does not offer complementary catering during the rest of the day. Restaurants and bars can be found in the town of Saint-Florent, a 5-minute drive from the inn. If you're willing to drive a little further, Bastia is just 30 minutes away, with a wide choice of places to eat and go out.
A little history
Located in the heart of Patrimonio's renowned vineyards, the Auberge Lustincorne is a charming 3-star establishment at the crossroads of Saint-Florent, Bastia and Cap Corse. This natural setting offers a relaxing and truly exotic experience, between mountains, vineyards, sea and swimming pool! With its 8 rooms, this inn is designed to be intimate, allowing you to take full advantage of the natural surroundings.
Practical information about the Auberge Lustincorne in Patrimonio
Type
The Auberge Lustincorne in Patrimonio offers 3-star services at a good value for money in the surrounding area.
---
Read more about it:
---
Where the hotel is located
The Auberge Lustincorne hotel is located on the Route du Cap in Patrimonio (20253), North Corsica, about 5 km east of Saint-Florent.
Driving time from Porto-Vecchio: 3h.
Driving time from Ajaccio: 3h.
Driving time from Calvi: 1h45min.
Driving time from Bastia: 30min.
Driving time from Corte: 1h30min.
These journey times are approximate and depend on traffic density.
How to get there
To get to the inn, you can take a bus from Bastia to Patrimonio via Saint-Florent, which takes about 1 hour. Check the timetables and routes on the official CorsicaBus website. From the Saint-Florent bus station, it's about 10 minutes by car, 25 minutes by bus and 1h15 on foot.
To get to Saint-Florent, you can fly into Bastia, which has the nearest international airport, or take a ferry with or without your car for access by sea. From the port of Bastia, it's about 35 minutes by car and 50 minutes from the airport to the hostel.
See available ferry schedules and book.
To get around Corsica easily, the car is the most practical way to enjoy greater freedom of movement and travel.
Parking
Free outdoor parking is available at the hostel.
OUR TIPS FOR
RENTING A CAR

IN

Corsica
Compare prices on our preferred platform: DiscoverCars – one of the best rated sites.
Choose a car that is powerful enough (the roads are steep) but compact (some passages are narrow).
Think of thecomplete insurance (some roads are tortuous and narrow).
There is a lot of demand, book it early.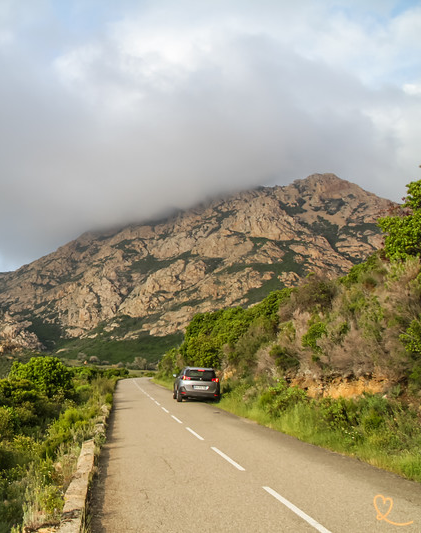 For people with reduced mobility
Auberge Lustincorne does not meet accessibility standards for people with reduced mobility. However, as the number of rooms is limited, please don't hesitate to contact the establishment directly for more information on how to accommodate the public.
Is Auberge Lustincorne family-friendly?
The inn offers a warm welcome to families. Your children will enjoy the idyllic, natural setting of this mountain cocoon, with its lovely heated outdoor swimming pool. Our rooms can accommodate up to 4 people, making them ideal for families.
All our tips in this article were put into words with the help of Myriam.