We stayed at Hôtel Pozzo di Borgo (Palazzu u Domu) in Ajaccio and really enjoyed it!
It's an ideal place to spend an excellent holiday in Corse-du-Sud. Its main asset is its downtown location. We even had a view of Port Tino Rossi from our room.
In this article, we present the establishment and its services in detail. We've also included plenty of photos so you can make up your own mind about the place.
This review is completely independent, we stayed anonymously and paid our bill in full.
Why stay at Hotel Palazzu u Domu?
This establishment is an excellent option for a pleasant stay in the heart of the city. It also features in our selection of 10 luxury hotels and in our article on the best hotels in Ajaccio. Here are its 3 main assets, in our opinion:
ideal location: situated in the historic center, we loved being able to walk to the main sights, including the port. In fact, here are 12 ideas for things to do in the city. Good to know: if you come by ferry and disembark in Ajaccio, you'll only have to walk about 10min to reach the hotel!
the view of the narrow streets and/or the port: depending on the room you choose, you won't have the same view as us. We were lucky enough to be able to look out over the harbor from the balcony of our room. Alternatively, take a look at Rue Pozzo di Borgo and Rue Bonaparte. They are both very charming and colorful!
the outdoor terrace right in the center of town: we really appreciated the large semi-covered area available to guests. We came here to work, and the setting made for a very pleasant experience. Would you like to have a drink while enjoying the sounds of the city?
---
See more photos of Hotel Pozzo di Borgo!
---
Is Hotel Pozzo di Borgo worth it? Our review
We are very satisfied with our stay in this hotel. The location was perfect, close to the port and tourist areas. We found our room comfortable, and the view was lovely from our balcony. What's more, the staff were particularly welcoming and helpful. We were delighted with the buffet breakfast. What a pleasure to be able to enjoy the large outdoor terrace on this occasion! In conclusion, we highly recommend this establishment for a pleasant stay in Ajaccio.
OUTDOOR ACTIVITIES

EN
South Corsica
Decoration and atmosphere
The hotel's decor was elegant, with touches of vintage elements. The antique furniture gave the place a lot of character. Paradoxically, we really liked the low light levels in the building. It helped create a rather intimate and luxurious atmosphere. The black tiles were simple and classy. It contrasted well with the sofas of different colors and textures.
The hotel has opted for some very interesting lighting effects. In our photo below, you can see the magnificent chandeliers hanging from the ceiling. Did you notice the strategic position of the mirror? We could make out the 2nd suspension light through its reflection. Once again, we really enjoyed the period decor.
In the breakfast room, the atmosphere was quite chic and cosy. The velvet chairs were really comfortable. Large picture windows gave a view of the outside world.
FOR QUALITY ADVICE

QUALITY
Support us
Do you appreciate all the free content you find on our blog?
Our independence, the only guarantee of qualitytips, is partly based on your generosity!
We offer you to give us a coffee (or several) in the hope of sharing it with you one day in person!
The room
Our room was both dark and intimate. The long gray curtains hanging from the windows created a special atmosphere. The dim light in the room contrasted with the large bay window overlooking the balcony. We enjoyed the relaxing atmosphere of our room. Did you find out where Napoleon was hiding when we arrived?
We found the bed spacious and cosy. It was very simple, with white sheets. The furniture was elegant with unique details, while the floor was covered with black tiles. Inside the cupboard you can see in our photo below, we found a safe.
Bathed in light, we loved our room's balcony. From this vantage point, we could contemplate Ajaccio's narrow streets and harbor. This is the perfect place if you want to read a book while enjoying the atmosphere of the city.
Even though the sky was relatively overcast during our stay, the view was very beautiful. We could make out the marina, the Bay of Ajaccio and the mountains in the distance. In the foreground, the city's rooftops added a touch of color to the setting.
---
See availability at Hotel Palazzu u Domu!
---
The bathroom
In our room, the bathroom was equipped with 2 sinks and 2 mirrors. Towels and toiletries were also provided. If you didn't think to bring your own shower gels and shampoos, the hotel has Nuxe products available. The brightness of the room contrasted sharply with the night space.
Our bathroom featured a bathtub that could also be used as a shower. For our part, we took advantage of the tub's large size to take a bath. We couldn't have wished for a better way to relax after a long day of sightseeing! Are you more of a shower team or a bath team?
The room featured pretty details like this elaborate door handle. The motifs on the door also added a touch of originality. We particularly liked this large and unique bathroom.
OUR TIPS FOR
RENTING A CAR

IN

Corsica
Compare prices on our preferred platform: DiscoverCars – one of the best rated sites.
Choose a car that is powerful enough (the roads are steep) but compact (some passages are narrow).
Think of thecomplete insurance (some roads are tortuous and narrow).
There is a lot of demand, book it early.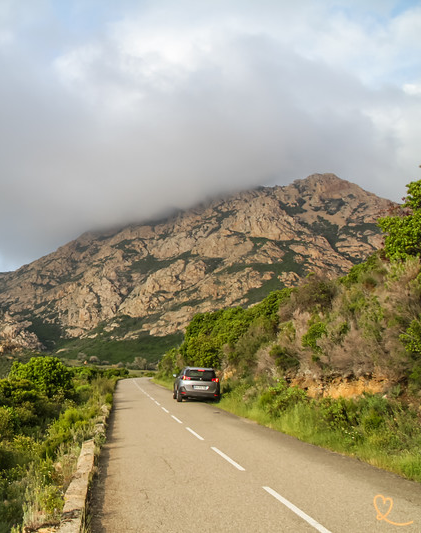 The breakfast
Breakfast at the hotel takes the form of a large buffet. You'll find local specialities such as jams, charcuterie and Corsican cheeses. We appreciated the choice of sweet and savoury products on offer. Between the pastries, fresh fruit, brioches, Corsican cakes, crêpes, cereals and dairy products, we enjoyed ourselves!
You can enjoy breakfast inside the dining room or on the outdoor terrace. For our part, we took advantage of the sunny weather to sit outside on a table. We accompanied our meal with a cup of Kusmi Tea green mint tea and Alain Milliat strawberry nectar.
You can also order homemade dishes from the chef in charge of breakfast. We tried the famous scrambled eggs recommended by the hotel owner. They were a real treat, and we highly recommend them as a great way to fill up on protein!
USE OUR GUIDE TO PLAN A

DREAM TRIP

TO

Corsica

All the information you need for your trip:
7 maps that make planning easier
130+ pre-selected locations
Practical advice
+ 220 photos to help you choose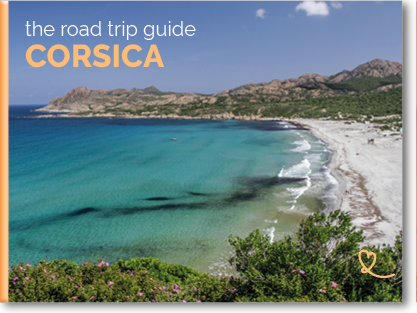 Common areas
The establishment boasts an outdoor terrace nestled in the heart of Ajaccio. Decorated with plants and flowers, we had a great time. She was very friendly and bright. We felt like we were on the street, but hidden from the world.
Climbing plants along the back wall added charm to the space. We could smell the rosebush from our table.
Do not make




THE SAME MISTAKE

WE MADE

On one of our last trips to Europe, a hacker stole our credit card details while we were using a hotel WiFi.
So our trip began with a "card blocked" call… Not funny at all!
Learn from our mistake, make a small VPN investment to surf without worry.
The restoration
This establishment has no bar or restaurant. Located at the crossroads of several of Ajaccio's lively streets, you'll find a wide choice of restaurants. Among our selection in the city: Restaurant Le Saint Pierre, Restaurant Le Petit Restaurant and Restaurant A Nepita.
A little history
This establishment has a fascinating history dating back to the 18th century. It takes its name from the famous Pozzo di Borgo family, originally from Corsica, whose members played an important role in the island's history. The building has been restored and transformed into a luxury hotel. It now offers visitors a unique experience, combining historic elegance with modern amenities. Today, it perpetuates the charm and heritage of Corsica, offering guests an immersion in its rich past.
Practical information about the Hotel Palazzu u Domu in Ajaccio
Type
Located in Ajaccio's old town, Hôtel Pozzo di Borgo is an upscale 4-star establishment. The quality/price ratio is reasonable given its ideal location and the quality of its services.
---
See current offers at Hotel Pozzo di Borgo!
---
Where the hotel is located
Hotel Pozzo di Borgo is located at 17 Rue Bonaparte (20000), Ajaccio, Corse-du-Sud.
Driving time from Bonifacio: 2h35min.
Driving time from Calvi: 2h55min.
Driving time from Bastia: 2h45min.
Driving time from Corte: 1h40.
These journey times are approximate and depend on traffic density.
How to get there
To get to Corsica, you have 2 options: plane or ferry. If you choose the ferry option to get to Corse-du-Sud, you can arrive directly in Ajaccio.
See available ferry schedules and book.
You can also land at Ajaccio airport, about 15 minutes' drive from the town. You can then hail a cab or take a bus into the city. Visit the official website of the Ajaccio Chamber of Commerce and Industry for a list of bus routes.
We strongly recommend that you have access to a car for your trip to Corsica. If you want to see Corsica's exceptional landscapes, you'll need a car. On the other hand, if you want to stay in town, you can walk to most tourist attractions from the hotel.
Parking
The hotel offers valet parking. You must leave your vehicle in the parking spaces reserved for the establishment. Then a valet parking attendant will come and park your car in the underground parking lot. We advise you to inform the hotel in advance to guarantee a place.
OUR TIPS FOR
RENTING A CAR

IN

Corsica
Compare prices on our preferred platform: DiscoverCars – one of the best rated sites.
Choose a car that is powerful enough (the roads are steep) but compact (some passages are narrow).
Think of thecomplete insurance (some roads are tortuous and narrow).
There is a lot of demand, book it early.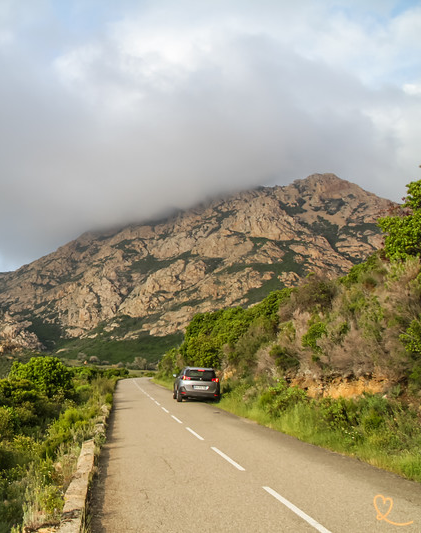 For people with reduced mobility
The establishment is accessible to people with reduced mobility. It has adapted rooms, elevators and ramps to facilitate their movement.
Is Hôtel Pozzo di Borgo family-friendly?
The hotel's spacious, comfortable double rooms are perfect for families. We recommend that you choose the "patio superior rooms" in particular. The central location is also ideal for groups. You can reach the various tourist attractions directly on foot. You'll be just 3 minutes from the Naporama Museum, for example. We recommend this activity for kids!
All our tips in this article were put into words with the help of Elisa.