Staying at the Hotel Kasano was a surprising experience for us in the heart of Calvi. Pushing open the doors of this 4-star establishment, we discovered a luxurious setting with a unique, modern design.
Hotel Kasano is first and foremost a family adventure, where the owners are committed to providing you with a different, magical stay, where conviviality is the priority!
In this article, you'll discover our review of this accommodation in pictures. There will be plenty of photos to help you make up your own mind.
This review is completely independent, we stayed anonymously and paid our bill in full.
Why stay at Hotel Kasano?
We are convinced that this is one of Calvi's most original establishments. In fact, it's on our list of the best hotels to stay in Calvi and the city's top luxury establishments. In fact, it has several advantages:
Ideal location: close to the citadel, the hotel is conveniently located and even offers parking for guests!
Modern design: the clean lines of the hotel's public areas and guest rooms, combined with the beautiful works of art, create a soothing, chic atmosphere.
Our spacious room: we appreciated the space in our well-appointed room, and felt really comfortable.
---
See more photos of Hotel Kasano.
---
Is the Hotel Kasano worth it? Our review
The hotel is definitely a worthwhile establishment. We were delighted with many aspects of our stay. First of all, our proximity to the citadel and parking facilities is a real advantage. This made it easy for us to visit the sights and still have a safe place to park our car.
The decor is modern and uncluttered, creating a relaxing atmosphere from the moment we walked through the hotel door. The works of art in the common areas add a touch of elegance and sophistication to the entire establishment.
We were won over by this hotel and highly recommend it to anyone looking for a memorable stay.
OUTDOOR ACTIVITIES

AT
North Corsica
Decoration and atmosphere
The owners of this luxury establishment wanted to share their taste for art with hotel guests, while offering them a place with a soft, soothing ambience.
Communal areas are airy, with modern designer furniture featuring slim, rounded lines. It's an inviting place to relax, with light tones and a few colorful objects like chandeliers or painted terracotta pots adding a touch of sparkle.
In addition to large carpets on the floor, the hotel's walls were adorned with beautiful modern works of art in rounded, bright colors that contrasted with the brightness of the corridors.
FOR QUALITY ADVICE

QUALITY
Support us
Do you appreciate all the free content you find on our blog?
Our independence, the only guarantee of qualitytips, is partly based on your generosity!
We offer you to give us a coffee (or several) in the hope of sharing it with you one day in person!
The room
Modernity, art and space best characterized our room. We really appreciated the soft, cosy bed, which was hard to get out of in the morning!
The raw materials used for the headboard contrasted with the beige and white colors of the rest of the furniture in the room. Take, for example, this rounded, glittery sconce reminiscent of a seashell.
Beautiful royal blue cushions were placed on our bed to add a touch of color. We also really liked the combination of different furniture shapes, rounded and rectangular, in the room, which gave it real character.
A table and modern designer armchairs were also set up inside, facing the glass door to our private terrace. A practical space, always in a sleek, minimalist style, to store your small belongings, bag, glasses or have a coffee in the bedroom.
In our room, we also found a Nespresso coffee machine, coffee capsules and tea bags, as well as bottles of drinking water and a kettle.
Also, a pool towel was rolled up in a pretty burlap bag on the table in our room. Handy for grabbing a few useful items on your way to the pool!
Our private terrace overlooked the hotel swimming pool on one side, and the bay of Calvi and the citadel on the other. The blue of this stretch of water was particularly relaxing!
---
Check availability at Hotel Kasano.
---
The bathroom
We now head for our private bathroom. We loved the brightness of the room, the sober sanitary-white style and the contrast with the blue tiles, reminiscent of certain works by Henri Matisse.
We had a walk-in shower and a large modern washbasin where the basin was light beige and merged with the support below the large mirror that enlarged the room.
Carefully folded bathrobes and slippers were provided on arrival in the room, along with care products.
Another local touch: skincare products from the Corsican cosmetics and perfume brand Casanera, with natural products and essential oils offered as we entered the room.
Finally, the toilet was also installed in our bathroom.
OUR TIPS FOR
RENTING A CAR

IN

Corsica
Compare prices on our preferred platform: DiscoverCars – one of the best rated sites.
Choose a car that is powerful enough (the roads are steep) but compact (some passages are narrow).
Think of thecomplete insurance (some roads are tortuous and narrow).
There is a lot of demand, book it early.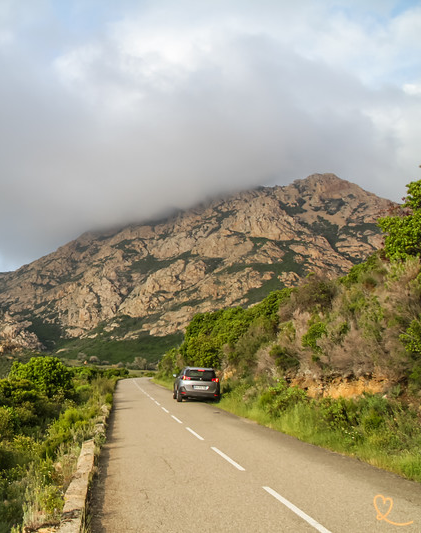 The breakfast
What a treat! Every morning, a buffet breakfast is served, rich in color and local flavors, to delight your taste buds. We enjoyed the variety of sweet and savoury products.
Served in the hotel restaurant, we really enjoyed our breakfast. Even the restaurant was very designer and modern, with large water-green sofas and chandeliers in the shape of large seashells.
The menu includes pastries, pancakes, homemade cakes and various types of bread, as well as dried fruit and cereals to suit all tastes!
In terms of beverages, apple juice and squeezed orange juice were served alongside detox lemon water.
We also had a wide choice of hot drinks with a coffee machine, teas, cappuccinos and infusions.
A charcuterie board and local cheeses were also available on the buffet, along with cheese spreads.
If you like dairy products, you'll find ewe's milk yoghurts in a range of flavors from the local Corsica brand, as well as small jugs of milk to enjoy on their own or with a hot drink.
Savoury tarts, comté olive cake with smoked bacon and mint-feta omelette are also on the menu! We really loved the variety of homemade products on offer in this buffet. So, are you ready to feast?
We really took the time to taste all these goodies to build up our strength before our day of sightseeing!
USE OUR GUIDE TO PLAN A

DREAM TRIP

TO

Corsica

All the information you need for your trip:
7 maps that make planning easier
130+ pre-selected locations
Practical advice
+ 220 photos to help you choose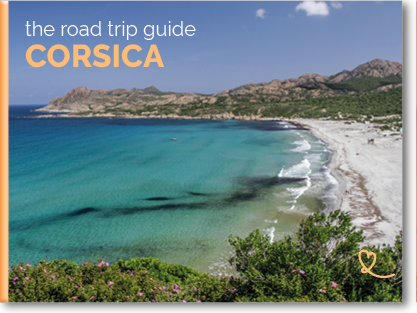 At Hotel Kasano, you won't have time to get bored! The establishment offers its guests a wide range of facilities to make your stay a dream come true. We had access to:
an outdoor infinity pool with deckchairs on the hotel roof,
a lounge bar for a drink or cocktail at the end of the day or after dinner,
a modern restaurant to enjoy our buffet breakfast,
a Casanera spa with treatments and massages using local essential oils,
a fitness area for working out,
Do not make




THE SAME MISTAKE

WE MADE

On one of our last trips to Europe, a hacker stole our credit card details while we were using a hotel WiFi.
So our trip began with a "card blocked" call… Not funny at all!
Learn from our mistake, make a small VPN investment to surf without worry.
The restoration
The hotel restaurant is reserved exclusively for the breakfast buffet. You can also enjoy a drink at the hotel bar by the pool or indoors. For a bite to eat, we recommend a visit to Calvi town center.
A little history
Reinventing the hotel business is the wish of Léria and Lolla Ceccaldi, 2 sisters brought up in the hotel business and the art of good hospitality. Passionate, they represent the 3rd generation of a family of hoteliers who cultivate conviviality.
A true family adventure, Hotel Kasano is the fruit of a joint and persevering effort to offer a different hotel experience to the guests who choose this establishment. The 2 sisters also share a strong interest in modern art, which is reflected in the hotel's furnishings and decor.
Practical information about the Hotel Kasano in Calvi
Type
The Hotel Kasano in Calvi is a 4-star establishment offering top-of-the-range and luxury services and facilities.
---
Read more about it:
---
Where the hotel is located
The hotel is located on Avenue de l'Uruguay in Calvi (20260), Corse-du-Nord.
Driving time from Porto-Vecchio: 3h20min.
Driving time from Ajaccio: 3h.
Driving time from Bastia: 2h.
Driving time from Corte: 1h30min.
These journey times are approximate and depend on traffic density.
How to get there
To get to Calvi, you can arrive by plane, as the town has an international airport, or take a ferry with or without your car for access by sea. From the port, it's about a 3-minute drive to the hotel and 12 minutes from the airport. If you prefer to walk from the port, it's about a 7-minute walk.
See available ferry schedules and book.
To get around Corsica easily, the car remains the most practical way to enjoy greater freedom of movement and travel.
Parking
A private underground parking lot is available for hotel guests.
OUR TIPS FOR
RENTING A CAR

IN

Corsica
Compare prices on our preferred platform: DiscoverCars – one of the best rated sites.
Choose a car that is powerful enough (the roads are steep) but compact (some passages are narrow).
Think of thecomplete insurance (some roads are tortuous and narrow).
There is a lot of demand, book it early.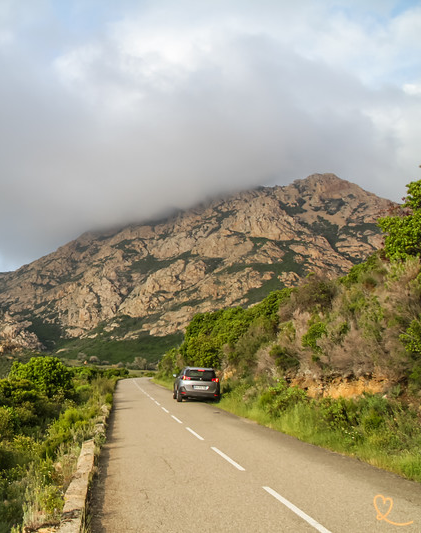 For people with reduced mobility
This establishment has rooms that meet accessibility criteria and standards for people with reduced mobility. What's more, the hotel's public areas are spacious, with PRM access, so it's easy to get around. Don't hesitate to ask about the different types of public when booking.
Is the Hotel Kasano in Calvi family-friendly?
Absolutely! The other major advantage of this luxury hotel is its ability to accommodate families, with spacious family rooms for up to 3 people. What's more, its proximity to Calvi's citadel will make it easy for you and your family to get around and visit. Access to the swimming pool is a delight for young and old alike! If you require equipment for your children, such as a cot or high chair, you can request this when you make your booking.
All our tips in this article were put into words with the help of Myriam.