Staying at the Hotel La Dimora in Oletta was one of the highlights of our Corsican travels.
We particularly appreciated the charm andpeaceful atmosphere of this hotel, housed in a 17th-century farmhouse.
In this article, we'll detail everything Hotel La Dimora has to offer. You'll find plenty of photos to make up your own mind.
This review is completely independent, we stayed anonymously and paid our bill in full.
Why stay at Hotel La Dimora
Hotel La Dimora offers an idyllic setting for an unforgettable stay in Oletta, near Saint Florent. We even consider it one of the most beautiful hotels in Corsica. Here are its 3 main assets:
The charm of the buildings and grounds: this hotel offers an exceptional setting, with its stone buildings typical of Corsican farmhouses and lush gardens.
Calm surrounded by nature: the hotel is located in a quiet, peaceful environment, surrounded by hills and forests, with lush vegetation.
The superb swimming pool and the excellent restaurant: the hotel offers a swimming pool whose surroundings are an invitation to laze around and a top-quality gourmet restaurant.
---
View Hotel La Dimora availability
---
Is Hotel La Dimora worth it? Our review
Let's be honest, we fell inlove with this hotel! To paraphrase Beaudelaire, we could say that "Here, everything is luxury, calm and pleasure", a true invitation to travel, as the famous poet said…
We enjoyed the atmosphere so much that we even had a hard time leaving for our day trip after breakfast… Snif!!!!
Clearly, if you're looking for an enchanted interlude in Corsica, Hotel La Dimora is an excellent choice!
FOR QUALITY ADVICE

QUALITY
Support us
Do you appreciate all the free content you find on our blog?
Our independence, the only guarantee of qualitytips, is partly based on your generosity!
We offer you to give us a coffee (or several) in the hope of sharing it with you one day in person!
Decoration and atmosphere
The Hotel La Dimora in Oletta is distinguished by its sober decor that preserves the building's original appearance.
Natural materials such as stone, marble and local wood play a key role in the design. The furniture borrows from the codes of bohemian chic, which is completely in keeping with the location. This discreet elegance creates an atmosphere conducive to relaxation.
The hotel's exteriors were designed by Bastia-basedarchitect Hervé Ghirlanda, renowned for his expertise in building luxury hotels in Corsica. His work enhances La Dimora's architectural ensemble with a subtle touch of prestige.
We found the welcome to be warm, whether in the restaurant, at breakfast or at reception. The staff offer attentive, professional service without being overly formal.
---
---
The room
Our room at La Dimora was a rustic mix with touches of more contemporary decor. This harmonious marriage created a warm and welcoming atmosphere.
One of the elements that caught our eye was the original headboard, made from bamboo logs. This unique piece brought a graphic touch to the room, adding an artistic dimension to the whole. Wood was omnipresent in the room, whether in the furniture, decoration, doors or beams, creating a natural, soothing atmosphere.
We also liked the bedside lamp in the shape of latticed lanterns. It diffused a soft, subdued light, creating a pleasant, luminous atmosphere in the room.
As a little icing on the cake, we were delighted to find two small sweet mignardises as a welcome gift.
---
View availability at Hotel La Dimora
---
USE OUR GUIDE TO PLAN A

DREAM TRIP

TO

Corsica

All the information you need for your trip:
7 maps that make planning easier
130+ pre-selected locations
Practical advice
+ 220 photos to help you choose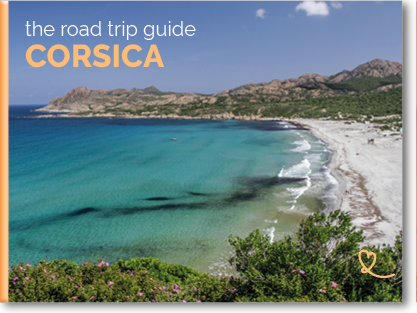 The bathroom
The bathroom in our room at La Dimora featured a comfortable corner bathtub. We found hygiene products from Ortigia, a well-known Sicilian brand, and a bathrobe at our disposal.
Towels were also available for those wishing to enjoy the pool.
The breakfast
Breakfast at Hotel La Dimora is buffet-style, offering a varied selection of sweet and savory dishes.
We were able to sample local products such as Corsican canistrellis , flavored with lemon, orange and white wine (yes, in the morning!), as well as Corsican honey from Valentini.
But homemade products were not to be outdone. We enjoyed the lime cake, the banana bread and the chocolate and hazelnut cake, all prepared with care. Yummy!
The buffet also featured a wide range of sweet treats, such as pancakes, mini-viennoiseries, various breads from the baker, assorted jams, as well as fresh-cut fruit and fruit salad. On the savoury side, the choice is a little more limited, but a fine assortment of Corsican cheeses and soft-boiled eggs.
The breakfast setting in a vaulted stone room added an authentic atmosphere to this morning experience.
Equipment and common areas
Hotel La Dimora boasts a beautiful outdoor swimming pool measuring 6 by 15 meters, open from 9 a.m. to 8 p.m. and heated, so you can enjoy it to the full whatever the season. With its shallow space, it is also suitable for children.
The sunbathing areas around the pool provide a pleasant setting to relax and soak up the sun. Outdoor sofas with sheers add a touch of intimacy and comfort. A change of scenery guaranteed!
The hotel also boasts a spa, with Jacuzzi, hammam and relaxing Ayurvedic massages using Corsican essential oils. When we say it's a little corner of paradise!
Do not make




THE SAME MISTAKE

WE MADE

On one of our last trips to Europe, a hacker stole our credit card details while we were using a hotel WiFi.
So our trip began with a "card blocked" call… Not funny at all!
Learn from our mistake, make a small VPN investment to surf without worry.
The restoration
Hotel La Dimora has a bar which, in addition to the classics, offers drinks produced in Corsica, such as liqueurs from the Mavela distillery in Aghione, Corsican beers and Corsican Muscat! Slurp… (in moderation)
The hotel also boasts its own restaurant, with an à l'ardoise menu for optimum freshness.
Mediterranean influences are present in the dishes, offering a delicious culinary experience. We enjoyed dining there and discovering tasty dishes featuring local Corsican produce.
History
Hotel La Dimora is housed in a beautifully restored 18th-century farmhouse.
At the time, this farm had a diversified agricultural activity, specializing in the on-farm production of olive oil, fruit, cereals and dairy products.
The renovation has preserved the traditional architecture of the period, creating a truly authentic atmosphere, which is quite rare in Corsica.
Practical information about La Dimora hotel in Oletta – Saint Florent
Type
La Dimora is a 4-star hotel
---
See current offers at Hotel La Dimora
---
Where the hotel is located
From Bastia: 40 minutes
From Corte: 1h15
From Calvi: 1h30
From Porto-Vecchio: 2h27
From Ajaccio: 2h45
Hôtel La Dimora is located in Oletta, Corsica, 6 km east of Saint Florent and its beaches.
It is located at the following address: Route de Saint Florent, 20232 Oletta.
OUR TIPS FOR
RENTING A CAR

IN

Corsica
Compare prices on our preferred platform: DiscoverCars – one of the best rated sites.
Choose a car that is powerful enough (the roads are steep) but compact (some passages are narrow).
Think of thecomplete insurance (some roads are tortuous and narrow).
There is a lot of demand, book it early.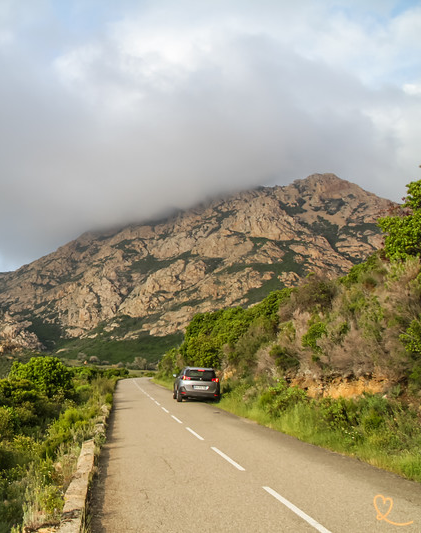 How to get there
To get to Oletta – Saint Florent:
By plane: land at Bastia airport and rent a car (30-minute drive)
By ferry: here too you can arrive in Bastia directly with your car (see all our tips for choosing your ferry route). It takes 40 minutes from the ferry terminal.
By bus: there are regular bus services between Bastia and Saint Florent, which will bring you closer to your destination.
As is often the case in Corsica, the car remains the best option.
Parking
The hotel offers free, secure parking. It is equipped with charging stations for electric vehicles. Parking is at the rear of the hotel and is not shaded.
For people with reduced mobility
The Hotel La Dimora in Oletta offers rooms accessible to people with reduced mobility (PRM), but the upper floors are only accessible by staircase.
As always, we recommend that you contact the hotel directly before your stay to ensure that they can accommodate you in the best possible conditions.
Is Hotel La Dimora family-friendly?
Hotel La Dimora offers a friendly welcome to families, with facilities tailored to their needs.
Family-friendly rooms are available in both the junior suite and the villa, which can accommodate up to 4 people.
Board games are available, and the hotel's swimming pool is child-friendly, especially with its shallow end.
It's clear that children are very welcome at this hotel!