Staying at Hôtel A Casa di Ma in Lumio was a great experience during our stay in Northern Corsica. This contemporary, chic and elegant 4-star luxury hotel offers breathtaking views over the Bay of Calvi, as well as a swimming pool and 1-star restaurant. Its peaceful setting in the village of Lumio, in the heart of the Balagne region, made our overnight stay even more enjoyable!
In this article, we invite you to take a look at the hotel's services, so that you can make up your own mind.
This review is completely independent, we stayed anonymously and paid our bill in full.
Why stay at Hotel A Casa di Ma?
This luxury hotel, ideally located between Calvi and L'Île-Rousse, is the perfect place to visit the Balagne region. Easily accessible from Calvi (15min by car), it offers an exceptional setting for your vacation thanks to its many facilities. We've listed it among the best hotels to stay at in Calvi, as well as among the best luxury hotels (4 and 5 stars) in Calvi. Here are its main assets:
Views of the Bay of Calvi are exceptional, as are those of the Balagne mountains, from both room balconies and the hotel terrace.
Heated outdoor pool: set at a temperature of 30°, you can enjoy this large pool overlooking the landscape all year round. Surrounded by a terrace with deckchairs, it is equipped with a bar in summer!
Michelin-starred restaurant: the hotel boasts a 1-star Michelin restaurant, "La Table di Ma". With tasting menus (5, 7 and 9 times), you'll discover Mediterranean cuisine sublimated in a highly refined way.
---
See more photos of Hotel A Casa di Ma.
---
Is the Hotel A Casa di Ma worth it? Our review
Yes, absolutely! We are delighted to have stayed at the Hotel A Casa di Ma. The establishment was ideally located. Unlike some other luxury hotels in Corsica, it was easily accessible by car. With its refined decor and facilities, including a gourmet restaurant that we found exquisite, our experience at Lumio was a memorable one! Last but not least, the staff were really friendly and welcoming.
OUTDOOR ACTIVITIES

AT
North Corsica
Decoration and atmosphere
The watchwords of the hotel's decor are chic, elegance, sobriety and modernity. This gives the establishment a very luxurious feel. When we arrived at the hotel, we felt privileged. First of all, we really liked the brightly colored, contemporary monumental sculptures on the terrace and pool. They depicted a seated dog and a standing gorilla, respectively.
On the first floor, the lighting was subdued and the atmosphere hushed, thanks in particular to the carpeting on one wall and on the reception desk, embellished with baroque ornamentation.
We noticed the high-quality furnishings, such as this sofa, which fits perfectly into the corner of the room.
The atmosphere was warmer upstairs. The walls on each floor had their own identity. Always with a metallic effect, they each had their own color (purple, gold, silver/blue). Each time, there were modern sculptures with touches of color, in the same rather original style, but different each time. We loved going in search of them!
The luxurious fixtures were all to our liking. The one above the door leading to the pool caught our eye in particular!
FOR QUALITY ADVICE

QUALITY
Support us
Do you appreciate all the free content you find on our blog?
Our independence, the only guarantee of qualitytips, is partly based on your generosity!
We offer you to give us a coffee (or several) in the hope of sharing it with you one day in person!
The room
Our room was elegant, chic, neat and contemporary. We particularly liked the quilted headboard with its geometric shapes in metallic hues.
The paintings, depicting abstract spiral ornaments made of pearls, were particularly appealing to us. In fact, they harmonized with the sober, precious tones (gold, silver…) of the rest of the room, while creating a warm, relaxing atmosphere.
The design and functionality of the furniture made the most of the space in our room. We enjoyed the office area, where we found a few surprises…
On the desk we found a welcome note with our name and a bag of Corsican cookies. This attention to detail won us over, reflecting the quality of this establishment's welcome.
Next to it was the welcome booklet containing all the information we needed for our stay. We also had at our disposal: a bottle of still mineral water, two water glasses, a kettle, sweets, two spoons, two coffee cups, white and brown sugar sachets, coffee and tea bags, a minibar and a safe.
Finally, we must mention the spectacular view from our balcony terrace. Well furnished with comfortable armchairs, a coffee table, a plant and an awning, we were able to enjoy a splendid panorama of the Bay of Calvi, even if the sun wasn't always out. We also had a beautiful view of the village of Lumio, with the Balagne mountains in the background.
---
Check availability at Hotel A Casa di Ma.
---
The bathroom
We're now heading for our bathroom. Its black and beige tiles matched the room's decor perfectly. Clean and modern, it featured a bathtub, built-in toilet and hairdryer.
We appreciated the quality of the equipment, such as the mirror showing the time and temperature.
We also found a manicure set, a set of cotton pads, and hygiene products (exfoliating soap, hair and body gel, conditioner, body lotion) by Algotherm.
OUR TIPS FOR
RENTING A CAR

IN

Corsica
Compare prices on our preferred platform: DiscoverCars – one of the best rated sites.
Choose a car that is powerful enough (the roads are steep) but compact (some passages are narrow).
Think of thecomplete insurance (some roads are tortuous and narrow).
There is a lot of demand, book it early.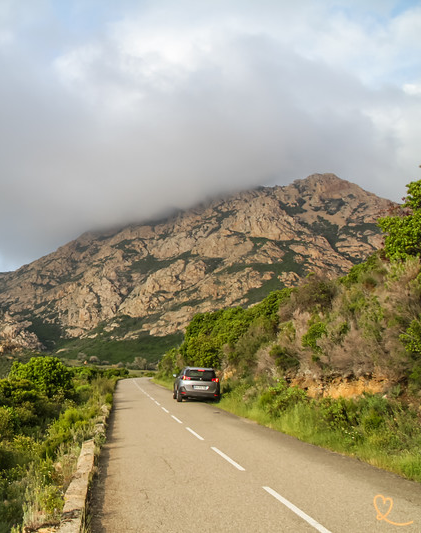 The breakfast
Breakfast is served from 7:30am to 10:30am on the first floor, in the hotel restaurant. The price of breakfast is not included, so we advise you to check the current rates at the time of booking. It can be brought to your room.
The buffet is generous and includes local products such as Corsican charcuterie, cheeses and organic eggs. We enjoyed the homemade cakes (honey and hazelnut) and plain brioche. In addition, a wide variety of quality sweet dishes were on offer (pastries, pancakes, cakes, tarts, brioche, cakes, a wide choice of jams, honey, cereals, a wide choice of yogurts, compotes, dried fruit and cookies).
There were slightly fewer savoury options. In addition to charcuterie and cheeses, there were scrambled eggs and a vegetable velouté. A hot drink was brought to the table by the waiters.
If you're a late riser or have a small appetite, this is the hotel for you! A breakfast bar is also available for €15. It includes a hot drink, 3 mini-viennoiseries, a fruit juice and a yoghurt. It is served from 7:30 am to 11 am.
USE OUR GUIDE TO PLAN A

DREAM TRIP

TO

Corsica

All the information you need for your trip:
7 maps that make planning easier
130+ pre-selected locations
Practical advice
+ 220 photos to help you choose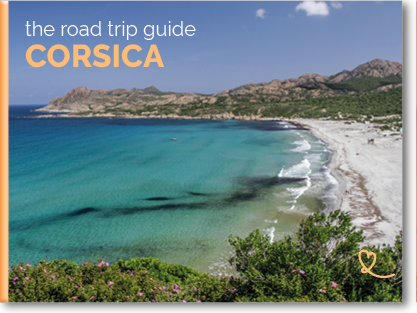 Equipment and common areas
The hotel's many facilities make it an exceptional establishment. Here's the list:
Large heated outdoor swimming pool and bar: open from 10am to 8pm, with toilet, shower and deckchairs. A lounge area is available. Sheltered by a pergola, you'll find sofas and small outdoor tables. In summer, a bar is open to offer a wide selection of snacks and refreshing drinks.
Lounge bar : called "Jean's", it is located on the first floor. You can enjoy daily aperitifs with or without alcohol, and house cocktails. With its background music, comfortable sofas and access to the terrace, it's the perfect place to relax.
Michelin-starred restaurant: open every day, you'll enjoy a delicious meal in this restaurant on the first floor of the hotel. The innovative and subtle Corsican cuisine will not leave you indifferent, and neither will the quality welcome you'll receive.
Massage room: unfortunately we were unable to visit. Treatments last from 40 minutes to 1 hour and are carried out by an experienced practitioner. To take advantage of this service, you need to make an appointment with reception. The range of treatments on offer, whether relaxing or restorative, is extensive (oil massages, therapeutic massages, hot stone massages…).
Meeting room: Enjoy a personalized welcome for your seminars, from 6 to 20 people, in a meeting room equipped with state-of-the-art technology.
These facilities are complemented by a host of services:
Beach and pool towels, parasols, hats, sewing kit and umbrellas available free of charge on request from reception,
additional hygiene products (razor, shaving foam, dental kit) provided free of charge at reception,
laundry service,
Iron and ironing board provided at reception,
luggage service,
free, high-performance wi-fi connection throughout the hotel,
baby-sitting service available on request, at extra cost,
coloring pages, toys and board games for your family holiday.
Do not make




THE SAME MISTAKE

WE MADE

On one of our last trips to Europe, a hacker stole our credit card details while we were using a hotel WiFi.
So our trip began with a "card blocked" call… Not funny at all!
Learn from our mistake, make a small VPN investment to surf without worry.
The restoration
In addition to the lounge bar, where you can relax in a cosy atmosphere and enjoy a wide range of drinks (alcoholic and non-alcoholic), the hotel has a 1-star restaurant. Called "La Table di Ma", it offers Mediterranean cuisine featuring noble, local products. You can choose between a 5-, 7- or 9-stroke menu. A sommelier is also on hand to enhance your experience. We were won over by the exquisite dishes we tasted, alternating meat and fish cooked to perfection.
The chefs of the "Table di Ma" are a passionate couple who have worked in prestigious establishments, notably in Paris (Le Fouquet's…). We found this culture of excellence not only on our plates, but also in the chic, subdued decor. Find out more about this exceptional restaurant in our dedicated article.
History in brief
The establishment was inaugurated in 2009 by Joseph Fondacci, a Corsican with a passion for his island's culture and products. Since its opening, the hotel has been committed to offering its guests a unique, luxurious experience. This is based on warm Corsican hospitality. In the restaurant, as in the rest of the hotel, the team is committed to attention to detail and creativity, which can be seen in the bold menus as well as the decor. Over the years, extension work has been carried out in keeping with the original building. The quality of the restaurant's homemade products, as well as its sense of welcome and service, earned Joseph Fondacci the title of Master Restaurateur.
Practical information about the Hotel A Casa di Ma in Lumio
Type
Hotel A Casa di Ma is a luxury establishment offering 4-star accommodation and a 1-star restaurant.
---
Read more about it:
---
Where is the hotel?
Hotel A Casa di Ma is located on the Route de Calvi in Lumio (20260), in northern Corsica.
Driving time from Porto-Vecchio: 3h05min.
Driving time from Ajaccio: 2h45min.
Driving time from Calvi: 15min.
Driving time from Bastia: 1h45min.
Driving time from Corte: 1h15min.
How to get there
To get to Lumio, we recommend driving from Calvi or Bastia. Bastia is accessible by air or ferry. To help you make the right choice, take a look at our article comparing these two solutions.
See available ferry schedules and book.
Calvi has its own airport, serving France's main cities. You'll need a car to get around the rest of Corsica easily. Read our article dedicated to car rental at Calvi airport.
If you don't have a car, you can reach Calvi by train from Bastia. You'll need to take a train between Bastia and Ponte Leccia. Another line connects Ponte Leccia to Calvi in around 1 hour. Find out about timetables and fares on the Corsican Railways website. To reach the hotel, take a cab from Calvi train station, 10 minutes away.
Parking
On arrival at the hotel, you'll find free public parking. What's more, a private parking lot reserved for guests is located higher up, above the hotel swimming pool. Electric charging stations are also available.
For people with reduced mobility
Unfortunately, there are no spaces reserved for people with reduced mobility in the parking lot of the Hotel A Casa di Ma in Lumio. The entrance is not suitable as there are a few steps. An elevator is available to access the upper floors. The official website doesn't mention any specific facilities for people with reduced mobility in the rooms. For further information, please contact reception.
Is Hotel A Casa di Ma family-friendly?
Absolutely! We offer connecting rooms, rooms with sofa beds and cribs for children aged 2 and under (free of charge). In addition, extra beds (on request) are available for up to 12 years at €35.00 per night. Families can also enjoy pool and beach toys, as well as coloring sets and board games. The skincare products are child-friendly, with a special surprise in store. The menu is also available with half-price half-portions. A babysitting service is also available (by reservation only).
All our tips in this article were put into words with the help of Fanny.