Here are all our maps of Corsica grouped in one article, to help you plan your trip and find your favorite places to visit.
The maps include the most beautiful destinations, cities, villages, beaches…
1. Map of the most beautiful destinations in Corsica
The whole region of Corsica has a lot to offer – villages, beaches, mountains, natural sites… You should plan a lot of time to explore all its beautiful landscapes.
That's why we've compiled a list of our favorite destinations in Corsica, to help you refine your plans.
In our complete article, for each of them, you will find a section with the main things to do, photos and places to stay.
2. Travel time
Before any trip to Corsica, it is essential to realize that it is impossible to visit all of Corsica in one week. The island is mountainous, which makes travel time longer.
OUR TIPS FOR

RENTING A CAR

IN

Corsica
Compare prices on our preferred platform: DiscoverCars – one of the best rated sites.
Choose a car that is powerful enough (the roads are steep) but compact (some passages are narrow).
Think of thecomplete insurance (some roads are tortuous and narrow).
There is a lot of demand, book it early.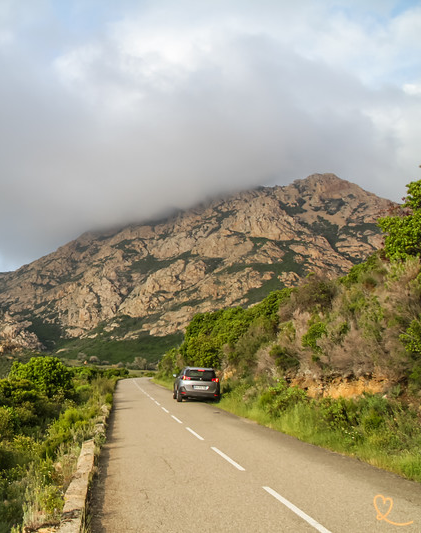 3. Map of the most beautiful corners of Corsica
There are so many fascinating things to do in Corsica, that making a choice is difficult: paradisiacal beaches, imposing mountains, charming villages… No time to get bored!
Here on this map, our selection to help you plan your trip, places and activities that we have experienced and loved.
See our complete article, to discover them in pictures.
4. Maps to get to Corsica
And if you are trying to decide how to get to Corsica.
You have 2 options:
The ferry with 5 ports of arrival in Corsica: Bastia, Ile-Rousse, Ajaccio, Propriano and Porto-Vecchio
By plane with 4 arrival airports: Bastia, Calvi, Ajaccio and Figari
Here are 2 maps to help you find your way:
---
Option 1: by ferry
Departure from France and Italy
Advantage: you can take your car!
---
Option 2: by plane
Airports in Bastia, to visit the North, Figari to visit the South, or Ajaccio convenient for all Corsica.
Compare flights!
5. Map of the most beautiful beaches of Corsica
This island is filled with sandy paradises with turquoise waters, red rocks, umbrella pines and mountains.
The only difficulty is to decide which ones to visit!
We prefer picturesque beaches with colorful rocks to photograph rather than sand and clear water to swim in.
See our complete article to find them in pictures.
6. Map of the most beautiful villages of Corsica
Between sea and mountain, the island of Corsica is dotted with charming villages.
Rustic in appearance, and a bit abandoned, they have a lot of character. Some are in the mountains, others on the top of a hill or by the sea.
See our selection of the most beautiful villages of Corsica with tips and photos to help you choose.
PLAN A


DREAM TRIP

TO

Corsica
7 maps that make planning easier
130+ pre-selected locations
Practical advice
+ 220 photos to help you choose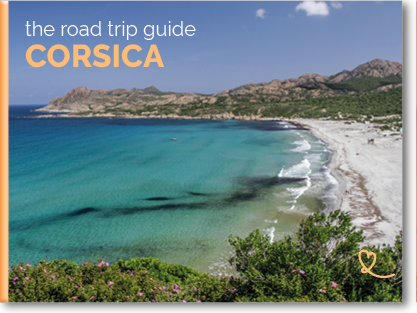 7. Map of the most beautiful cities in Corsica
Between mountain and sea, Corsican cities are often built around ancient citadels. They combine culture, history and nature, as they are often close to beautiful beaches or mountains.
It is difficult to compare them because they are very different. But if we absolutely had to choose (for a vacation), our top 3 is:
Bonifacio
Calvi
Sartene
See our complete article to discover them in pictures with tips to choose.
8. Map: where to stay in Corsica
There are options for everyone with seaside resorts, cities, charming villages or off the beaten track places…
To help you find your way, here is a map that will help you locate all the cities selected in our list.
Note that the numbers do not indicate a preference, they are just numbered to better navigate our full article, and see our photos and tips.
FOR QUALITY ADVICE


QUALITY

Support us
Do you enjoy all the free content you find on our blog, without intrusive ads?
Our independence, the only guarantee of qualitytips, is partly based on your generosity!
We offer you to give us a coffee (or several) in the hope of sharing it with you one day in person!
9. Tourist map of Balagne
Between the sea and the mountains, the region of La Balagne is a little jewel that offers a lot to the visitors: beautiful beaches, towns of character, authentic villages and breathtaking views.
Our top 6:
Visit the citadel of Calvi, and admire it from the beach
Notice the differences with the city of Ile-Rousse and visit its islands
Visit at least 2 villages in Balagne: for example Pigna and Sant Antonino
Relaxing on a sandy beach such as Bodri
Fun on the rocks of Punta di Spanu
See our article on Balagne, for our photos and tips on each.
9. Tourist map of Cap Corse
The Cap Corse tour by car is one of the most famous roads in Corsica with mountains, wild beaches, charming villages and splendid views.
Top 5:
Village of Erbalunga
Village of Nonza
Hiking Customs Trail (partially or entirely)
Village Port Centuri
Albo's point of view
See our article on Cap Corse, for our photos and tips on each.
10. Tourist map of South Corsica
Coming soon
And other tourist maps of Corsica to come
We will add more as we complete this site with all our articles and tips.
PLAN YOUR TRIP TO

Corsica
---