Would you like to freshen up?
Here's our selection of Corsica's most beautiful waterfalls to discover: the highest, the prettiest, the most delicate…
Please note that water volume conditions vary enormously depending on the season.
To see them in all their beauty, it's best to travel in spring!
BEFORE OUR TIPS + PHOTOS
HERE ARE OUR FAVORITES IN Corsica
Our guide to planning your road trip: eBook
Our favorite towns to stay in:
This review/guide is completely independent, based on our experiences. We visited the area anonymously, making our own choices, and paying all our bills in full.
1. Cascade du Voile de la Mariée, Corsica's most beautiful waterfall
Why we love
It's one of the highest waterfalls in Corsica, and it's not just a trickle of water that falls straight down. This waterfall is absolutely magnificent, with all the rocks and the water bouncing off it.
It is 70m high and surrounded by greenery. We could spend hours admiring all the little steps and the movement of the water. Splendid!
Beware, however, that a lot of water needs to flow for it to be beautiful, so go in the spring during the snowmelt (in summer and autonomous, you'll probably be disappointed).
Access and advice
Between Ajaccio and Corte
50min drive from Ajaccio
Small parking lot along the D27 road
To visit in spring
10min walk to the waterfall – walk along a small dirt path through the trees. No major difficulties. But it can be slippery after the rain.
2. Polischellu waterfalls
Why we love
The Cascades de Polischellu (or Pulischellu) are a must-see in the Solenzara valley. There's a succession of basins and waterfalls within easy reach.
The most famous is a 2-level waterfall with a large emerald pool.
The craggy rocks surrounding the pool add to the wild and picturesque atmosphere of the place, while the lush vegetation adds a touch of greenery to this enchanting landscape.
One of Corsica's beginner canyoning trails ends at this waterfall with a fun jump back! (see booking link in the block after our advice).
Access and advice
In the Solenzara valley
1h15 drive from Porto-Vecchio
Pay parking along the D268 road
15min walk to the main waterfall – fairly easy walk on the road, then through the trees.
Be careful to climb on the left side of the river, not the right.
It's also one of our favorite natural pools.
OUR TIPS FOR

RENTING A CAR

IN

Corsica
Compare prices on our preferred platform: DiscoverCars – one of the best rated sites.
Choose a car that is powerful enough (the roads are steep) but compact (some passages are narrow).
Think of thecomplete insurance (some roads are tortuous and narrow).
There is a lot of demand, book it early.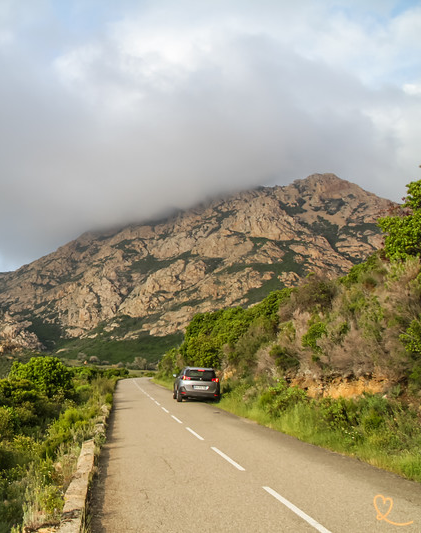 3. The Aitone waterfalls
Why we love
The Aïtone waterfalls and their natural pools are an idyllic sight. We loved our time here, surrounded by impressive chestnut and Laricio pine trees.
We loved crawling through the rocks to discover more nooks and crannies, mini waterfalls and little pools of water.
The place is charming and refreshing!
These are small waterfalls, but the perfect place to recharge your batteries and connect with nature, letting yourself be enveloped by the beauty and tranquility of this unspoilt natural environment.
Access and advice
Above the village of Evisa
Inland from Porto-Ota
40min drive from Porto Ota
Short 10min flat walk under the trees, then fairly high steps and paths between large rocks.
4. Piscia di l'Onda
Why we love
The waterfall and natural pool at Piscia di l'Onda offer an oasis of freshness and natural beauty. The 50m-high cascade is impressive, with its waters rushing down the cliffs to create a revitalizing waterfall.
Below, a natural pool with transparent waters invites visitors to take a dip. Or simply relax and listen to the sound of the water.
The advantage is that the pool is shaded, making it an ideal spot in the height of summer.
Access and advice
30min walk from the bridge along the D757 road
Longer if you hike all the way from the village
There are 2 on Google Maps
50min drive from Propriano
A few minutes' drive from the village of Moca-Croce
Intermediate access (up and down). There are 2 waterfalls, so go down to the second one.
USE OUR GUIDE TO PLAN A


DREAM TRIP

TO

Corsica
All the information you need for your trip:
7 maps that make planning easier
130+ pre-selected locations
Practical advice
+ 220 photos to help you choose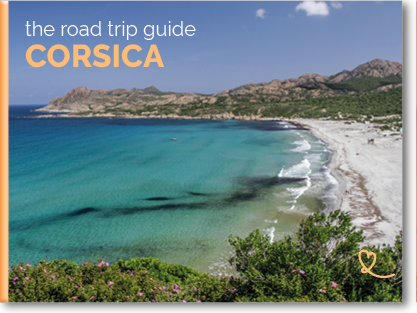 5. Les cascades des Anglais
Why we love
These cascades feature small waterfalls that cascade into a series of natural, crystal-clear basins. It's a very popular spot at the crossroads of the GR20, but also very refreshing on hot summer days.
But beware, the water is very cold. Queen Victoria's British officers came to enjoy its benefits (hence the name, Cascade des Anglais).
Access and advice
East of Ajaccio
1 hour's drive from Ajaccio
2 pedestrian accesses, 20 to 30min walk
Everything is well indicated
Easy walking
6. Struccia waterfall
Why we love
It's not the biggest waterfall you can imagine, but we loved the little parchment and the charm of the creek, enough to take a good shower from 15m high!
You're in one of Corsica's wildest regions: Castagniccia.
The rocky cove is nestled in a verdant forest (even in summer).
Access and advice
In the heart of Corsica
1h15 drive from Corte
1h20 drive from Bastia
Departure from the village of Carcheto Brustico (D71 road)
15-minute trail past the cemetery
Fairly easy access
7. Cascade Piscia di Gallo (descent prohibited)
Why we love
Piscia di Gallo is also one of Corsica's most impressive waterfalls.
In the photo above, you can see the upper part of the waterfall and the rock wall.
An official order prohibits descending the stairs to see it from below, due to falling rocks. We saw everyone going down there anyway, but we decided to respect the safety decision.
Even if you don't descend, the hike to reach it is truly magnificent, with rock formations and beautiful views. With the waterfall at an altitude of 820m, the surrounding scenery is superb.
Access and advice
In the heart of South Corsica
45 min drive from Porto-Vecchio
1h10 drive from Propriano
Departure from a paying parking lot along the D368
Snack bar at the start of the hike
2 to 3 hours round trip
Fairly easy walk.
Only the descent of the waterfall is difficult (and forbidden).
8. Meli waterfall
Why we love
The natural pools of the Manganellu River in Corsica offer a refreshing retreat amid breathtaking natural scenery. Located along the Manganellu River, these pools are characterized by their crystal-clear waters, which flow into natural pools surrounded by rocks and lush vegetation. You just have to make a little effort to get there.
The trail first takes you to the 20m-high Meli waterfall before reaching Manganellu and its series of emerald-colored pools.
We've got to get back there and take your pictures!
Access and advice
Heart of Corsica
40mùin drive from Corte
Walk from the village of Canaglia, 45min to 1h15
Not very well signposted (path on right after point)
9. Ucelluline waterfall
Why we love
At the bend in a fairly narrow road, you can descend a steep path to discover several parallel waterfalls.
You'll need to do a bit of rock-climbing to get the best views.
Access and advice
Northeast coast of Corsica
North of Cervione
A few parking spaces along the D330
Bastia to the waterfall = 1h drive
Aleria to the waterfall = 40min drive
FOR QUALITY ADVICE


QUALITY

Support us
Do you appreciate all the free content you find on our blog?
Our independence, the only guarantee of qualitytips, is partly based on your generosity!
We offer you to give us a coffee (or several) in the hope of sharing it with you one day in person!
10. Carnevale waterfall / Sant'Albertu
Why we love
An attractive 10m-high straight waterfall visible in winter and spring.
It's well signposted and easy to get to.
And the setting at the foot of the waterfall is soothing, surrounded by greenery.
Access and advice
East of Ajaccio
40min drive from Ajaccio
10min walk from parking lot
A few parking spaces along the D27
to be seen in winter or spring
Purcaraccia waterfalls (closed without guide)
The natural pools of the Cascades de Purcaraccia in Corsica are among the most beautiful and spectacular. Nestling in the Alta Rocca valley, these pools are formed from the crystalline waters of the waterfall that cascades down the steep cliffs. One natural pool after another offers refreshing turquoise waters with beautiful rock formations all around.
A prefectoral decree now limits access to these pools to groups accompanied by authorized personnel.
Corsica's most beautiful waterfalls – Map
And finally, here's a map to help you find your way around.
---
Departure from France and Italy
Advantage: you can take your car!
---
Airports in Bastia, to visit the North, Figari to visit the South, or Ajaccio convenient for all Corsica.
Compare flights!