Staying at the Hôtel L'Onda in Calvi was a great experience. We were won over by the contemporary decor of the rooms and communal areas. The view from our balcony over the turquoise waters of Calvi was exceptional! Its location means you can reach Calvi town center in 15 minutes on foot, and the beach is just 30m away! The very friendly hotel staff made our stay even more enjoyable.
In this article, we detail our experience at Hotel L'Onda, with plenty of photos to help you make your choice!
This review is completely independent, we stayed anonymously and paid our bill in full.
Why stay at Hotel L'Onda?
This establishment is a great option for your vacation. In fact, we've listed it among the best hotels to stay at in Calvi. Here are its 3 main assets:
Beautiful contemporary decor: the hotel is decorated with modern, elegant materials and strong pieces (mosaics, leather sofas…).
The view: spectacular, overlooking the pine trees and turquoise sea of Calvi. We enjoyed a perfect moment of relaxation from our balcony!
Its location: the hotel is not in the city center, but it's a 15-minute walk from there. This allows you to enjoy a quiet environment, private parking and close proximity to the beach.
---
See more photos of Hotel L'Onda.
---
Is Hotel L'Onda worth it? Our review
Absolutely! We had a very pleasant stay at this hotel, which we highly recommend. The establishment offers excellent facilities, including a pleasant terrace for breakfast and a comfortable lounge for a reading break.
Our favorite was the decoration of our room, one of the most beautiful we've ever stayed in!
OUTDOOR ACTIVITIES

AT
North Corsica
Decoration and atmosphere
The hotel's main asset is its elegant, modern, colorful decor with character (checkerboard floors, contemporary design pieces combined with older furniture…). Contemporary paintings and sculptures adorn the walls, lending the hotel an intimate, relaxing atmosphere.
The furniture is very comfortable, both in the common areas and in the bedrooms. On the first floor, the decoration defines a number of different areas. We really appreciated the "reading" corner in the lounge, with three armchairs opening onto a small terrace in front of the hotel, perfectly equipped (deckchairs…). In this room, wallpaper with tropical motifs in very soft shades creates a "cocoon" atmosphere.
We also liked the bright colors of the breakfast room, ideal for getting the day off to a good start. The checkerboard floor set off the designer chairs in shades of orange and petrol blue. The blue chairs echoed the headboard in our bedroom!
FOR QUALITY ADVICE

QUALITY
Support us
Do you appreciate all the free content you find on our blog?
Our independence, the only guarantee of qualitytips, is partly based on your generosity!
We offer you to give us a coffee (or several) in the hope of sharing it with you one day in person!
The room
We were delighted with our room, which was contemporary, elegant and chic! We particularly liked the headboard, beautiful and modern, with its petrol blue color matching the very comfortable armchairs in the lounge area, and contrasting with the white walls.
As we entered, we were literally swept away by the magnificent view of the sea and Calvi's pine forest. It was highlighted by the large rounded bay window, surrounded by delicate curtains. We really felt like we were in a "bubble" of serenity.
This was also the case on our balcony, separated from the neighbors' by a breakwater and featuring a table and chairs, perfect for enjoying an aperitif while taking in the exceptional panorama.
A few decorative elements caught our eye, such as the teardrop-shaped lamps on either side of the headboard, and a vintage painting in the lounge area.
Finally, our room was well equipped. In addition to a highly functional desk, minibar, safe and spacious cupboards, we were provided with a kettle, 4 cups, 2 glasses, a coffee machine, Dammann tea and sugar.
---
Check availability at Hôtel L'Onda.
---
The bathroom
Like the bedroom, we appreciated the bathroom, also contemporary and spacious. The atmosphere was chic, with silver and black tiles in geometric patterns, in harmony with the delicate designer furniture and the black and light pink tiled walls.
The bathroom was very well equipped, with a large walk-in shower as well as a bathtub, topped by a large window overlooking the balcony and the sea.
The toilet, located in the bathroom, was separated from it by a sliding door. In addition to the towel dryer and hairdryer, we also had Green Leaf shower gel, plant-based soap and body lotion.
OUR TIPS FOR
RENTING A CAR

IN

Corsica
Compare prices on our preferred platform: DiscoverCars – one of the best rated sites.
Choose a car that is powerful enough (the roads are steep) but compact (some passages are narrow).
Think of thecomplete insurance (some roads are tortuous and narrow).
There is a lot of demand, book it early.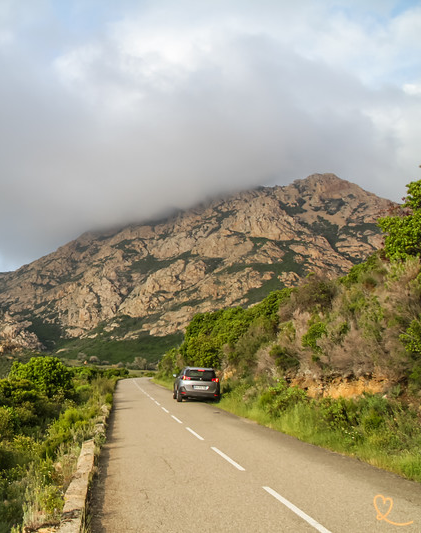 The breakfast
Breakfast at this accommodation is a varied and delicious buffet, featuring Corsican products such as cheeses, goat yoghurt, traditional cakes, honey and chestnut cream. Reception is from 7am to 10:30am.
We were won over by the variety of products on offer, both sweet (viennoiseries, cereals, jams, Nutella spread, chestnut cream, honey, pancakes, crêpes, dairy products) and savoury (cheeses, charcuterie, eggs).
The breakfast area was really to our liking, allowing us to come and go as we pleased on the terrace to enjoy the morning sun over the pine forest.
USE OUR GUIDE TO PLAN A

DREAM TRIP

TO

Corsica

All the information you need for your trip:
7 maps that make planning easier
130+ pre-selected locations
Practical advice
+ 220 photos to help you choose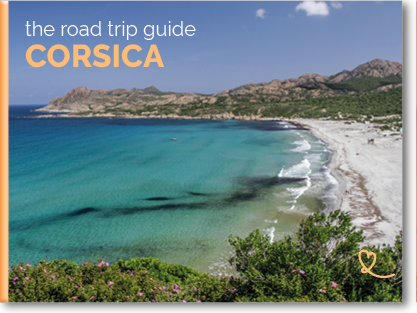 Equipment and common areas
This hotel offers a number of facilities that are sure to please:
a reception with a wide range of tourist brochures to help you organize your stay and choose your activities,
a catering area for breakfast,
a terrace at the back of the hotel,
a terrace at the front of the hotel.
private, secure parking,
access to the beach,
a washroom and shower area on the first floor, ideal if you've just returned from the beach but have already given up your room!
a first floor with several lounges where you can find newspapers.
A host of services are also available to make your stay easier:
laundry service,
luggage storage,
free wi-fi connection,
childcare on request.
Do not make




THE SAME MISTAKE

WE MADE

On one of our last trips to Europe, a hacker stole our credit card details while we were using a hotel WiFi.
So our trip began with a "card blocked" call… Not funny at all!
Learn from our mistake, make a small VPN investment to surf without worry.
The restoration
Apart from breakfast served in the dining room or in your room, there are no other catering services.
Practical information about Hôtel L'Onda in Calvi
Type
Hotel L'Onda offers comfortable, luxurious 3-star accommodation at excellent value for money.
---
Read more about it:
---
Where the hotel is located
Hôtel L'Onda is located in Calvi, in northern Corsica, about 2.5 km from the town center. It is located at the following address: Avenue Christophe Colomb, BP8, 20260 Calvi, France.
Driving time from Porto-Vecchio: 3h20min.
Driving time from Ajaccio: 2h55min.
Driving time from Bastia: 1h55min.
Driving time from Corte: 1h20min.
These journey times are approximate and depend on traffic density.
How to get there
To get to Calvi, we recommend driving from Bastia. Bastia is accessible by air or ferry. To help you make the right choice, take a look at our article comparing these two solutions.
If you don't have a car, it's possible to get to Calvi by train. A line connects Ponte Leccia to Calvi in around 1 hour. You'll need to take another train between Ponte Leccia and Bastia. Find out about timetables and fares on the Corsican Railways website. Calvi train station is a 12-minute walk from the hotel.
Finally, Calvi has its own airport, serving cities in the south of France such as Marseille and Nice. You'll need a car to get around the rest of Corsica easily. Read our article dedicated to car rental at Calvi airport.
---
Departure from France and Italy
Advantage: you can take your car!
---
Airports in Bastia, to visit the North, Figari to visit the South, or Ajaccio convenient for all Corsica.
Compare flights!
Parking
Private, secure parking is available for hotel guests. Its large size includes spaces reserved for people with reduced mobility.
OUR TIPS FOR
RENTING A CAR

IN

Corsica
Compare prices on our preferred platform: DiscoverCars – one of the best rated sites.
Choose a car that is powerful enough (the roads are steep) but compact (some passages are narrow).
Think of thecomplete insurance (some roads are tortuous and narrow).
There is a lot of demand, book it early.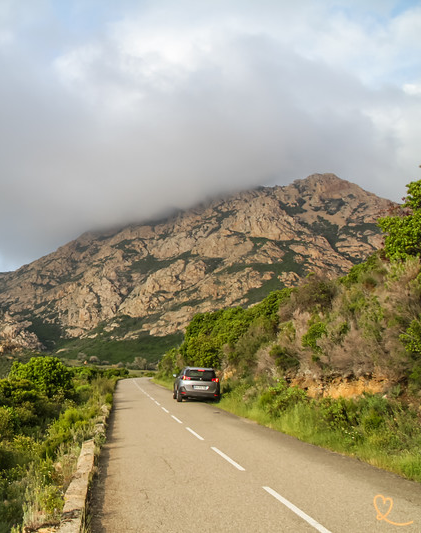 For people with reduced mobility
The hotel has rooms accessible to people with reduced mobility. For further information, please contact the establishment.
Is Hôtel L'Onda family-friendly?
Unfortunately, this establishment does not offer family rooms. We recommend you choose another hotel from our selection in Calvi. However, toddlers are welcome: high chairs are available, as is a babysitting service (on request).
All our tips in this article were put into words with the help of Fanny.