Looking for accommodation in the heart of Bastia? We recommend staying at Hôtel Monsieur Miot. This 3-star establishment is a concept hotel located on the 1st floor of a Bastide townhouse. We had the opportunity to spend a night there and really enjoyed our stay.
Its main asset is its location: just a few minutes away on foot, you can stroll along the famous Place Saint-Nicolas or take the lovely Rue Napoléon.
In this article, we take a closer look at our stay at this concept hotel. You'll find plenty of photos to help you make up your own mind!
This review is completely independent, we stayed anonymously and paid our bill in full.
Why stay at Hôtel Monsieur Miot?
This is the hotel for you if you're looking for modern accommodation in the heart of the city with all its amenities. It's an ideal place if you like to be independent and want to avoid time constraints: the reception is located in a brasserie on the first floor, and the staff are very accommodating. In fact, we've listed it among the best hotels to stay at in Bastia. We also chose this hotel because:
It's the ideal place for a pleasant stay in the city center. It is close to many tourist attractions, restaurants and stores. We appreciated its proximity to transport networks (cab, train station, port, etc.).
The rooms are small, but we liked the way they were decorated, giving them lots of character. The layout is very well thought-out.
The added bonus of this accommodation is that you can get there on your own thanks to its digital key system, emailed to your smartphone!
---
See more photos of Hôtel Monsieur Miot.
---
Is the Monsieur Miot Hotel worth it? Our review
We recommend this accommodation if you want to enjoy the city on foot and be close to all amenities. The rooms are comfortable and the staff at reception, located in the "Café du Centre", are very friendly.
OUTDOOR ACTIVITIES

AT
North Corsica
Decoration and atmosphere
This hotel has 7 rooms on the 1st floor of a Bastia apartment building. These rooms are named after the different districts of the city (Monserato, U Vechju Portu, Terre Nova…). They were renovated in 2020 by a Corsican architectural studio called Jamarchi.
The architect also renovated the center's café and common areas. The result? A warm, contemporary communal space with dark parquet flooring, subdued lighting, beautiful plants, splashes of color and natural materials.
This same atmosphere can be found in the hotel's reception, which is also a brasserie. We liked the bistro chairs with their comfortable yellow backrests and seats. They were in harmony with the tropical wallpaper and the wooden parts of the walls.
FOR QUALITY ADVICE

QUALITY
Support us
Do you appreciate all the free content you find on our blog?
Our independence, the only guarantee of qualitytips, is partly based on your generosity!
We offer you to give us a coffee (or several) in the hope of sharing it with you one day in person!
The room
Our room was decorated with tropical wallpaper and characterful decorative elements: beautiful wicker armchair, vintage telephone…We also had a very good night thanks to the excellent bedding!
We were pleasantly surprised by its many facilities: kettle, coffee, sachets of canistrelli (traditional Corsican shortbread), tea, 3 cups, 2 bottles of still water and a minibar.
A comprehensive welcome booklet, in French and English, was also available. It sat on a small but functional desk.
As our room was directly on the street, we were worried about being disturbed by the noise, but this was not the case. We were also able to use blackout curtains to protect the space from light and privacy.
---
Check availability at Hôtel Monsieur Miot.
---
The bathroom
Our room had a small bathroom area, accessible from the entrance. It featured a washbasin and shower. We were impressed by the hotel's eco-friendly approach, which limits the maximum shower temperature to 38°. However, as the shower is not located in an enclosed room, it is not suitable for people with cold feet. The toilet was separate from this bathroom area.
We were delighted to find so many quality products at our disposal: (comb, nail file, absorbent cotton, shaving kit, hair dryer, organic toiletries from Natural Remedies…). Shower gels and shampoos were not in individual bottles to limit waste. Finally, we appreciated the sober, contemporary decor of this shower room.
OUR TIPS FOR
RENTING A CAR

IN

Corsica
Compare prices on our preferred platform: DiscoverCars – one of the best rated sites.
Choose a car that is powerful enough (the roads are steep) but compact (some passages are narrow).
Think of thecomplete insurance (some roads are tortuous and narrow).
There is a lot of demand, book it early.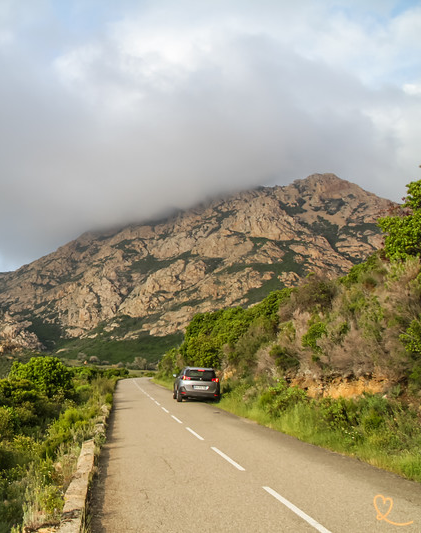 The breakfast
Breakfast is not included in the price of accommodation. You can opt for an all-you-can-eat buffet breakfast at €15. You'll find all kinds of sweet products (pastries, fruit, honey, cereals, yoghurts, jam, pancakes) and savoury products (eggs and charcuterie).
We liked the fact that we could also have an à la carte breakfast like in a classic brasserie, with, for example, a pastry and a hot drink.
USE OUR GUIDE TO PLAN A

DREAM TRIP

TO

Corsica

All the information you need for your trip:
7 maps that make planning easier
130+ pre-selected locations
Practical advice
+ 220 photos to help you choose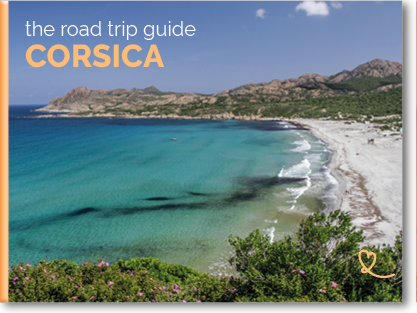 Equipment and common areas
Hôtel Monsieur Miot offers a variety of services for its guests, including:
Reception in the brasserie at the foot of the hotel, open daily from 6:30am to 8:30pm (telephone reception is open from 9am to 8pm).
Free high-speed Wi-Fi connection.
A digital key on a smartphone with a QR code system for fast, independent arrival.
Luggage storage in reception.
A brasserie, "Le Café du Centre", dating from the 1900s, open 7 days a week from 6.30 a.m. to 8.30 p.m., serving fresh produce cooked in the traditional way (salads, gnocchi with pesto, flank steak, etc.). To view the map, visit the official website.
A common area on the second floor with toilets, a sitting area with a comfortable sofa, and a workspace with a fixed computer and telephone.
Do not make




THE SAME MISTAKE

WE MADE

On one of our last trips to Europe, a hacker stole our credit card details while we were using a hotel WiFi.
So our trip began with a "card blocked" call… Not funny at all!
Learn from our mistake, make a small VPN investment to surf without worry.
Practical information about Hôtel Monsieur Miot in Bastia
Type
This 3-star hotel offers excellent value for money thanks to its central location in Bastia and its modern, comfortable spaces.
---
Read more about it:
---
Where the hotel is located
The Monsieur Miot hotel is located at 2 rue Miot, in Bastia (20200), North Corsica.
Driving time from Porto-Vecchio: 2h30min.
Driving time from Ajaccio: 2h45.
Driving time from Calvi: 2h.
Driving time from Corte: 1h20min.
These journey times are approximate and depend on traffic density.
How to get there
To get to your hotel in Bastia, you can take line 5 of the Bastia bus network, which serves the city center. For more information on public transport, visit the city's official website.
There are two ways to get to Bastia: by plane or by ferry. To help you make the right choice, take a look at our article comparing these two solutions.
If you come by plane, allow between 30 and 40 minutes by car to reach Bastia town center and the hotel.
If you're coming by ferry, the hotel is a 10-minute walk and a 5-minute drive from the port.
See available ferry schedules and book.
Bastia also has a train station, just 50m from this accommodation. Corsica's rail network serves the main towns and links northern and southern Corsica. For more information, visit the official website.
However, the easiest way to get around Corsica is still by car.
Parking
There is no dedicated parking for hotel guests. On the other hand, we had easy access to the 3 public pay parking lots within a 5-minute walk of the hotel, all of which are open 24 hours a day:
Place Saint-Nicolas parking lot,
Station parking lot,
Parking Gaudin.
OUR TIPS FOR
RENTING A CAR

IN

Corsica
Compare prices on our preferred platform: DiscoverCars – one of the best rated sites.
Choose a car that is powerful enough (the roads are steep) but compact (some passages are narrow).
Think of thecomplete insurance (some roads are tortuous and narrow).
There is a lot of demand, book it early.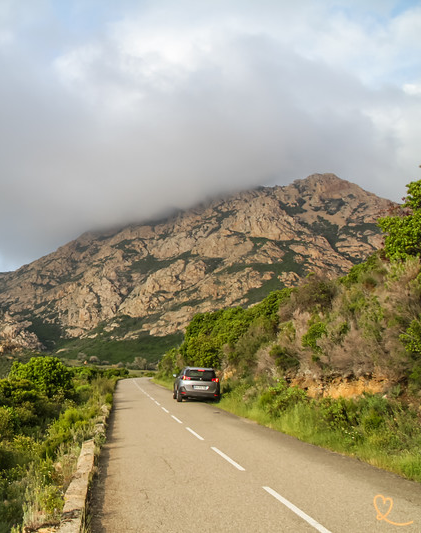 For people with reduced mobility
The hotel has no facilities or equipment adapted for disabled guests. However, a narrow elevator is available to take you upstairs.
Is Hôtel Monsieur Miot family-friendly?
This accommodation features family rooms with a double bed and a single bed. If you're a large family, choose another Bastia hotel from our selection. The hotel has no family rooms with more than 3 beds.
All our tips in this article were put into words with the help of Fanny.