Staying at the Hotel Liberata was a very pleasant experience. We enjoyed our stay in this 4-star Art Nouveau stately home. Its many facilities (swimming pool, wellness center…), as well as its location facing the sea and a 5-minute walk from the center of L'Île-Rousse, will win you over!
In this article, we invite you to discover our opinion and our many photos of the Hotel Liberata and its spa, to help you make your choice!
This review is completely independent, we stayed anonymously and paid our bill in full.
Why stay at Hotel Liberata?
This hotel offers many advantages for your future stay in L'Île-Rousse. In fact, we've listed it among the best hotels to stay at in L'Île-Rousse. Here are the 3 main assets of this establishment:
Its ideal location: the beach and its restaurants are right across the street! All you have to do is cross the street. Some rooms, like ours, have a beautiful sea view. On foot, you can quickly reach the city center on the pleasant promenade along the coast.
The wellness area includes a fitness room, steam room, Jacuzzi, treatment room for professional massages, and a"Wellsystem Spa" room with a hot-water mattress that automatically massages you. Last but not least, there's an outdoor swimming pool: why not take a refreshing dip in it after a visit to the hammam?
Characteristic architecture and decor: this establishment is a former 19th-century seigniorial residence, inspired by Nice. The interior is both extravagant and refined, as evidenced by the black and red entrance hall. The artistic inspirations are manifold, both in the rooms and in the common areas.
---
See more pictures of Hotel Liberata
---
Is the Hotel Liberata worth it? Our review
Yes, that's right! If you're a fan of bold decorative styles, you'll be charmed by this hotel with its own distinctive identity. As far as we're concerned, we enjoyed our stay, which gave us the impression of being a little out of time. This feeling was heightened by our visit to the wellness area, which really relaxed us! Enough to regain our strength for a visit to the city, which we appreciated being so close by.
OUTDOOR ACTIVITIES

AT
North Corsica
Decoration and atmosphere
The colorful building immerses visitors in a Mediterranean atmosphere. You'd think you were on the Côte d'Azur! Palm trees and cypresses further accentuate the ambience. A staircase with curved wrought-iron handrails leads up to the entrance. It is framed by an Art Nouveau-inspired covered terrace and a sculpture in the style of Niki de Saint-Phalle.
The exuberance continues in the large reception hall. The checkerboard floor contrasts with touches of red, recalling the building's exterior hue. The furniture, antique but in the same colors, gives a baroque feel to the decor.
Similar features can be found in the breakfast room, separated from the reception area by an undulating iron decorative element.
Unusual objects of all kinds are scattered throughout the hotel, but are best seen in a display case in the lobby.
The decoration on the upper floors is much less distinctive. In a softer palette (ochre, brown tones…), it gives way to a more rural atmosphere.
FOR QUALITY ADVICE

QUALITY
Support us
Do you appreciate all the free content you find on our blog?
Our independence, the only guarantee of qualitytips, is partly based on your generosity!
We offer you to give us a coffee (or several) in the hope of sharing it with you one day in person!
The room
Our room was refined, chic and original. We particularly liked its Gustav Klimt-inspired decor, with the spiral ornament on the main wall, and the floral cushions.
Reproductions of the artist's famous paintings adorned the headboard, as well as the sitting area. The antique furniture, renovated with deep-colored fabrics, was surmounted by part of Gustav Klimt's iconic work, "The Kiss", created in the early 20th century and housed in the Belvedere Museum in Vienna. This decorative bias gave our room a special, unique character.
The room was also well equipped, with a large closet, valet parking and a safe. Next to the French window opening onto the balcony was a desk area, on which was the welcome booklet, as well as a kettle, two coffee mugs, white sugar, tea and coffee.
Last but not least, we enjoyed a privileged view of the turquoise waters of the Mediterranean from our room's balcony. On one side lay the island of Pietra, next to the town, and on the other, the Agriates desert, with the Cap-Corse mountains in the distance.
---
Check availability at Hotel Liberata
---
The bathroom
The charm continued to work in our bathroom, equipped with a large walk-in shower. The toilets were separate. The design of the sink was particularly to our liking, as was the decoration.
The blue color of the bedroom was reused in this room, giving unity to the whole. The tiles and beige tones added a touch of modernity. The sculpture of a violinist, inspired by the style of Giacometti, recalled the hotel's artistic inspirations.
Finally, slippers were provided for use in the wellness area. We appreciated the Damana organic cosmetics, placed next to the washbasin.
OUR TIPS FOR
RENTING A CAR

IN

Corsica
Compare prices on our preferred platform: DiscoverCars – one of the best rated sites.
Choose a car that is powerful enough (the roads are steep) but compact (some passages are narrow).
Think of thecomplete insurance (some roads are tortuous and narrow).
There is a lot of demand, book it early.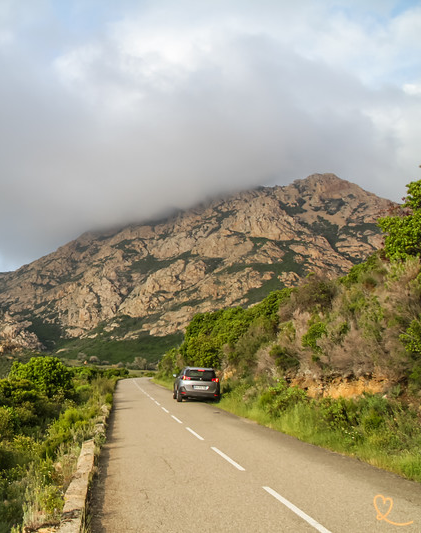 The breakfast
The hotel offers a varied and tasty buffet breakfast. It is served from 07:30 to 10:30 but is not included in the room rate. We invite you to consult the current rates when booking. In any case, you'll find a selection of local products such as Corsican yoghurts, as well as homemade products like chocolate marbrés and verrines made with fromage blanc and mango, peach or strawberry.
We particularly enjoyed the food on offer, both sweet (fruit, pastries, pancakes, jams, honey, Nutella, cereals) and savory (cheese, cold cuts, scrambled eggs). There were also several types of bread (wholemeal, rye, cereal…).
Coffee and other hot drinks are prepared and brought to you by a waitress. We liked the setting for this breakfast, a baroque salon in red and black tones, with comfortable, revisited antique furniture. You can also enjoy your meal on the covered terrace.
USE OUR GUIDE TO PLAN A

DREAM TRIP

TO

Corsica

All the information you need for your trip:
7 maps that make planning easier
130+ pre-selected locations
Practical advice
+ 220 photos to help you choose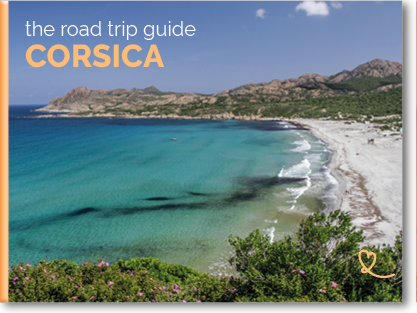 Equipment and common areas
You'll find a host of facilities in this accommodation:
the wellness area: a real hotel asset, its ceiling-lit decor immediately creates an environment conducive to relaxation. It comprises several rooms. First, the Jacuzzi, highlighted by floral and plant elements installed on a spiral dome, reminiscent of the one in the entrance hall.
Then there's the hammam, lit only on request for ecological reasons.
Here's a glimpse of the massage room if you'd like to book a facial, foot treatment or massage, alone or as a duo. The wide range of treatments lasts between 1 and 1.5 hours. Please contact reception for further details.
You can also enjoy the "Wellsystem Spa" water mattress in the hydromassage room, which can be booked in advance at reception. The advantage is that you don't need to change clothes to enjoy it.
the outdoor swimming pool: accessible from the wellness area, the outdoor parking lot and the hotel lobby. There are deckchairs and a shower. It is heated from mid-April to mid-October (except July and August).
the fitness room: accessed from the outside of the building, in front of the staircase leading to the entrance. It houses an elliptical and an exercise bike, as well as light weights.
the seminar room: located at the entrance to the hotel, it can accommodate 40 people. This 60m2 space includes a video projector, screen, wifi connection and flipcharts.
These facilities are complemented by a wide range of services:
a toilet, shower and changing room near the wellness area, in case you want to enjoy the beach or spa but have already returned to your room,
a luggage storage service,
a concierge service (to book your activities, appointments, means of transport, etc.),
free wifi connection.
your favorite newspapers on request from reception (a copy of Corse matin is available in the lobby),
your wake-up call from reception,
a business corner: near the elevator, a computer is at your disposal,
baby-sitting service on request.
Pets are not allowed on the premises.
Do not make




THE SAME MISTAKE

WE MADE

On one of our last trips to Europe, a hacker stole our credit card details while we were using a hotel WiFi.
So our trip began with a "card blocked" call… Not funny at all!
Learn from our mistake, make a small VPN investment to surf without worry.
The restoration
This hotel has no bars or restaurants. On the other hand, room service is available from 6pm to 8:30pm (please contact reception before 8pm).
The menu is relatively well-stocked, with fish dishes (salmon and hake, mussels, scallop risotto), vegetarian dishes (gnocchi with spinach sauce and goat's cheese, pumpkin velouté, linguine with 4 cheeses…) and a meat dish (beef meatballs with Provençal sauce and rice). Desserts are also available (chocolate or chestnut moelleux, fruit brochette, nougat glacé with Corsican honey, crème brûlée).
You can also ask for a plate of Corsican charcuterie or a fruit salad at any time.
Practical information about the Hôtel Liberata in L'Île-Rousse
Type
Hotel Liberata offers 4-star accommodation with a host of luxury amenities.
---
Read more about it:
See current offers at Hotel Liberata
---
Where the hotel is located
Hôtel Liberata is located on Boulevard Charles-Marie Savelli, in L'Île-Rousse (20220), North Corsica.
Driving time from Porto-Vecchio: 2h45min.
Driving time from Ajaccio: 2h30min.
Driving time from Calvi: 35min.
Driving time from Bastia: 1h30min.
Driving time from Corte: 1h.
These journey times are approximate and depend on traffic density.
How to get there
The most direct route to L'Île-Rousse can be reached by ferry from the main cities in the south of FranceNice, Toulon and Marseille). The quickest option is to leave from Nice (4h15 crossing).
See available ferry schedules and book.
You can also reach L'Île-Rousse by car from Bastia. Bastia is accessible by air or ferry. To help you make the right choice, take a look at our article comparing these two solutions.
If you don't have a car, you can reach L'Île-Rousse by bus from the Bastia bus station in 1h50. We invite you to consult the timetables (which may change according to the season) on the official website of the coach company providing this service.
The last option is to drive to the hotel from Calvi. The town has a small airport serving the main cities in the south of FranceNice, Marseille…). You can rent a car at the airport by following our advice in our dedicated article. Alternatively, you can take a cab to Calvi station and catch a train to L'Île-Rousse in 55 minutes. The hotel is a 15-minute walk from the train station. We invite you to consult the timetables on the official Corsican Railways website.
However, we recommend that you rent a car to make the most of your stay in Corsica.
Parking
The hotel offers its guests a large, free, secure parking lot. You'll find parking spaces at the front of the building, with electric charging stations. Parking is also available at the rear of the building, where there is a disabled parking area.
OUR TIPS FOR
RENTING A CAR

IN

Corsica
Compare prices on our preferred platform: DiscoverCars – one of the best rated sites.
Choose a car that is powerful enough (the roads are steep) but compact (some passages are narrow).
Think of thecomplete insurance (some roads are tortuous and narrow).
There is a lot of demand, book it early.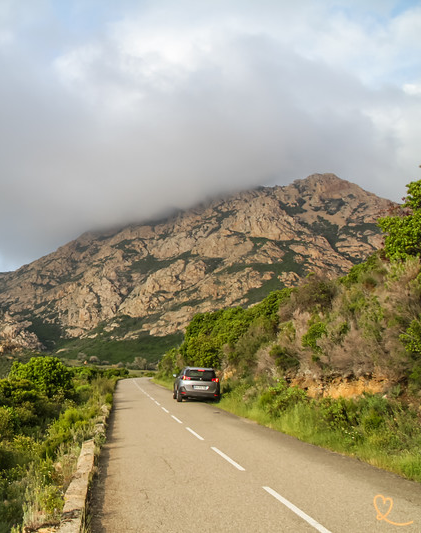 For people with reduced mobility
This establishment welcomes people with reduced mobility. The entrance is at the rear of the building (pool side) to avoid the stairs in the front. An elevator is available to take you up to the upper floors, and some rooms are equipped for this public. For further information, please contact reception.
Is Hotel Liberata family-friendly?
This is a family-friendly establishment. A cot and an extra bed for children under 12 can be installed in all rooms. If you're a large family, opt for the suites (junior and deluxe), which offer a king-size double bed, a cot and two separate single beds. A babysitting service is also available on request, so you can make the most of your stay. For further information, please contact reception.
All our tips in this article were put into words with the help of Fanny.