Are you planning to stay in Saint-Florent during your trip to Corsica? Staying at the Hotel Dolce Notte could be the answer. The accommodation on offer in Saint-Florent is quite limited, and this 3-star hotel has an undeniable advantage: its breathtaking view over the bay! We were delighted to have the beach at our feet and to be lulled by the sound of the waves. Although the hotel isn't right in the center of town, it's easily accessible both on foot (10 minutes from the center) and by car.
In this article, you'll find a detailed overview of the hotel's services, as well as plenty of photos to give you a clear idea.
This review is completely independent, we stayed anonymously and paid our bill in full.
Why stay at the Hotel Dolce Notte?
This hotel offers a pleasant, relaxing stay, which is why we've ranked it among the best hotels to stay at in Saint-Florent. In our opinion, these are its 3 main assets:
The view: from our room, it was extraordinary. We enjoyed a panoramic view over the whole bay of Saint-Florent, with the beautiful Cap-Corse mountains on the horizon. We really felt like we had our feet in the water!
The terrace: although we had to face the neighboring rooms, we appreciated the terrace. Unlike hotel terraces, which are usually small, this one was large, with a table, chairs and deckchairs: the perfect place to enjoy an aperitif while taking in the view!
Room decor: we were delighted with the decor in our room. The atmosphere was resolutely marine, with elements reminiscent of the beach (pebbles…). In our opinion, this is the ideal way to feel like you're on vacation and listen to the sound of the waves!
---
See more photos of Hotel Dolce Notte.
---
Is the Hotel Dolce Notte worth it? Our review
If you're looking for a place to stay in Saint-Florent, this is the hotel to choose. Although it doesn't have many amenities, it's easily accessible. If you're driving, you can take advantage of our secure parking lot. You'll also be delighted by the breathtaking views of the bay, available from every room. We enjoyed the decor and the relaxing atmosphere of our stay, thanks to the sound of the waves.
OUTDOOR ACTIVITIES

AT
North Corsica
Decoration and atmosphere
This establishment offers a pleasant green space with garden furniture ideal for enjoying the view over the bay. The hotel's Mediterranean architecture evokes the spirit of seaside resorts. There are no communal areas, apart from the sober, contemporary reception area. This accommodation is not much decorated. Its semi-open architecture and uncluttered corridors gave us the impression of being in a vacation home.
In the corridor leading to our bedroom, we enjoyed a "beach" atmosphere, with wave-shaped pebbles adorning the walls. This was reinforced by the classic rough-hewn wooden furniture, reminiscent of nature and certain beach furniture.
FOR QUALITY ADVICE

QUALITY
Support us
Do you appreciate all the free content you find on our blog?
Our independence, the only guarantee of qualitytips, is partly based on your generosity!
We offer you to give us a coffee (or several) in the hope of sharing it with you one day in person!
The room
Our room was an ode to nature, with marine decor and mineral tones reminiscent of the beach. Raw elements, such as the parquet floor and a branch-shaped sconce, reinforced this impression. The furniture, classic and deliberately worn, was enhanced by the use of pebbles (bedside lamp, headboard…). This was a direct reference to the beach at the foot of the hotel, which is a pebble beach!
An antique fan and a candle accentuated the room's "cocoon" atmosphere.
It was also well equipped. We found a kettle, a coffee machine, coffee, sugar sachets, sachets of canistrelli (traditional Corsican shortbread), a minibar, cups and glasses.
Last but not least, the breathtaking sea view from our room was enhanced by a large, bright French window opening immediately onto the terrace.
---
Check availability at Hotel Dolce Notte.
---
The bathroom
The bedroom's marine decor continued into the bathroom. If the soft colors of the night space were more reminiscent of sand, the touches of blue in this room were reminiscent of the sea. We liked the ubiquitous pebbles and the functionality of this rather spacious shower room.
A wide range of products were available, including slippers, absorbent cotton and cotton buds, as well as toiletries (body lotion, shower gel, shampoo, gentle hand soap) from the Zennao brand.
OUR TIPS FOR
RENTING A CAR

IN

Corsica
Compare prices on our preferred platform: DiscoverCars – one of the best rated sites.
Choose a car that is powerful enough (the roads are steep) but compact (some passages are narrow).
Think of thecomplete insurance (some roads are tortuous and narrow).
There is a lot of demand, book it early.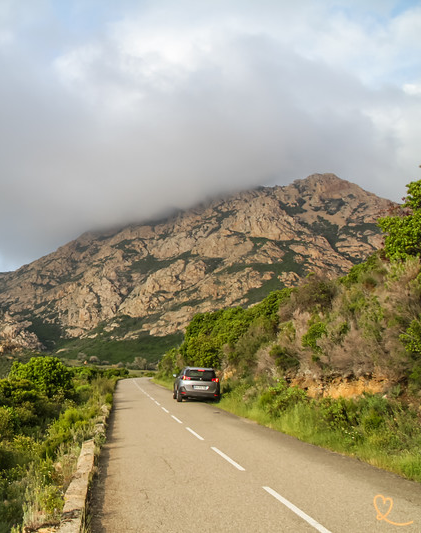 The breakfast
In this hotel, you define your breakfast when you arrive at reception, and the time you want it to be served. As this establishment has no catering facilities, breakfast is brought to your room on a tray. We recommend that you give reception a precise time, and plan to be ready about 30 minutes before the service arrives.
You can choose between a hot drink and a small fruit juice (orange or apple), or just a large fruit juice. It is also possible to have plain yoghurt in addition to the pastries and Corsican products that will be brought to you. We enjoyed the breakfast's selection of local products, including jams (strawberry, vine peach, apricot) and Corsican honey.
USE OUR GUIDE TO PLAN A

DREAM TRIP

TO

Corsica

All the information you need for your trip:
7 maps that make planning easier
130+ pre-selected locations
Practical advice
+ 220 photos to help you choose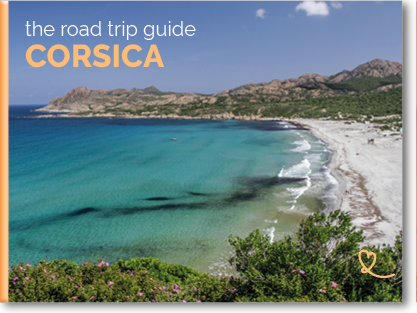 Equipment and common areas
The hotel has no common areas for guests, except for the following:
reception,
the garden area,
free private parking,
access corridors to bedrooms.
On the other hand, it offers a wide range of services:
free Wi-Fi connection,
a distributor,
room service for breakfast and aperitifs overlooking the sea,
in-room massages and beauty treatments, upon request and reservation at reception at least 24 hours in advance,
Towels, deckchairs, stand-up paddleboards and canoes are available on the pebble beach at the foot of the hotel. Please ask at reception.
Do not make




THE SAME MISTAKE

WE MADE

On one of our last trips to Europe, a hacker stole our credit card details while we were using a hotel WiFi.
So our trip began with a "card blocked" call… Not funny at all!
Learn from our mistake, make a small VPN investment to surf without worry.
The restoration
Unfortunately, the hotel does not offer any food services, except for room service (available for breakfasts and aperitifs) and a vending machine (sodas, water, candy, energy bars, etc.).
Practical information about Hotel Dolce Notte in Saint-Florent
Type
The hotel offers 3-star accommodation, all with a view of the Mediterranean Sea, at an affordable price for the region.
---
---
Where the hotel is located
The Hotel Dolce Notte is located in Saint-Florent, North Corsica, at the following address: Route de Bastia, Plage de l'Ospedale, 20217, Saint-Florent, France.
Driving time from Porto-Vecchio: 2h40min.
Driving time from Ajaccio: 2h50min.
Driving time from Calvi: 1h30min.
Driving time from Bastia: 40min.
Driving time from Corte: 1h20min.
These journey times are approximate and depend on traffic density.
How to get there
To get to Saint-Florent, we recommend you drive from Bastia. If you don't have a car, you can take the Bastia-Patrimonio-Saint Florent bus service from the bus station. Find out more about the timetable on the coach company's official website.
There are two ways to get to Bastia: by plane or by ferry. To help you make the right choice, take a look at our article comparing these two solutions.
See available ferry schedules and book.
However, the easiest way to get around Corsica is still by car. It takes less than 5 minutes by car to reach the Hotel Dolce Notte from downtown Saint-Florent.
Parking
The hotel has a large parking lot dedicated to its guests, entirely free of charge. Some spaces are reserved for two-wheelers.
OUR TIPS FOR
RENTING A CAR

IN

Corsica
Compare prices on our preferred platform: DiscoverCars – one of the best rated sites.
Choose a car that is powerful enough (the roads are steep) but compact (some passages are narrow).
Think of thecomplete insurance (some roads are tortuous and narrow).
There is a lot of demand, book it early.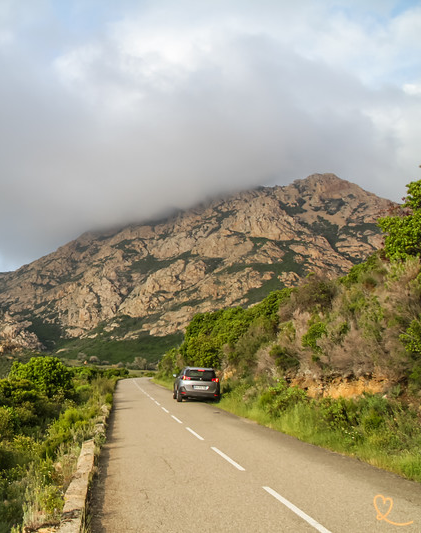 For people with reduced mobility
The hotel is not suitable for disabled guests. There are no elevators. What's more, access to the rooms is via staircases.
Is the Hotel Dolce Notte family-friendly?
Classic" rooms can accommodate up to 3 people. A cot can be provided free of charge on request, subject to availability. If you're a large family and would like a family room, we recommend you choose another hotel from our selection of the best hotels to stay at in Saint-Florent.
All our tips in this article were put into words with the help of Fanny.