In the heart of the Balagne region, we found a charming 3-star spa hotel. Staying at Hôtel Casa Rossa & Spa on L'Île-Rousse was a wonderful experience for us. This adorable stone building is located in the immediate vicinity of the town center and the beach. If you're looking for a picturesque, affordable place where you can enjoy the spa during your vacation, this is the place for you!
In this article, we present our experience and share with you our impressions of this accommodation. You'll also find plenty of photos to help you make up your own mind.
This review is completely independent, we stayed anonymously and paid our bill in full.
Why stay at Hotel Casa Rossa & Spa?
This spa hotel offers an idyllic setting for a relaxing stay. For us, it's one of the best places to stay in L'Île-Rousse, and we've added it to our review. What really attracted us to this establishment..:
The charm of stone buildings: the residence is designed with several stone buildings typical of the region, adding a touch of authenticity to the setting.
The superb swimming pool: nestled in a lush garden, enjoy a dip in the pool or relax in the shade on a deckchair.
A relaxing atmosphere: we enjoyed our stay in a peaceful, serene setting conducive to relaxation.
---
See more photos of Hotel Casa Rossa & Spa.
---
Is Hotel Casa Rossa & Spa worth it? Our review
We were seduced by the authentic atmosphere of this establishment. The atmosphere was warm and the place rustic with a very pleasant spa experience. It's conveniently located along the main road for exploring the surrounding area, and just a 10-minute walk from the town center. In short, we highly recommend this hotel to anyone looking for a relaxing stay in L'Île-Rousse.
OUTDOOR ACTIVITIES

AT
North Corsica
Decoration and atmosphere
The owners of this L'Île-Rousse hotel have created a warm ambience and a decor that's both contemporary and timeless. The colors are neutral and the materials first-rate. Stone buildings combined with modern facilities make this rustic spot an excellent base for exploring the Balagne region.
Greenery plays an important role here. The garden is very green and well-kept. It contrasts with the stone of the hotel's buildings. Finally, the shaded terrace is also a very pleasant communal space for reading, relaxing or simply taking time out to contemplate the beauty of nature.
Guests can also take advantage of the hotel's outdoor pool and restaurant.
FOR QUALITY ADVICE

QUALITY
Support us
Do you appreciate all the free content you find on our blog?
Our independence, the only guarantee of qualitytips, is partly based on your generosity!
We offer you to give us a coffee (or several) in the hope of sharing it with you one day in person!
The room
Our room was a spacious studio, soberly decorated with no frills. The bedding was comfortable. A large mirrored wardrobe enlarged the room.
We also had a kitchenette with a dining table, chairs, small fridge, microwave, filter coffee machine and toaster. This kitchenette was really handy for eating on the go when we wanted to relax in our room, away from the hustle and bustle of the city center.
---
See availability at Hotel Casa Rossa & Spa.
---
The bathroom
Now we're off to the bathroom. It was fitted out with a walk-in shower, a large washbasin and a mirror that added depth to the room. The bathroom was designed in beige and yellow marble, which brightened up the room.
Several towels and bath products were provided for our total comfort.
OUR TIPS FOR
RENTING A CAR

IN

Corsica
Compare prices on our preferred platform: DiscoverCars – one of the best rated sites.
Choose a car that is powerful enough (the roads are steep) but compact (some passages are narrow).
Think of thecomplete insurance (some roads are tortuous and narrow).
There is a lot of demand, book it early.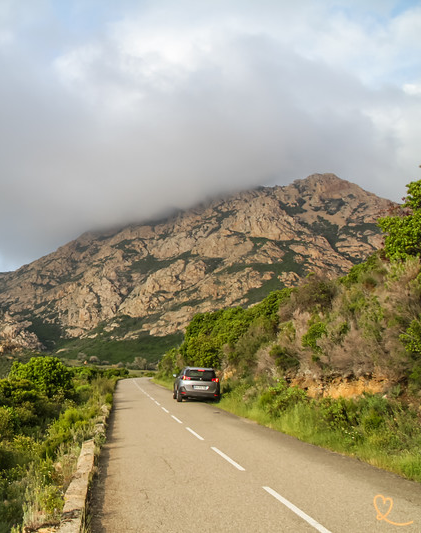 The breakfast
The hotel serves a buffet breakfast. We appreciated the varied choice of products on offer, both sweet (pastries, fruit, cereals, etc.) and savoury (eggs, cold meats, toast, etc.). We felt like we were at Grandma's: viennoiseries, homemade cakes, baguettes and tartines on the menu.
Everything was arranged on an old wooden chest of drawers, adding an authentic, rustic touch to the space. We also liked the choice of beverages available at breakfast.
USE OUR GUIDE TO PLAN A

DREAM TRIP

TO

Corsica

All the information you need for your trip:
7 maps that make planning easier
130+ pre-selected locations
Practical advice
+ 220 photos to help you choose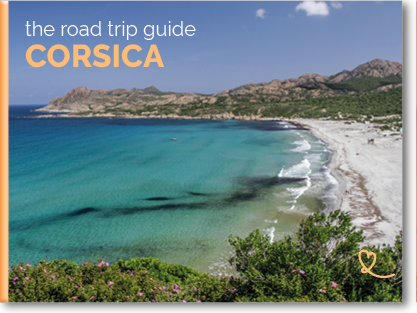 Equipment and common areas
Hotel Casa Rossa & Spa's communal areas and facilities add warmth and conviviality to the setting. We felt very much at home in this historic building. The following facilities are available on site:
An outdoor swimming pool in a stone enclosure in the heart of a lush garden,
A wellness and spa area with jacuzzi, hammam and sauna,
Cosy, bright common areas.
Do not make




THE SAME MISTAKE

WE MADE

On one of our last trips to Europe, a hacker stole our credit card details while we were using a hotel WiFi.
So our trip began with a "card blocked" call… Not funny at all!
Learn from our mistake, make a small VPN investment to surf without worry.
The restoration
The restaurant serves a buffet breakfast every morning. You can also enjoy a drink by the pool, where the hotel bar prepares delicious cocktails. Close to the city center, you'll also have the choice of eating close to the hotel if required.
A little history
Just 300m from the port of L'Île-Rousse, this charming 3-star hotel offers quality facilities and a unique relaxation experience to make the most of your vacation. We have a number of modern, practical apartments and studios to make your stay easier. The famous Bodri beach is just 2km from the hotel.
Practical information about Hôtel Casa Rossa & Spa in L'Île-Rousse
Type
Hotel Casa Rossa & Spa offers 3-star service and excellent value in L'Île-Rousse.
---
Read more about it:
---
Where the hotel is located
The hotel is located on Boulevard Pierre Pasquini in L'Île-Rousse (20220), North Corsica.
Driving time from Porto-Vecchio: 2h45min.
Driving time from Ajaccio: 2h25min.
Driving time from Calvi: 35min.
Driving time from Bastia: 1h35min.
Driving time from Corte: 1h.
These journey times are approximate and depend on traffic density.
How to get there
To get to the hotel, you can take the bus from Calvi to Saint-Florent, which takes about 35 minutes. Remember to check timetables and routes on the official CorsicaBus website. From the Saint-Florent bus station, it's less than 5 minutes by car and about 20 minutes on foot.
To get to Calvi, you can arrive by plane, as the town has an international airport, or take a ferry with or without your car for access by sea. From the port, it's a 45-minute drive to the hotel and a 30-minute drive from the airport.
See available ferry schedules and book.
To get around Corsica easily, the car remains the most practical way to enjoy greater freedom of movement and travel.
Parking
You can park in the hotel's private parking lot on arrival.
If you use an electric vehicle, charging stations are available in the parking lot.
For people with reduced mobility
The hotel does not have facilities meeting accessibility standards for people with reduced mobility, but please do not hesitate to contact reception directly for further details.
Is Hotel Casa Rossa & Spa family-friendly?
You can stay in an apartment or studio with your children, fully equipped and furnished for maximum comfort and convenience. The garden, terrace and swimming pool are also great places for your children to have fun and get a change of scenery. Ready to disconnect with your family?
All our tips in this article were put into words with the help of Myriam.